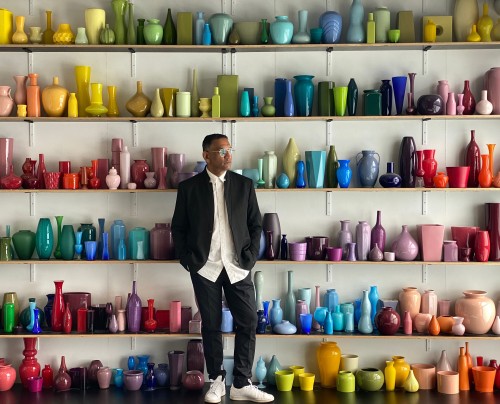 All the things I should have said that I never said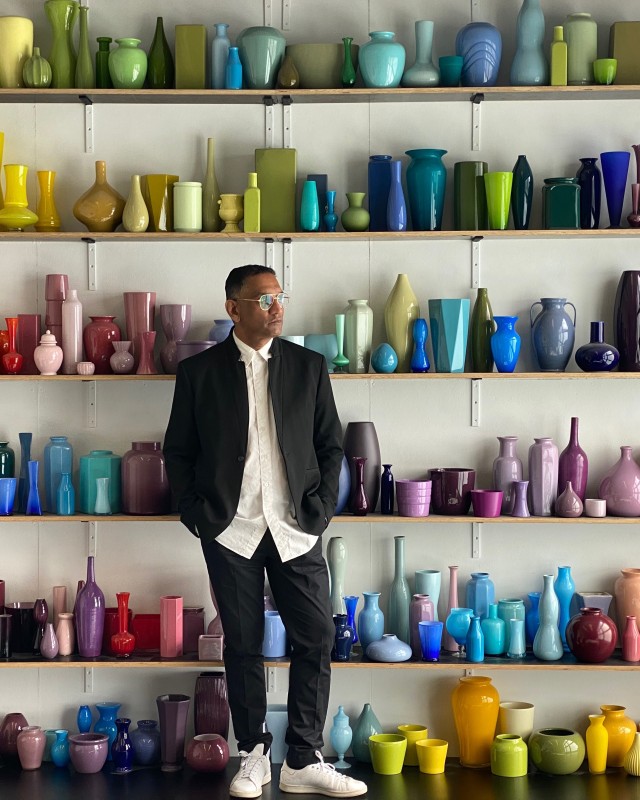 All the things I should have said that I never said
"I use repetition of form, colour and process to signal the rhythmic patterns of both change and continuity. I think about my work as a convergence of East and West, the spiritual and the aesthetic, the ancient and the contemporary." - David Sequeira
All the things I should have said that I never said casts a spotlight on the art of David Sequeira, an Indian born Australian artist whose interdisciplinary practice spans impressively across the fields of contemporary art, art history and curatorship. Featuring painting, sculpture, installation, fashion and performance this major solo exhibition reveals the ways in which Sequeira holds a lens to notions of authorship, history and time, as contestable and malleable concepts that can be explored through colour, geometry and varying processes of repetition. 
As a voice who has been leading the conversation on art and diaspora in Australia for close to three decades, Sequeira's All the things I should have said that I never said, unites three important bodies of work including untitled, India, a major installation being unveiled for the first time at Bunjil Place Gallery. Addressing the complexities around representation, the male body and fashion, untitled, India features 56 unique kurtas (long loose shirts often worn by men in India) that prior to being presented in the exhibition will be worn in a unique choreographed art and fashion runway performance. The kurtas range in construction from those featuring deeply saturated coloured fabrics to others displaying digitally printed black and white images associated with India's past. Collectively these kurtas form an embodied understanding and personal history of India in which the presence of these singular events are intensified within potent colour arrangements. 
Colour and geometry as visual meditations on time, space and endlessness manifests in the painting-based installation Song Cycle, an ongoing series of coloured and intersecting geometric forms painted by Sequeira on sheets of music manuscript paper. These small gestures speak to the limitlessness of variation whilst simultaneously link to the artist's Indian heritage and the deep historic and ongoing practices of miniature manuscript and meditative Tantra painting.   
Ideas of repetition and time are extended to the monumental installation History and Infinity an expansive 50-meter linear sequence of changing colour that visually ripples and ribbons around the Gallery walls to a spectacular scale. Assembled from over 1000 multicolour opaque glass and ceramic vases that vary in size, colour and tone, Sequeira draws upon his background in museum curatorship and knowledge systems, to consider the ways in which the intersections of authorship, time and place can readdress human experience by providing space for contemplation and understanding. 
More ways to delve deeper  
In celebration of this major exhibition and David Sequeira's contribution to Australian art, an 80-page publication including full colour images and essays by David Sequeira, José Da Silva, Desmond Lazaro and Grace McQuilten will be available to purchase from Bunjil Place Gallery. This publication has been generously supported by Chancellery International, The University of Melbourne.  
A range of artist talks, workshops and performances will be on offer throughout the duration of the exhibition to provide opportunities for audiences to delve deeper into the exhibition themes and ideas.  
About the artist 
Dr David Sequeira is a visual artist, curator and is currently Director, Fiona and Sidney Myer Gallery, University of Melbourne.  Sequeira has been at the forefront of Australian art and curatorship that addresses diaspora for almost 30 years. Much of his research has focused on the use of colour and geometry in the creation of contemplative experiences for viewers. Implicit in this research is an investigation of language and information within the context of space and time. His research practice incorporates painting, sculpture, installation, photography, curatorship and visual arts policy, advocacy and audience engagement.  
Born in India in 1966 and moving to Australia in 1970 with his family, Sequeira is constantly exploring the relationship between the two countries. For over 20 years he has worked with a group of traditional miniaturists in Udaipur, India. The resulting works can be connected with issues around change and continuity, high and low art and the reverberations of colonisation. 
David has exhibited his work extensively throughout Australia and his work is held in important public collections including the National Gallery of Australia. He is the recipient of several residencies and awards including the Australia Council for the Arts studio residency in Paris, the Collex Museum of Contemporary Art acquisitive prize, Artist in residence at the University of Texas, Dallas and the Wyndham Art Prize. 
Prior to his current role, David held senior positions in public cultural institutions including the National Gallery of Australia, National Portrait Gallery, National Film and Sound Archive, Australian Parliament House and Old Parliament House, Canberra. 
Image: David Sequeira studio. Photograph: Stephen McCallum
Exhibition Program of Events
David Sequeira: untitled, India – Art and Fashion Show - Saturday 7 May
Bunjil Place Gallery is thrilled to present a one-night-only fashion and art experience by Indian-born Australian artist and curator David Sequeira. Combining archive photography, fashion, food, music, performance and video, untitled, India uses fashion and music to expand understandings of India. 
Teacher Professional Learning: Colour Portraiture Workshop with David Sequeira - Wednesday 11 May
Primary and Secondary school teachers are invited to join artist David Sequeira for a professional development workshop.
Colour Meditation Workshop - Thursday 23 June
Come be nourished by colour during this colour meditation and watercolour workshop led by artist David Sequeira.
Night MODE: Abundance Edition - Thursday 14 July
Explore Bunjil Place after hours through late access to All the things I should have said that I never said and Casey Cornucopia, adult art-making, drinks at bar prices, food, new live music, Library programs and book nooks, plus more.
David Sequeira: Artist Talk - Saturday 23 July
Join us at Bunjil Place Gallery for a talk by exhibiting artist David Sequeira. David will speak to his exhibition All the things I should have said that I never said, and his creative practice as artist and curator.
Invisible Realities - Saturday 20 August
Part concert, part performance art, part meditation. Join us at Bunjil Place Gallery for a unique musical experience.
Date
Sunday 8 May - Sunday 21 August 2022
Time
10:00 am – 4:00 pm (Tues - Sun)
Closed Mondays