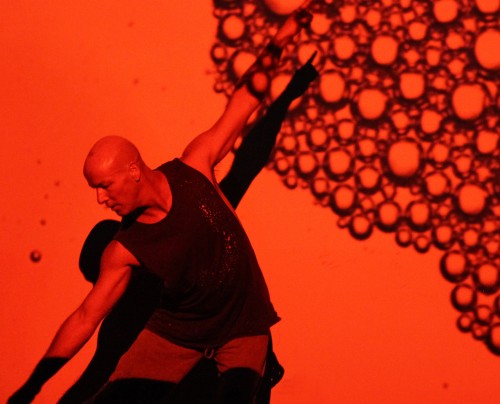 Blood on the Dance Floor
A powerful story that explores the legacies and memories of our bloodlines, our need for community, and what blood means to each of us – questioning how this most precious fluid unites and divides us.
A choreographer, dancer and writer from the Narangga and Kaurna nations of South Australia, Jacob Boehme was diagnosed with HIV in 1998. In search of answers, he reached out to his ancestors.
You will be transfixed by the blend of theatre, image, text and choreography, as Boehme pays homage ancestral ceremonies whilst dissecting the politics of gay, Blak and poz identities.
This is an unapologetic, passionate and visceral narrative that traverses time, space and characters. A story of our need to love and be loved, Boehme's striking monologue reveals our secret identities and our deepest fears, seeking to invoke ancestral lineage in a contemporary quest for courage and hope.
"…tells a story that is rarely heard in a way that is accessible and, ultimately, affirming"
The Music
"Boehme is marvelous: his charismatic presence and easy smile, graceful movement and the emotional intelligence behind his storytelling make this an entertaining, moving work that elicits as much empathy as laughter."
Cameron Woodhead - The Age
Warning: Adult themes and some coarse language. Recommended for audiences 16 years+
Blood on the Dance Floor is part of our new Black Box Drama Series, a collection of unique, powerful and compelling stories showing in 2019:
Grab a series ticket to all four performances in the Black Box Drama Series for only $100.

For general ticketing and box office information (including conditions of sale) see our Ticketing services information page.
For accessibility bookings or other box office inquiries please email bunjilplace@casey.vic.gov.auor phone 03 9709 9700 between 9.00 am and 5.00 pm (Monday to Saturday).
Can't find the perfect present? Give them the gift of choice with a Bunjil Place Gift Voucher!
Date
Thursday 22 August 2019
Location
Bunjil Place Studio
Tickets
Series ticket $100.00
Includes access to all 4 shows in the Black Box Drama Series.

Single show ticket
Adults $35.00
Concession $32.00
Under 25 $28.00

Please note: Service fees may apply to tickets sent via email ($1.95) and mail ($4.00).