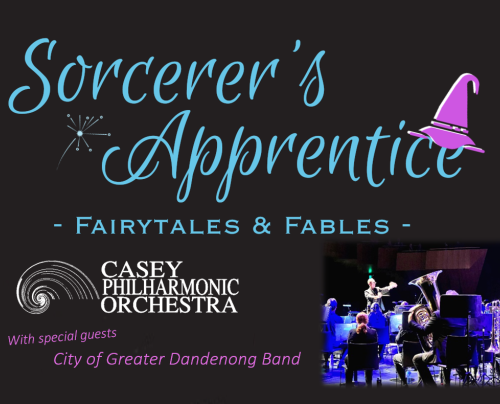 Casey Philharmonic Orchestra: Sorcerer's Apprentice, Fairy Tales & Fables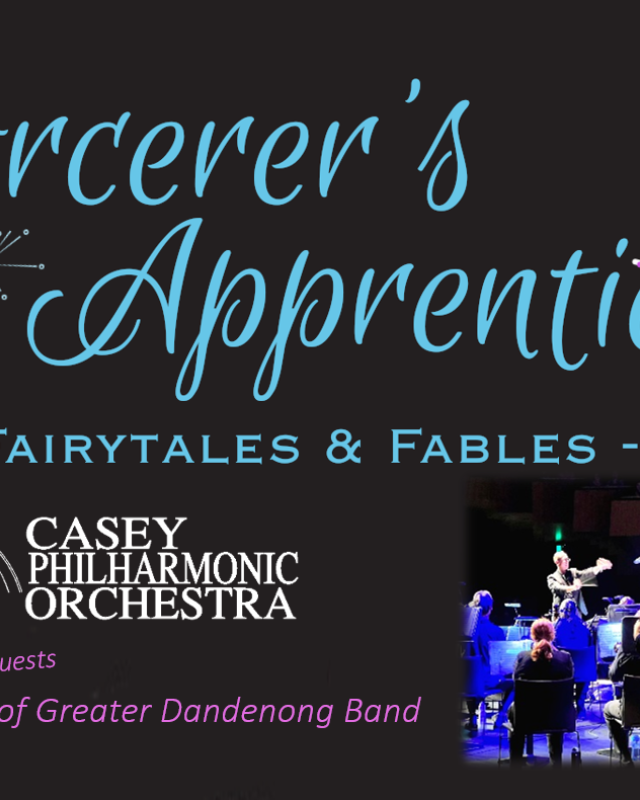 Casey Philharmonic Orchestra: Sorcerer's Apprentice, Fairy Tales & Fables
Unfortunately this event has been rescheduled to Friday 16 December 2022. All current tickets will be valid for the new date and you will be contacted by our Box Office to discuss the next steps. If you have any issues with your ticket, please contact our Box Office on 9709 9700.
Casey Philharmonic Orchestra are very disappointed to have to postpone this performance. This was a very difficult decision for us to make, and after so many cancellations and postponements over the last 2 years. However, COVID has hit our players hard since the easing/removal of restrictions, with a lot of absences over the past month. In particular, we have had a large number of players miss numerous rehearsals due to COVID or isolation requirements, and several of our principal players are still battling post-COVID fatigue. This, with another serious health condition by a key performer, have left us with little option but to postpone. 
We sincerely hope you will be able to join us for our rescheduled concert in the Studio at Bunjil Place – and we also hope to see you along to our other concerts this year: Harry Potter and the Chamber of Music 2:30pm Sunday 31 July and A Night at the Proms: CPO's 5th Birthday Concert, 7:30pm Saturday 15 October.
The Sorcerer's Apprentice, made popular in Disney's animated feature Fantasia, is an all-time favourite orchestral piece for so many people. Conducted by renowned conductor, Alex Vengerovski, this programme takes you on a journey of imagination to faraway, rustic places, and through fairy tales and fables. 
With special guests, City of Greater Dandenong Band.
While you may not know it by name, Peer Gynt, written by the Norwegian composer Edvard Grieg in 1875, is almost as famous. Based on a poem/play, it tells the tale of a charming but lazy and arrogant peasant anti-hero who embarks on a series of fantastic voyages around the world, finding wealth and fame but never happiness until he returns home. Walk to the Paradise Garden is a beautiful piece, written for the opera, Village Romeo and Juliet, a retelling about the love of two young peasants frustrated by a feud between their families. 
Grab your Casey Philharmonic Orchestra 2022 Season Pass here!
And who does not know and love Khachaturian's Spartacus, the musical telling of the story of the slave who led an uprising against the Romans –  the music also used in the 1979 film Caligula. The second half of the concert steps up a notch, with the last two movements of Berlioz', Symphony Fantastique, with its famous March to the Scaffold, and Dream of a Witches' Sabbath. But the climax of the concert is the Sorcerer's Apprentice, a symphonic poem by the French composer Paul Dukas, completed in 1897, known and loved by so many.
City of Greater Dandenong Band will also join the concert, playing Granville Bantock's (1933) Prometheus Unbound. Based on Shelley;s 1820 lyrical drama, Prometheus Unbound depicts the release of the Greek god Prometheus, who had been sentence to eternal punishment for defying Zeus and giving fire to humanity. Prometheus was unbound when Zeus fell from power.  Bantock succeeded Sir Edward Elgar as Peyton Professor of Music at the University of Birmingham, and was good friends with Jean Sibelius, who dedicated his Third Symphony to Bantock.
Conductor, Alex Vengerovski
Concertmaster: Julia Chen
Programme:
Grieg, Peer Gynt Suite
Delius, Walk to the Paradise Garden
Khachaturian, Adagio (from Spartacus)
Interval
Bantock, Prometheus Unbound (Dandenong Band, conducted by Jamie Lawson)
Berlioz, Symphony Fantastique, movements 4 and 5
Dukas, Sorcerer's Apprentice
Check out Casey Philharmonic Orchestra's 2022 Season:
Essential COVID information you should know before returning to Bunjil Place
Sign up to our mailing list and you'll be kept up to date on all the latest news and events happening at Bunjil Place.
For general ticketing and box office information (including conditions of sale) see our Ticketing services information page.
For accessibility bookings or other box office inquiries please email bunjilplace@casey.vic.gov.au or phone 03 9709 9700 between 9.00 am and 5.00 pm (Monday to Saturday).
Can't find the perfect present? Give them the gift of choice with a Bunjil Place Gift Voucher!
Date
EVENT RESCHEDULED

New Date:
Friday 16 December 2022

Previous Date:
Saturday 7 May 2022
Running time
2 hours (includes interval)
Tickets
Single Performance Tickets
Adult $39.00
Concession $34.00
Children Under 15 $19.00
Family of 4 $99.00
Group 10+ $32.00 per person

Season Tickets (all three CPO performances)
Adult $105.00
Concession $96.00
Children Under 15 $48.00
Family of 4 $285.00

Please note: A Service fee of $3.00 applies to bookings made online and by phone (unless tickets are free of charge). Delivery Fees may also apply.