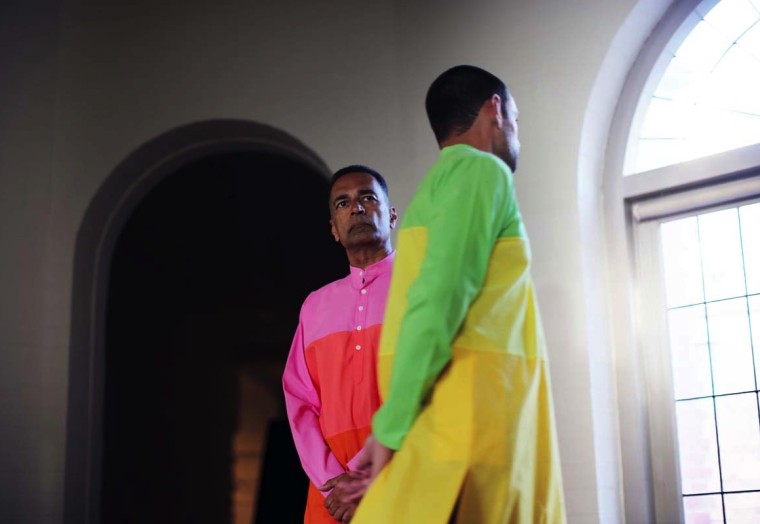 David Sequeira: untitled, India – Art and Fashion Show
Hours
Doors open: 6.30pm 
Runway performance: 7.00pm 
Food and beverage service: 7.45pm 
Gallery preview: 8:15pm
Location
Studio, Foyer & Gallery
Designed by David, the suite of 56 kurtas (long loose collarless shirts worn in many regions of South Asia including India) combine block colours and photographic images associated with India's past. Collectively these kurtas form a personal history of India and address the notion of 'embodied history'.
During this celebration of the Indian diaspora in Australia, hear directly from the artist about the project and enjoy a spectacular runway performance featuring 56 (a number personal to the artist) kurtas, worn by models from the local community, soundtracked with music performed by Veena virtuoso and composer Hari Sivanesan from his latest album Sarasvati, produced in collaboration with Amin Payne.
Following the runway performance, enjoy complementary drinks and sample delectable canape fare prepared by Bunjil Place Head Chef Colin Wilson, before moving into the Gallery for a preview viewing of the 56 kurtas on display, amongst other works, in David's exhibition All the things I should have said that I never said.   
Ticket price includes refreshments until 9.00 pm. After 9.00 pm, drinks are at bar prices.  
Doors open: 6.30pm 
Runway performance: 7.00pm 
Food and beverage service: 7.45pm 
Gallery preview: 8:15pm 
About the Artists 
David Sequeira 
Working across media, David Sequeira explores issues around high and low art, personal and shared histories, banality and profundity, the reverberations of colonisation and the persisting impact of incomplete histories. Curatorship —articulating the intersections between objects, time, place and space — is an important aspect of his art practice. David has held senior positions in public cultural institutions including the National Gallery of Australia, National Portrait Gallery of Australia, National Film and Sound Archive, Australian Parliament House and Old Parliament House, Canberra. He is currently the Director, Margaret Lawrence Gallery, University of Melbourne. 
Amin Payne x Hari Sivanesan 
Born out of Multicultural Arts Victoria's ReMastered Myths music program, the unique collaboration between producer/DJ, Amin Payne, and acclaimed Veena artist/vocalist, Hari Sivanesan, deconstructs stereotypes surrounding world music. 
 
Amin and Hari create hypnotic soundscapes that fuse Traditional Indian music with hip hop elements and modern technology creating something fresh to bring both cultures and sounds together. This is a very special project that moulds the analogue vs digital world together to connect the audience with the familiar sounds and educate them with the not so familiar. 
Photo: Eryca Green
Essential COVID information you should know before returning to Bunjil Place
Sign up to our mailing list and you'll be kept up to date on all the latest news and events happening at Bunjil Place.
For general ticketing and box office information (including conditions of sale) see our Ticketing services information page.
For accessibility bookings or other box office inquiries please email bunjilplace@casey.vic.gov.au or phone 03 9709 9700 between 9.00 am and 5.00 pm (Monday to Saturday).
Tickets
Adult $39.00
Pensioner/Senior/Student FT $32.00

Please note: A Service fee of $3.00 applies to bookings made online and by phone (unless tickets are free of charge). Delivery Fees may also apply.