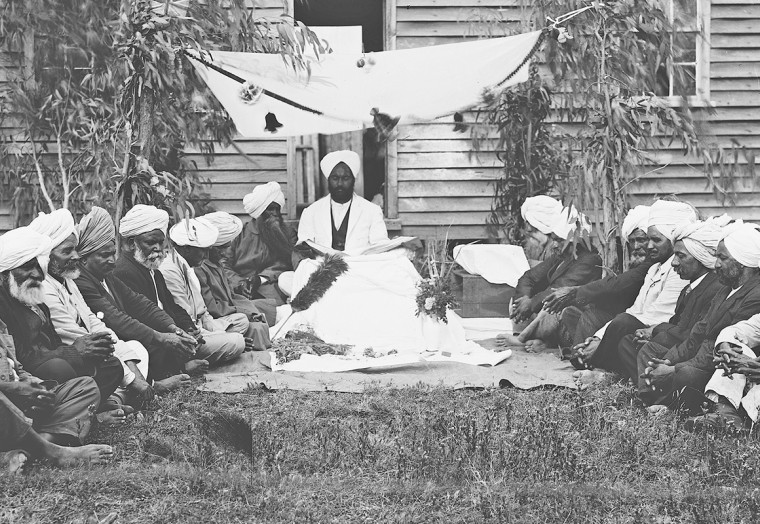 Bush Diwan
Dates
Sat 16 Sep 2023 - Sun 12 Nov 2023
Hours
10.00 am - 4.00 pm
(Tuesday - Sunday)
Location
Bunjil Place Gallery
The stories of migration and community formation are laden with struggles and triumphs. What do we bring with us and what do we leave behind? 
In Bush Diwan, six contemporary artists respond to a pivotal moment in Sikh history in Australia by exploring the reclamation of identity, forming, gathering and laying foundations of community. Illuminating two significant, yet little known, moments in Australian history, this project centres on the story of Siva Singh, an early 20th century regional Victorian resident, Sikh community leader and civil rights campaigner.
Bush Diwan is a 4A Centre for Contemporary Asian Art exhibition. Curated by Amrit Gill and Reina Takeuchi.
Header image: A group of Sikhs gathered at Siva Singh's property at Reef Hills outside Benalla, 1920. Photo courtesy of the WJ Howship Collection, University of Melbourne.
Body image: Amardeep Shergill , Aussie Phulkari 2022, DMC thread on perforated mesh, 122.0 x 245.0 x 37.0 cm. Commissioned by 4A Centre of Contemporary Asian Art and Benalla Art Gallery, 2022. Photo: Sean Davey for Bush Diwan, Benalla Gallery 2022.
ABOUT SIVA SINGH
Siva Singh arrived in Australia in approximately 1896, and worked as a hawker in Benalla and the surrounding regions from 1898. He established himself as part of the local community—widely recognised for his distinctive pink turban—and owned a 320 acre farm by 1915. Siva took on the duties of a Granthi or custodian of the Sikh scriptures in Benalla and surrounding regions, however was challenged in performing religious ceremonies due to the lack of a Siri Guru Granth Sahib Ji (Sikh scriptures) anywhere in Australia. A Siri Guru Granth Sahib Ji was sent from India to Benalla, and following its arrival, on 16 December 1920, an Akhand Path, or continuous reading, was performed for Hernam Singh on Siva Singh's farm. Attended by approximately 30 Sikhs, the ceremony was photographed by William John Howship, and is the first known Akhand Path that included the Siri Guru Granth Sahib Ji in Australia.
Siva Singh is also remembered for his personal fight against the White Australia policy, which had seen him struck off the electoral roll despite having voted in three previous elections. While his court case was initially thrown out, and Siva ordered to pay the legal costs, he regained the right to vote in 1925 after a decade-long legal battle.
ABOUT THE ARTISTS
Manisha Anjali is a writer and artist. She is the founder of Neptune, a research and documentation platform for dreams, visions and hallucinations. She is half of Whelk, an ambient music collaboration with Genevieve Fry. manishaanjali.com
 
Anindita Banerjee, a twice uprooted Indian, is an interdisciplinary artist and researcher. She lives and works on the lands of the Wadawurrung people of the Kulin Nation. Her research interest includes cultural otherness, authentic identity and the sense of home. The memories of ritualistic ceremonies and mark-makings and her reconstruction of them informs her practice. Using gestural portrayals of hybrid rituals, she wonders where her place is as an immigrant to the unceded Indigenous lands of present-day Australia. Through her work, she tests the existence of cultural otherness and challenges the notion of fitting into socio-cultural spaces literally and metaphorically. She has exhibited at the Victoria Parliament Melbourne, Customs House Sydney, the Perth Institute of Contemporary Arts and various other institutions and galleries. aninditabanerjee.com
 
Amardeep Shergill is a Canberra based emerging artist, having graduated from ANU School of Art and Design (Sculpture) in 2017. Her practice looks at the possibility of re-interpretation of heritage through new materials and exploring familial connections and traditional craft making skills. Amardeep is interested in exploring notions of culture, identity, transmigration, complexities and the triumphs of belonging to multiple spatial environments. amardeepshergill.com
 
Sukhjit Kaur Khalsa is a writer, performer, theatre-maker, filmmaker, and producer based in Boorloo. Her work as a multi-form artist for the last ten years has been recognised at the Performing Arts WA Awards (2020), Mona Brand Writing Awards (2022), WA Multicultural Awards (2022) and Young Australian Sikh of the Year (2023). Her passion for storytelling began as a finalist in the Australian Poetry Slam (2014), semi-finalist on Australia's Got Talent (2016) and winner of The Moth GrandSLAM (2019). Sukhjit spoke at TedxUWA (2017), TedxNewtown (2019) and has supported Missy Higgins and L-FRESH the Lion on their national tours. Her poetry and community arts projects have led her to tour globally and across her nation. Sukhjit premiered her sell-out theatre show FULLY SIKH with Barking Gecko Theatre Company and Black Swan Theatre Company (2019). Since then, she has been developing her comedy series WHAT WOULD SUKI DO? with support from ABC TV and is currently producing A HAIRY TALE, a documentary exploring female body hair. Sukhjit and her partner, Perun Bonser, were selected to develop their rom-com series ONE OF THE GOOD ONES at Ron Howard & Brian Grazer's talent lab, Impact Australia (2020). They premiered their video installation work BETWEEN BREATHS at Goolugatup Heathcote Art Gallery (2022) and the work toured in 4A Contemporary Asian Art Centre's BUSH DIWAN (2022). Sukhjit has been a story-telling trainer at the Centre for Stories and has produced storytelling and theatre projects for adults and school students. COLLECTABLES, her debut hip-hop single is now streaming on all platforms. Sukhjit is the Executive Director of The Blue Room Theatre.  
 
Perun Bonser is a Ngarluma filmmaker with a background in contemporary dance. As an accomplished writer and director with over a decade of experience, Perun is passionate about telling authentic stories that challenge audiences and empower First Nations communities. Perun has written and directed several short films including horror anthology DARK PLACE - THE SHORE (ABC), BLIGHT (ABC), FIGHTER (NITV), and SHADOWS OF DISPLACEMENT (NITV). His films have screened at a multitude of film festivals, including CinefestOz, Hot Docs, imagineNATIVE, St Tropez International Film Festival, Sydney Film Festival, and Melbourne International Film Festival to name a few. Perun directed Prospero Productions' immersive dome film STAR DREAMING and wrote for AFL documentary NOONGAR FOOTY MAGIC and ABC web-series AUSSIE RANGERS. Perun and his partner were selected to participate in talent accelerator lab Imagine Impact in 2020 where they developed ONE OF THE GOOD ONES. In 2021, Perun came on board as Series Director and Co-Writer of OUR LAW - Season 1 (NITV/SBS) which is currently streaming on SBS On Demand. In 2022, Perun was selected as AIDC's inaugural recipient of the Indigenous Documentary Placement at the ABC in Sydney. Perun is currently Series Director, Story Producer and Co-Writer of OUR LAW - Season 2 (NITV/SBS).
 

Monisha Chippada is an Australian-Telugu artist who works with moving images, photography and sculpture. Her practice is informed by intergenerational storytelling, sacred imagery and relationships. With a focus on empathy and empowerment through fluctuations between guardedness and vulnerability, her interest lies in documenting the experiences and narratives of minority voices from her communities. Through her mediums and installation methods she aims to disrupt the current accessibility of arts spaces.

Monisha has exhibited video and photographic installations in galleries across Australia - most notably her work Ilū at Firstdraft (2020) and Granville Gallery (2021). She has also exhibited a sculptural work Cocoon at Woolmark in Hong Kong (2017) as a part of the HIF Cloud Scholarship program. She has also worked in the Art Department for the film A Delicate Fire (2020) and has since been directing commissioned short films and photography works. Monisha holds a Bachelors of Design / Media (PR & Advertising) from UNSW and is currently working on a short film for Eora contemporary Jazz Group Delay 45 to be released in 2022.
 
Dates
16 September to 12 November 2023
10.00 am - 4.00 pm, Tuesday - Sunday