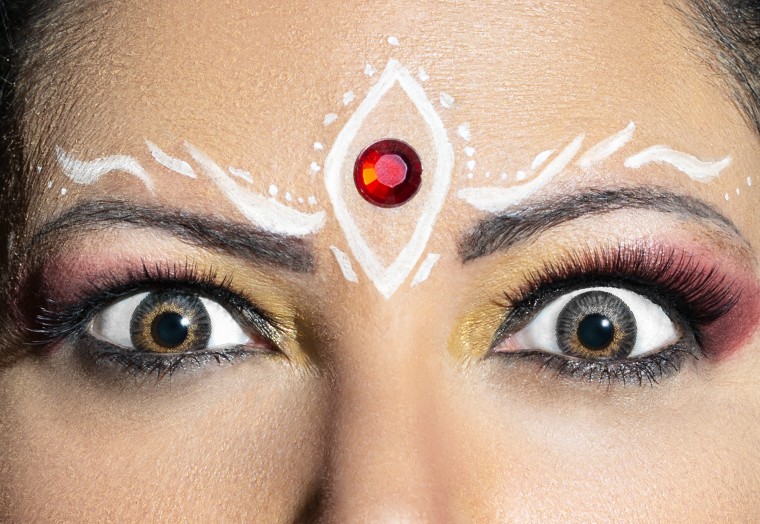 The Durga Chronicles
Dates
Sat 7 Oct 2023 - Sun 8 Oct 2023
Hours
5.00 pm - 5.50 pm (The Durga Chronicles - Performance)
6.00 pm - 7.30 pm (Circles of Conversation)
Location
Bunjil Place Studio
Inspired by contemporary, classical Indian postmodern aesthetics, this rich work uses music, dance and stunning visuals, along with an exquisite, moving Carnatic choir of 12 women, to create a spectacular, immersive storytelling experience that is both harrowing and moving.
The Durga Chronicles by Priya Srinivasan is a collaboration with Uthra Vijay, Philipa Rothfield and supported by Govin Ruben, Hari Sivanesan, Marcus Salvagno, Priyadarsini Govind, Lalita Ramona Yagnik and the Keerthana Women's Choir. With special guests Menaka Thomas and Susmitha Ravi. 
In Hindu mythology, Durga is the Goddess of protection, motherhood and war; recognised as the carrier of feminine strength. The Durga Chronicles draws on the stories of women who have been harmed in different parts of the world and harnesses the force of Durga to provoke empowered resistance against gendered violence. 
Winner of the Prestigious 2023 Green Room Award for "Breaking Ground" which is an unprecedented event in the history of Australian dance. 
The Durga Chronicles premiered at Melbourne's Arts House in 2022 to great acclaim with support from Creative Victoria, Australia Council, Insite Arts, Abbotsford Convent, VicHealth, Indian Care and MAV. 
Following each performance there will be circles of conversation with diverse, multicultural, inter-faith community members, leaders, psychologists and social justice workers to discuss resistance against gendered violence and to empower those who identify as women. Please stay and join us to discuss these important issues.
Content note If this information is distressing for you or if you need support in regard to sexual assault, domestic or family violence you can call 1800 RESPECT 1800 737 732 for 24/7 phone and online services. 
If you, a child, or another person is in immediate danger, call 000.
CIRCLES OF CONVERSATION 
Dates and Times
Immediately following the performance on Saturday 7 October and Sunday 8 October
6.00 pm – 7.30 pm
Duration: 1 hour
Free for all ticket holders 
The Circles of Conversation event explores the themes and topics presented in The Durga Chronicles from financial abuse to shame and allyship. The event is curated by Veronica Pardo (former CEO Multicultural Arts Victoria, Executive Director Arts Access Australia) and Malavika Kadwadkar, in collaboration with other cultural leaders. 
The format is a deliberate departure from western style panels. The room is set up with round tables, each with a topic, a host and a scribe. Chai and samosa is served and audiences are invited to mingle and move between tables. Curator Veronica Pardo invites leaders to share their discussions, experience and strategies. Following the event, resources are available via the Bunjil Place website.  
CONTENT WARNING
The performance explores and features imagery depicting gendered violence, sexual assault, sexual abuse, sexual violence and adult themes. Abrupt lighting changes and possible smoke effects, haze, strobe lighting and flashing lights.
THE DURGA CHRONICLES CREATIVE TEAM
Original Concept and Artistic Director: Priya Srinivasan
Choir Musical Director, Composer and Arrangement: Uthra Vijay
Co-Performance Director and Co-Choreographer: Priya Srinivasan
Co-Performance Director and Co-Choreographer: Philipa Rothfield
Composer, Arrangement and Musician: Hari Sivanesan
Production Design: Govin Ruben
Filmmaker: Marcus Salvago
Dancer and Collaborator (on film): Priyadarsini Govind
Dancer: Priya Srinivasan
Choir: Keerthana Music School with guest artists Susimitha Ravi and Menaka Thomas 
Producers: Insite Arts 
Curator - Circles of Conversation: Veronica Pardo
Dates
Saturday 7 October
5.00 pm - 5.50 pm (Performance)
6.00 pm - 7.30 pm (Circles of Conversation)
Sunday 8 October
5.00 pm - 5.50 pm (Performance)
6.00 pm - 7.30 pm (Circles of Conversation)
Tickets
Adult $20.00
Concession $15.00 (pensioner, senior, full time student)
Please note: A Service fee of $3.00 applies to bookings made online and by phone (unless tickets are free of charge). Delivery Fees may also apply.
For general ticketing and box office information (including conditions of sale) see our Ticketing services information page.
For accessibility bookings or other box office inquiries please email [email protected] or phone 03 9709 9700.
9.00 am - 5.00 pm (Mon to Fri)
|
10.00 am - 5.00 pm (Sat)