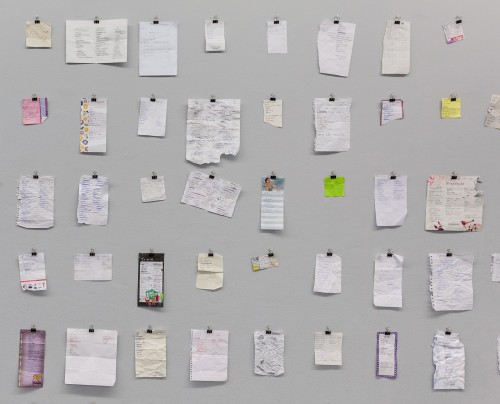 Fifty two found shopping lists written by people who need milk by Kenny Pittock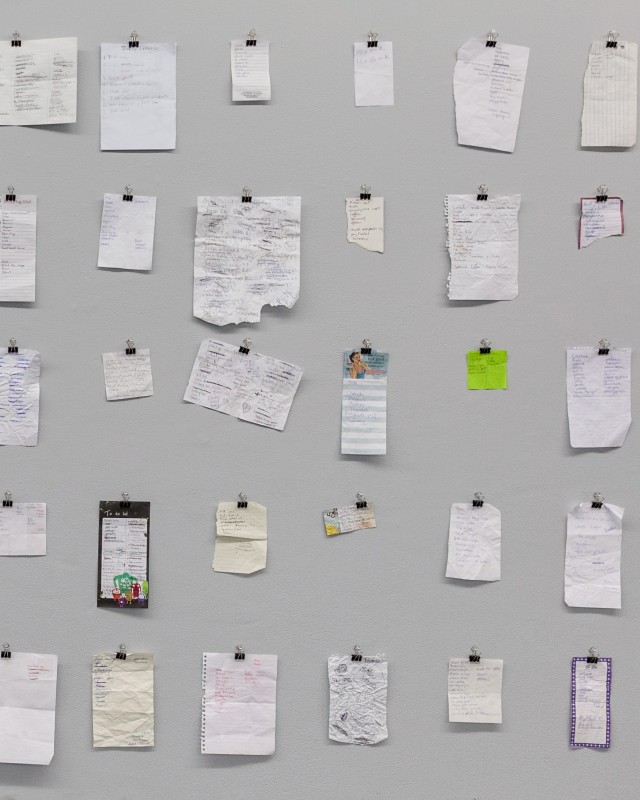 Fifty two found shopping lists written by people who need milk by Kenny Pittock
Melbourne-based artist, Kenny Pittock's humorous and at times poetic works combine ceramics, drawing and text that capture his observations of everyday life.
As much to sustain his art practice as well as being the inspiration for his creativity, Pittock has worked at Casey Central supermarket for many years making sketches based on his daily experiences and collecting shopping lists for his current work.
The key work in this exhibition, Fifty two found shopping lists written by people who need milk began "During my shift working in the dairy section at a supermarket in 2003 the manager told me that milk is generally the last thing a shopper will get before leaving the store and so it's also the place they abandon their shopping lists. Part of my job was to dispose of the abandoned lists but instead I started collecting them. The 52 lists I've replicated here through kiln fired ceramics and painting all feature milk, and were all found during the weekend of April 22-24, 2016, while working at Casey Central collecting trolleys. Each list functions as both a poem and a portrait, offering a glimpse into the people we pass in the supermarket."
This series of ceramic reproductions that capture every crease and paper fold, range from methodically typed columns to scribbled and scratched items written on the back of envelopes, note pads and crumbled and torn paper scraps. Presented together they are unexpectedly interesting items.
Fifty two found shopping lists written by people who need milk won the acquisitive emerging artist category in the 2017 Redlands Konica Minolta Art Prize and is being loaned to our Gallery as part of his new exhibition.  This will be the first time the work has been shown in Melbourne and will be presented alongside new works inspired by his experiences at Casey Central.
Date
Friday 9 March - Sunday 29 April

Time
Tuesday to Sunday
10.00 am - 5.00 pm
Location
Bunjil Place Gallery