Explore our Foyer & Cafe
Foyer & Café
The perfect place to start discovering everything Bunjil Place has to offer.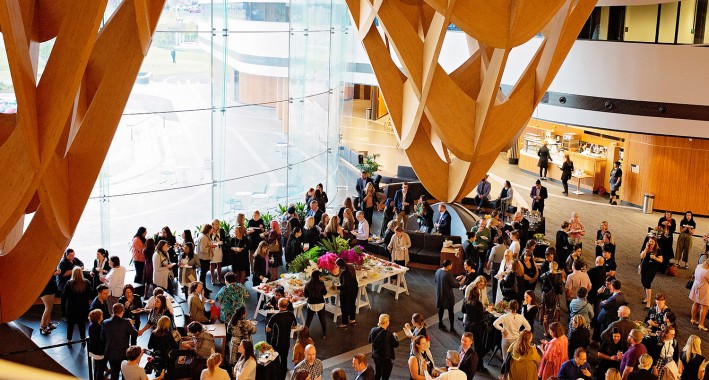 Whether it's admiring our world-first timber gridshell with all its complexities, basking in the sun streaming through the 12m high glass facade or enjoying the 'stories of Casey' on our interactive touchscreen wall, there's something for everyone in the Bunjil Place Foyer.
Coffee lovers will also appreciate our modern café serving a range of salads, light meals, sandwiches, breads, pastries, sweets, savouries and, of course, delicious coffee. Open Monday to Friday 7:30 am to 6.00 pm and 10.00 am to 5.00 pm on Saturday and Sunday (opening times may vary to suit event requirements).
FAST FOYER FACTS
One Single Tree
All the timber veneer you see on the walls inside the Foyer (and the Theatre) was sourced from a single massive blackbutt tree. The tree was saved by a sawmill in Queensland, who was waiting for the perfect project that could make the most of this unique opportunity - and Bunjil Place was that perfect project!
Glass façade
Large sheets of glass were melted into a special mould to achieve the exact curve of the building. They're stacked vertically on top of each other and are self-supporting, held together with structural adhesive (kind of like industrial strength double-sided tape). So as not to disturb the amazing light and sight-lines through the glass, the architects and structural engineers worked together to develop a sophisticated transparent glass column that sandwiches together multiple pieces of strengthened, laminated glass, which is clamped together with metal discs.
Interactive touchscreen
The stories of Bunjil the eagle and Casey are captured in the interactive touchscreen wall outside the Studio. Children and adults of all abilities can connect through the floating nodes, with interactivity available at all heights from the top to the bottom of the screen.