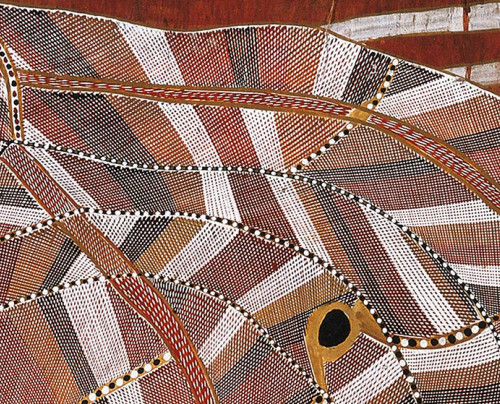 John Mawurndjul: I am the old and the new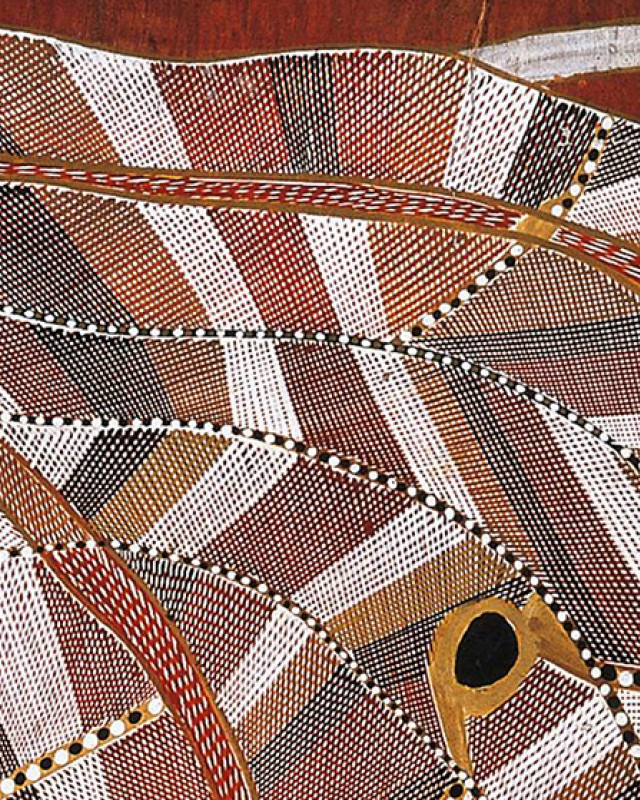 John Mawurndjul: I am the old and the new
"The old ways of doing things have changed into the new ways. The new generation does things differently. But me, I have two ways. I am the old and the new." John Mawurndjul
John Mawurndjul: I am the old and the new reunites works of art made across a 40-year period. The artist has led the development of this exhibition, which describes in Kuninjku (and English) his places of special cultural significance known as kunred, as well as the sacred places and spirits – or Djang – that resurface time and time again in his art-making. We also encounter the animals and spirit beings that populate these locations including female water spirits (yawkyawk), rainbow serpents (ngalyod) and mischievous mimih spirits.
The places around western Arnhem Land that recur in his work include spring-fed creeks such as Milmilngkan, sandstone escarpments including Ngandarrayo and the white clay quarries of the seasonal creek called Kudjarnngal. The materials used by Mawurndjul to make his art come from these places: the stringy bark eucalypt skins that form the body of his bark paintings; the white clay, yellow and red ochres mined from sacred deposits that become paint; and the manyilk, the paint brush sedge that makes the single strand brushes that the artist uses to make cross hatching or rarrk.
The Mardayin ceremony, comprising rituals of a sacred nature, and informing so much of Mawurndjul's work, remains a timeless narrative thread that links the past to the present, and sheds light on Kuninjku future – embracing the old and the new. This exhibition was developed and co-presented by the Museum of Contemporary Art Australia and the Art Gallery of South Australia, in association with Maningrida Arts & Culture.
Plus download the exhibition chatterbox activity to complete at home with the kids!
Gheran Yarraman Steel Welcome to Country for John Mawurndjul
We are very honoured to be able to present this Welcome to Country video (and accompanying transcript) of Gheran Yarraman Steel welcoming the artist John Mawurndjul and his exhibition to Bunjil Place Gallery.
Gheran Yarraman Steel – Boonwurrung Traditional Owner – draws from 20 years of experience in operations and people management in the commercial sectors, as well as in the not-for-profit sector, where he proudly served at the CEO of the Boon Wurrung Foundation, the Boonwurrung community's representative body.
Unfortunately time constraints meant that we were unable to get the video captioned, however, we're happy to provide a full transcript of the video here.
Exhibition organised and toured by the Museum of Contemporary Art Australia.
This project has been assisted by the Australian Government's Visions of Australia program.

Image: John Mawurndjul, Ngalyod (Female Rainbow Serpent) (detail), 1988, earth pigments on Stringybark (Eucalyptus tetrodonta), Museum of Contemporary Art, purchased with funds donated by Mr and Mrs Jim Bain, 1989 © John Mawurndjul / Copyright Agency, 2020, photograph: Jessica Maurer.
Date
24 November 2020 - 17 January 2021
Time
10:00 am – 4:00 pm,
Tuesday to Sunday
Location
Bunjil Place Gallery
Tickets
Free. Bookings essential.
You can also book your free session in-venue at the Box Office desk, or by calling 9709 9700