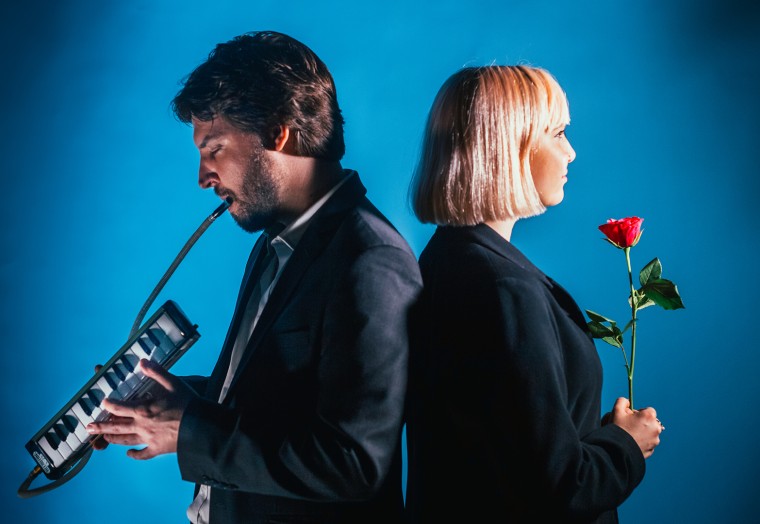 Love Song Dedications (without Richard Mercer)
Visit our COVID information page for more information about show reschedules and venue closures
Join Tom and Bonnie on the ultimate quest to find the perfect love song. Part comedy show and part performance, this critically acclaimed and utterly charming show will take you on a joyous ride through contemporary politics, philosophy and wicked dance moves, one pop song at a time.
In 2013, after 17 years of being on air, late night radio legend, Richard Mercer, left his final Love Song Dedication. Now, two brave friends attempt to fill the void that 'The Love God' left behind.
After listening to literally thousands of dedications Bonnie and Tom are neck deep in the challenge. They seriously need your help. It's going to take all night! Actually, only about 70 minutes. You'll laugh, you might cry. And your heart will soar (secretly) at all those half-forgotten songs you're ashamed to know the lyrics to.
In a world of post-truths, pandemics, ironic memes and anti-social media, this highly intelligent and warm-hearted show is the ultimate therapeutic experience. Irony will be truly dead, and only one question will hang in the air: "What is love? (…Baby don't hurt me, don't hurt me, no more...)''
Guests can also pre-order a delicious grazing platter to enjoy before the show. Add one of the following to your cart when booking your tickets: 
Cheese Platter: Local Cheeses, Fruit Paste and Lavosh - $18.50 (serves 2)
Antipasto Platter: Cured Meat, Marinated Vegetables, Cheese and Turkish bread - $22.50 (serves 2)
"One of the funniest plays you'll ever see!"
Alt Media
"The show is hilarious, surprisingly touching and very fast paced..."
Sydney Arts Guide
A Ten Tonne Sparrow Production.
Photo credit: Promotional photography by Nick Mckk Production photography by PACT Centre for Emerging Artists.
Essential COVID information you should know before returning to Bunjil Place
Keep up to date with what's happening at our place by signing up to our newsletter.
For general ticketing and Box Office information (including conditions of sale) see our Ticketing services information page.
For Accessibility bookings please email [email protected] or phone 03 9709 9700 between 9.00 am and 5.00 pm (Monday to Saturday).
Tickets
Adult $39.00
Concession $35.00
Group 4+ $35.00 per person

Please note, a service fee of $3.00 applies to all bookings, plus $1.00 for standard mail if selected.