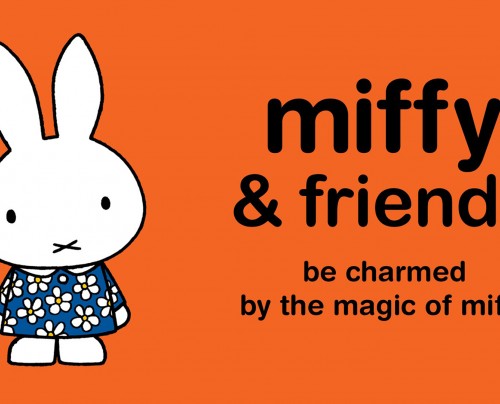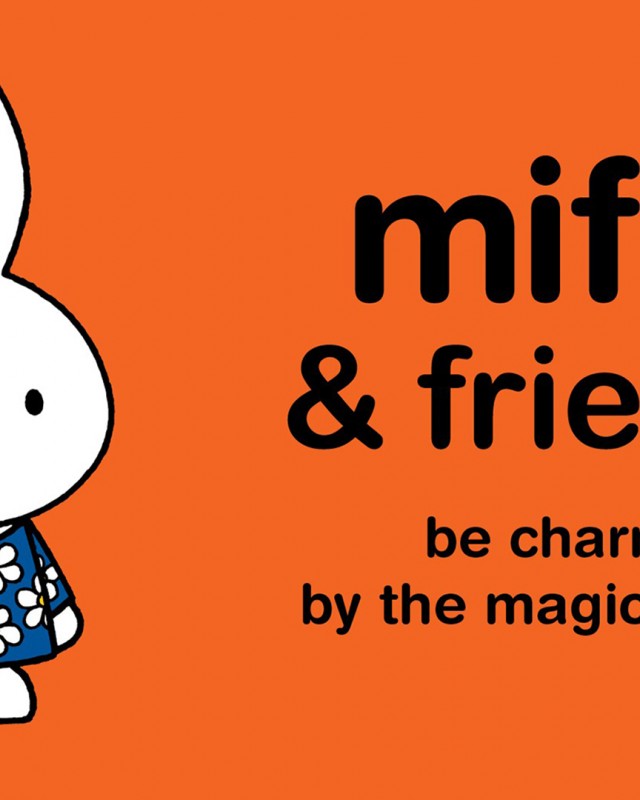 miffy & friends
Miffy, or Nijntje (little bunny) has captivated children and adults alike for 65 years. First conceived by illustrator Dick Bruna (1927–2017) as a bedtime story for his son, Miffy has evolved into a globally recognised and much-loved character.
A deceptively unassuming figure, Miffy's outward simplicity belies a legacy grounded in the 20th century avant-garde–abstractionism, colour theory and De Stjil–and owes a debt of influence to the likes of Matisse, Léger and Mondrian. Miffy embodies a universal language of minimalism, expressing a myriad of emotions and subtle nuances that can be understood across generations and cultural milieus.
Don't miss our Miffy Opening Weekend Celebration on Saturday 27 & Sunday 28 March!
miffy & friends pairs original Bruna drawings and illustrations with early book covers and posters, through to the iconic figure of Miffy. The exhibition celebrates Bruna's underlying philosophy of allowing room for the imagination, and introduces the influence of Miffy on the work of seven contemporary Australian artists. It teases out concepts that Bruna and other artists have grappled with over the ages, including colour, line and form, and brings these ideas to audiences to instil a love of art, as Bruna did over his lifetime.
Featuring Dick Bruna, Stephen Bird, Sadie Chandler, Nadia Hernández, Carla McRae, Nell, Brian Robinson, and Vipoo Srivilasa.
Curator: Vanessa Van Ooyen
Exhibition Program
Immerse yourself even deeper in miffy & friends with these exhibition events including:
Miffy Opening Weekend Celebration - Saturday 27 & Sunday 28 March, 10.00 am - 2.00 pm on both days
Enjoy the magic of Miffy at our Opening Weekend Celebration. From a live outdoor stage show to themed craft, games and on screen interactives there's so much to do and see and everything with a nod to one of the world's most lovable characters.
Curator Walk-and-Talk: miffy & friends - Saturday 27 & Sunday 28 March, 3.00 pm on both days
Join miffy & friends curator Vanessa Van Ooyen for a curator's walk and talk through the Gallery where the ideas, themes, and artworks of miffy & friends will be explored and discussed.
Storytime in the Gallery: Miffy! - Every Thursday for the duration of the exhibition, 11.00 am
Spark your child's imagination in special Miffy storytimes every Thursday in the Gallery. Join us as we read some of Miffy's favourite adventures surrounded by original illustrations and artworks by Dick Bruna. Plus stick around afterwards for some Miffy-inspired art making.
Miffy Reading Corner - Every day in the Library for the duration of the exhibition
Immerse yourself in the wonderful world of miffy & friends by visiting the Miffy Reading Corner in the Bunjil Place Library. Browse or read one of Miffy's many adventures in a cozy rabbit themed reading nook.
Dancing Miffy on the Outdoor Screen - Every day in the Plaza for the duration of the exhibition, 10.30 am - 12.00 pm and 3.30 pm - 5.00 pm (excludes 6-8 April and 19 April-3 June)
Enjoy an augmented reality experience with your family as guests young and old dance, skip and play with Miffy on the Outdoor Screen in the Plaza. A 3D animated Miffy character will virtually attach to you on the screen, creating an augmented reality interactive Miffy experience like no other!
Miffy The Movie - Saturday 3 April, 10.00 am on the Outdoor Screen
Come join us for a special screening of Miffy The Movie on our Outdoor Screen, complete with a visit from the Easter Bunny!
Quiet Morning - Saturdays 10 April, 8 May and 12 June, 10.00 am - 11.00 am
Enjoy a low-sensory experience in the Gallery and simply take advantage of a quiet space. We're reducing the usual noises and distractions so you can enjoy a little extra quiet time to explore at your leisure. There will be additional friendly staff around too who will be available to provide further assistance should you need it.
Please view our accessibility resource. Feel free to print this out and bring it with you on your visit to the Gallery. 
Wednesday Night Workshop: Paper Daisy & friends with Louise Seymour - Wednesday 14 April, 7.00 pm - 9.00 pm
Join paper artist Louise Seymour from Paperlab and learn how to create your very own posy of daisies inspired by the iconic motif seen in many Miffy & friends stories.
Drop-by art-making with Carla McRae - Saturday 15 May, 11.00 am - 2.00 pm
Join Melbourne-based artist Carla McRae for family-friendly art making. Children and families are invited to spend some time being creative and enjoy an activity developed by Carla especially for Bunjil Place.
Art Bites - Thursdays 6 May and 3 June, 12.30 pm
Join us at Bunjil Place on the first Thursday of the month for Art Bites, an art talks program for art lovers and those interested in creative art practice. Each month an artist or creative specialist will share a discussion on a different aspect of miffy & friends. Designed to be easily consumed in bite sized-chunks, each talk promises an exciting exploration of ideas and art.
Thursday Nights at Bunjil Place - Thursdays 22 April and 13 May, 5.30 pm - 10.00 pm
We go into night mode on Thursday Nights and present a late-night offering of art and ideas. Enjoy after-hours access to miffy & friends, artist-led art making, spoken word open mic hosted by Littlefoot and Co, art sharing and discussions with Way Over There Collective, plus tunes, drinks and plenty of snacks.
Day out with Miffy
An augmented reality adventure with Miffy! As part of your visit, download the EyeJack app via the QR code below. Open the app and point your phone's camera at hidden images throughout the gallery.
Share your photos on socials using @bunjil_place and #miffyBP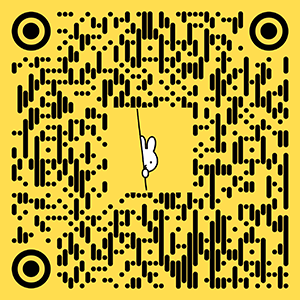 eyejack.link/day-out-with-miffy
© Mercis bv
AR Animations designed by Anastasia Tyurina
All Dick Bruna and Miffy illustrations © Mercis bv
Program proudly presented in partnership with

miffy & friends is a QUT Art Museum travelling exhibition

Date
Saturday 27 March – Sunday 13 June 2021

The Exhibition will not be ticketed on the Opening Weekend and instead managed on a walk-up basis at the Gallery welcome desk.
Time
10.00 am – 5.00 pm,
Tuesday to Sunday
Tickets
Free for all. Bookings essential.

You can also book your free session in-venue at the Box Office desk, or by calling 9709 9700.

Walk up guests are welcome to book sessions on the day, however, please be aware that if our COVID-safe capacity has been reached you may be denied entry to the Gallery.