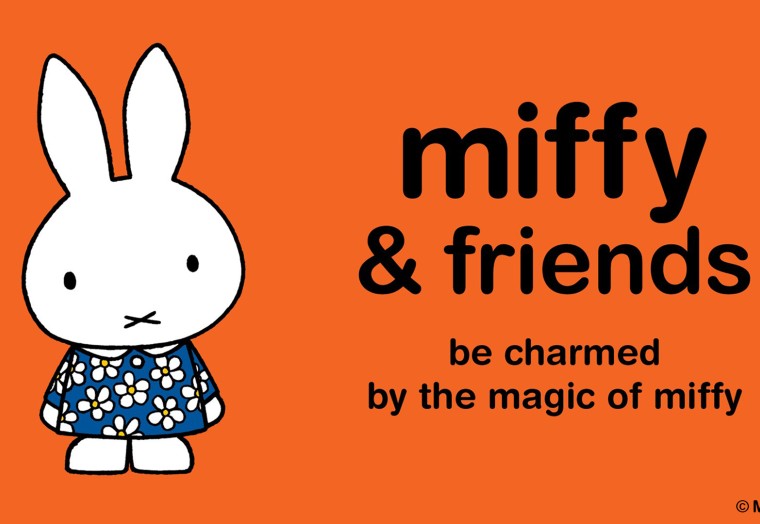 miffy & friends
Dates
Fri 26 Mar 2021 - Sun 13 Jun 2021
Hours
10.00 am – 5.00 pm,
Tuesday to Sunday
A deceptively unassuming figure, Miffy's outward simplicity belies a legacy grounded in the 20th century avant-garde–abstractionism, colour theory and De Stjil–and owes a debt of influence to the likes of Matisse, Léger and Mondrian. Miffy embodies a universal language of minimalism, expressing a myriad of emotions and subtle nuances that can be understood across generations and cultural milieus.
Please note: Unfortunately this exhibition is currently closed due to COVID-19 restrictions. Why not take a virtual tour or visit our online miffy merchandise shop?
miffy & friends pairs original Bruna drawings and illustrations with early book covers and posters, through to the iconic figure of Miffy. The exhibition celebrates Bruna's underlying philosophy of allowing room for the imagination, and introduces the influence of Miffy on the work of seven contemporary Australian artists. It teases out concepts that Bruna and other artists have grappled with over the ages, including colour, line and form, and brings these ideas to audiences to instil a love of art, as Bruna did over his lifetime.
Featuring Dick Bruna, Stephen Bird, Sadie Chandler, Nadia Hernández, Carla McRae, Nell, Brian Robinson, and Vipoo Srivilasa.
Curator: Vanessa Van Ooyen
Familiarise yourself with miffy & friends before your next visit by watching the video below:
Check out our miffy & friends social story here.
Why not try our virtual tour of miffy & friends from home? Click here to start wandering the exhibition!

We also have a super cool activity sheet from Carla McRae with 2 fun activities that you can do at home, including drawing, making art with nature and a recipe for salt dough! 
Check out these cool 'Friends for miffy' that our local Kindergartens have made!
While we're stuck inside, why not watch our Miffy Storytime 'miffy in the Museum' read by Nell?
Did you miss our talk with Rex Butler? Watch the full talk here:
Day out with Miffy
An augmented reality adventure with Miffy! As part of your visit, download the EyeJack app via the QR code below. Open the app and point your phone's camera at hidden images throughout the gallery.
Share your photos on socials using @bunjil_place and #miffyBP
eyejack.link/day-out-with-miffy
© Mercis bv
AR Animations designed by Anastasia Tyurina
All Dick Bruna and Miffy illustrations © Mercis bv
Program proudly presented in partnership with

miffy & friends is a QUT Art Museum travelling exhibition
Tickets
Free for all. Bookings essential.

You can also book your free session in-venue at the Box Office desk, or by calling 9709 9700.

Walk up guests are welcome to book sessions on the day, however, please be aware that if our COVID-safe capacity has been reached you may be denied entry to the Gallery.