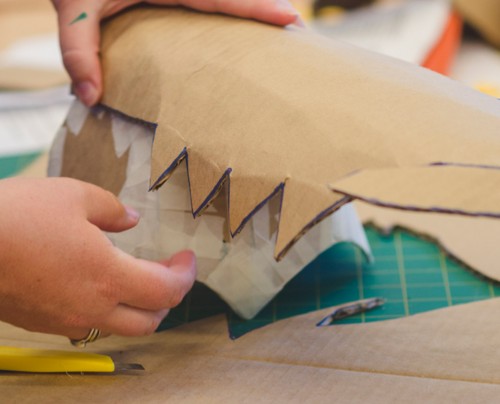 Monster Masks: Family Art-making Workshop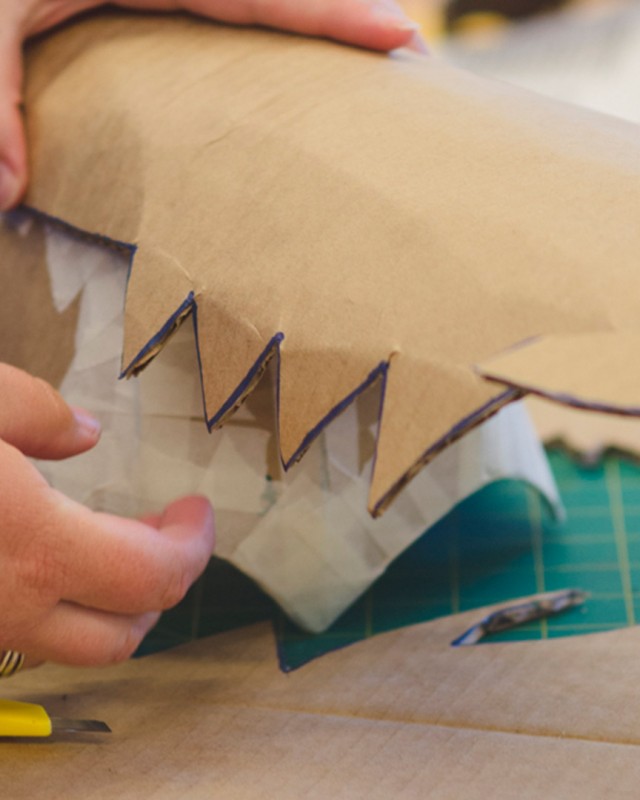 Monster Masks: Family Art-making Workshop
A monster! A robot? An intergalactic-space-witch?  Join wearable art artists Sarah Seahorse and Luna Aquatica for a headdress and/or mask making workshop with a focus on free, recycled and easy to access materials. 
Using recycled materials and household items such as masking tape and scissors, participants will have the opportunity to create their own unique Halloween costume item. Accompanied by visual stimulus and mask making inspiration, young people and their families will be able to make the mask of their wildest dreams using cardboard as a base. 
The full list of materials needed is as follows: 
 
Essential Materials:
Recycled cardboard- strong and firm is best - cardboard packaging boxes work well

Large piece of paper to draw your design on

Cutting mat or an extra piece of cardboard to use as a cutting mat

Textas

Ruler or tape measure

Stanley knife or boxcutter- for adult use only (these are optional- scissors are fine if you don't have this)

Sharp scissors

Glue- hot glue gun, glue stick or craft glue all will work for this project.

Stapler + staples- you could also use a needle and thread if you don't have a stapler.

Elastic or recycled stretch fabric strips (from an unwanted  Tshirt or leggings can work well)
Optional extra materials to Decorate your mask:
Whatever you have lying around your house, think recycled materials!
Acrylic paint

Recycled fabric

Textas or sharpies

Tin foil

Recycled materials- such as milk bottle caps, yogurt lids, old buttons, sponges, old wrapping paper, broken jewelry etc- be creative- often the recycling bin can be full of interesting materials to be creative with

Hairdryer for drying paint quicker if necessary.

Your imagination!
Suitable for ages 5+. 
This event will be available online, and can be accessed by viewing the Digital Content in your Ticketing Account. Instructions on how to access your Ticketing Account can be found here. 
About your teaching artists 
Luna Aquatica and Sarah Seahorse are hyper-coloured award-winning wearable artists and workshop facilitators who believe that creativity and self-expression are incredibly powerful tools for social change and personal empowerment. Their work holds at its core a deep appreciation for human and environmental symbiosis. They work mostly with recycled and repurposed materials, and facilitate engaging wearable art workshops with a strong collaborative focus. For over a decade Luna and Sarah have used recycled media and found objects to create fantastical displays of innovative costuming, millinery, large scale soft fabrication, body puppetry, provocative performance and unique wearable art.  
Luna and Sarah are two-time award winners at the international World of Wearable Art Awards. Between them, Luna and Sarah hold degrees in Youth work and Community Development, Community Theatre and Costume Design and have vast experience in the costume and theatre industries. They have been teaching workshops in Naarm in embellishment, millinery, sewing skills, patternmaking, wearable technology and wearable art. Their clients include Melbourne City Libraries, Signal Arts and many more. Aiming to create spaces where people have the opportunity to take part in creative and expressive artistic activities outside of formal education, they believe that wearable art is the perfect medium for telling important personal stories and expressing complex ideas, especially in a collaborative or group context. 
Date
Saturday 30 October 2021
Location
Online. A link will be provided once you have registered.
Running time
1 hour 30 minutes
Tickets
Free - registration required.
You will be emailed instructions on how to access this event online via your Ticketing Account.