Our Outdoor Screen in the Plaza presents a unique, specialised program that celebrates artists, filmmakers, animators, sporting heroes and our community. Learn more about the content we show directly from the minds of the curators. This week we hear from Uyen Nguyen about her curated piece titled, Moments.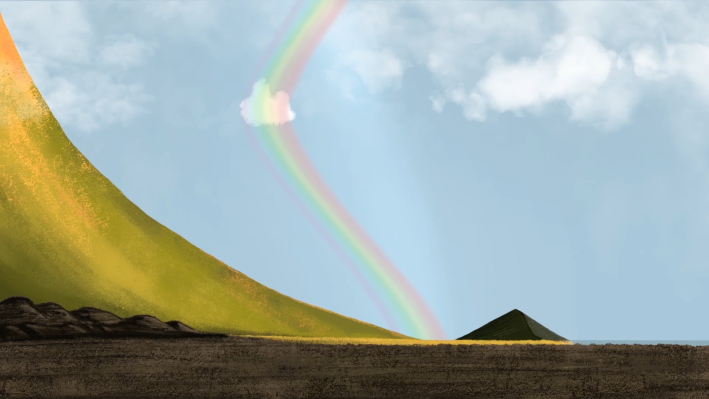 Text provided by Uyen Nguyen, Masters of Animation, Gaming and Interactivity, RMIT University 
Moments curated by Uyen Nguyen 
Animated vignettes capture brief moments, fragments and snapshots of characters, scenarios, emotions, places and the relationships between them. Although with little or no complete plot, narrative or story these animations convey a multitude of meanings - from deeply revelatory commentary to amusing and charming anecdotes. Eschewing conventional linear storytelling techniques that are commonly used to advance detailed narratives, these animations from the Master of Animation, Games and Interactivity at RMIT University instead play with experimental stylistic and conceptual approaches to convey evocative impressions and perceptions. Some of these animations interpret slices of the everyday in different ways, while others reveal surreal and whimsical moments that reimagine the familiar. Despite their brevity, all these snippets and scenes suggest wider worlds and imaginative new contexts and understandings through the interpretive power of animation.
Diorama: Up High, Detached, Observer; Ika Jumali; (2019) 
Rituals: Cafe, Kitchen, Studio; Ika Jumali; (2019) 
Huh; Evan McInnes; (2018) 
Urbanality; Evan McInnes;  (2019) 
The Pond; Yee Hui Wong; (2020) 
Space; Jingyi Lin; (2019) 
Situations; Jingyi Lin; (2018) 
Friends; Uyen Nguyen; (2019) 
Pet Plant; Yeunji Kim; (2019) 
Sidewalk Scribbles; Peter Lowey; (2011) 
Xiao kui; Xun Yao; (2018) 
Cafe Figures MoBlur; Gina Moore; (2020) 
Shelves; Gina Moore; (2020) 
Books; Gina Moore; (2020) 
Plants; Gina Moore; (2020) 
Tennis Shoes; Gina Moore; (2020) 
Dream; Joyce Huang; (2020) 
Lost; Joyce Huang; (2019) 
The Competition of Big; Vita Nie; (2019) 
The Winter; Xin Li 
Two little people; Xin Li
See what we have planned on the BIG Screen for summer 2020/21
18/1
Get the family together and join resident yoga expert, Michelle, for a digital yoga class in the comfort of your own home!
14/1
From Ethiopia to Colombia, and weaving through the lands of this very continent, experience tales about ancient stones, connection to country, and the mesmerising tricks of hula hooping teens
13/1
Isn't it great to have some sort of normal back for the summer school holidays? Get the family together and enjoy some creative fun in the sun at Bunjil Place this January with workshops, movies and a live outdoor performance by Melbourne Symphony Orchestra!