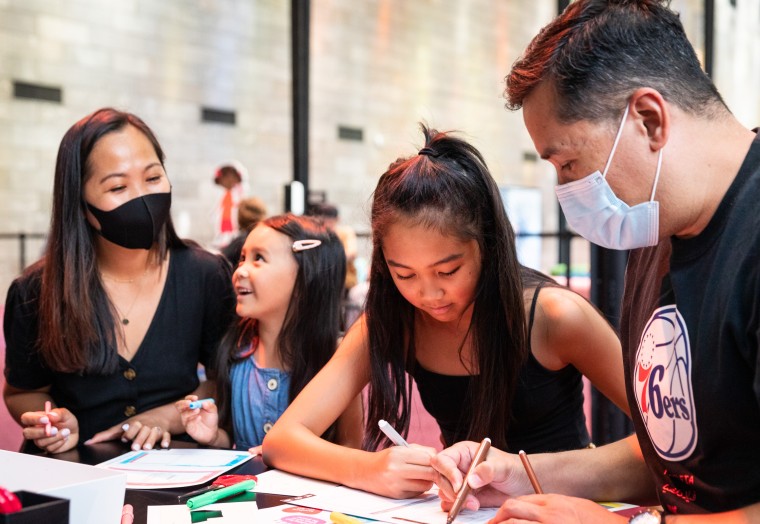 NGV Kids on Tour
Hours
11.00 am - 2.00 pm (daily)
NGV Kids on Tour offers children and families throughout regional and metropolitan Victoria the opportunity to engage with art and creativity through a range of free, hands-on activities and workshops. Check out what we have planned:
Tuesday 18 January - Collecting Maypal
When Yolŋu author, filmmaker and artist Siena Mayutu Wurmarri Stubbs was a child, she loved spending time with her family hunting different varieties of shellfish known as maypal in Yolŋu Matha (the language of Yolŋu people). In this board game children play a collecting game and find out about different maypal and where they live along the way. .
Wed 19 January - Paper Jewels
This making activity takes inspiration from the National Gallery of Victoria's collection of jewellery. Children create something precious when they make a paper necklace featuring imagery of gold, diamonds and pearls.
Thu 20 January - Noisy Birds! Dhawuḻuŋguḻ Ŋutu' Wäyin Malanynha 
Siena Mayutu Wurmarri Stubbs is a Yolŋu author, filmmaker and artist. She draws inspiration from her culture and her connections to the land, including her homeland, Bawaka, East Arnhem Land.  
Who am I? Children discover some of Siena's favourite birds from Arnhem Land, and learn their names in Yolŋu Matha (the language of Yolŋu people) in this guessing and drawing game. 
All activities are suitable for children aged 5+. Parent supervision is required. To learn more about NGV Kids visit NGV Kids | NGV
NGV Kids on Tour is an initiative of the National Gallery of Victoria (NGV). NGV sincerely thanks the Packer Family and Crown Resorts Foundations for supporting NGV Kids and Learn programs as part of the Your NGV Arts Access Program for Students, Children and Families. NGV also acknowledges the generous support of The Neumann Auster Family & Friends.
Image: A family at Kids Summer Festival 2021. Photo: National Gallery of Victoria, Melbourne.
Essential COVID information you should know before returning to Bunjil Place
Sign up to our mailing list and you'll be kept up to date on all the latest news and events happening at Bunjil Place.
For general ticketing and box office information (including conditions of sale) see our Ticketing services information page.
For accessibility bookings or other box office inquiries please email bunjilplace@casey.vic.gov.au or phone 03 9709 9700 between 9.00 am and 5.00 pm (Monday to Saturday).
Can't find the perfect present? Give them the gift of choice with a Bunjil Place Gift Voucher!
Tickets
Free for all. No bookings required.