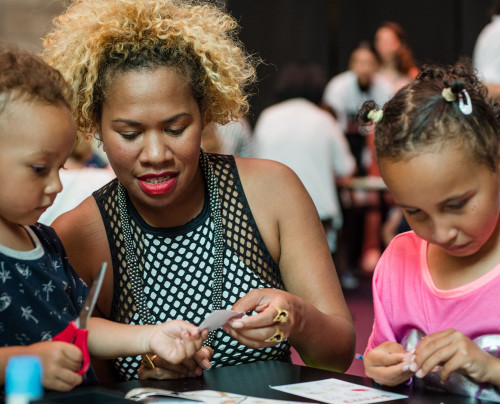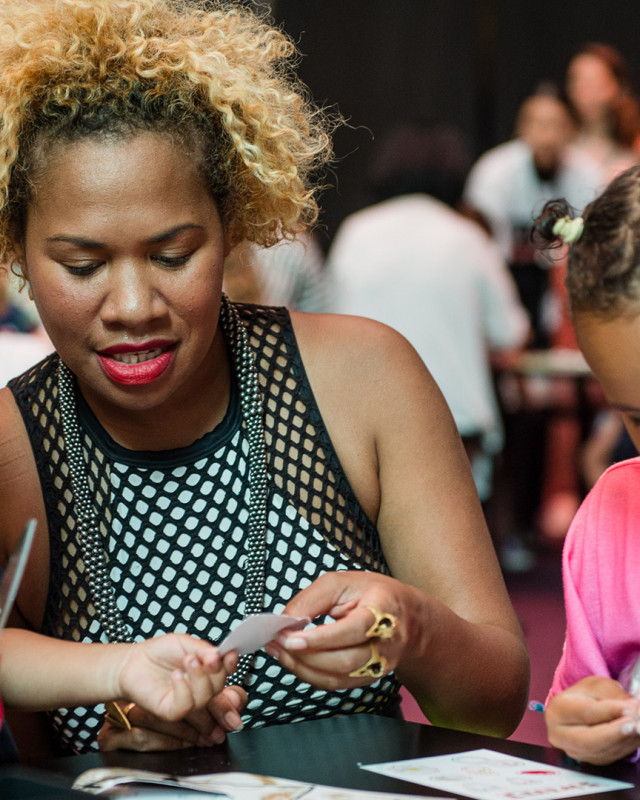 NGV Kids on Tour
NGV Kids on Tour returns in 2021 with plenty of creative fun for the whole family to enjoy. This year's theme is ART IS FOR EVERYONE, so drop-in to a workshop in the Foyer and explore some great activities. 
On offer this school holidays are a range of activities developed by artists including Alice Oehr, Misaki Kawai and Bunjil Place favourite Kenny Pittock!  
NGV Kids on Tour offers children and families throughout regional and metropolitan Victoria the opportunity to engage with art and creativity through a range of free, hands-on activities and workshops. NGV Kids on Tour coincides with the NGV family favourite, NGV Kids Summer Festival, taking place during the summer school holidays, 9 – 17 January 2021. View the full program here.
Family Drawing with Alice Oehr
Tuesday 19 January, 10.00am to 12.00pm & 1.00 to 3.00pm  
Melbourne artist and designer Alice Oehr shares her colourful pop art style and passion for drawing cakes, portraits and neighbourhood creatures in this series of three activities. 
DRAW A CAKE: Discover Alice's tips for drawing a delicious cake and then add your own creation on a special template made by Alice.  

PATTERN PORTRAITS: Create an extraordinary portrait using Alice's tips for adding vibrant colours and joyful patterns.  

NEIGHBOURHOOD CREATURES: Experiment with different ways to draw animals by looking at shape and texture and add the creatures of your neighbourhood into Alice's illustration.  
Silly Sketches with Kenny Pittock
Wednesday 20 January, 10.00am to 12.00pm & 1.00 to 3.00pm  
Melbourne artist Kenny Pittock uses a playful approach and wordplay to explore everyday objects in his artworks, including ceramics, sculptures and paintings.  
WHAT ARE PETS THINKING? - Create some cheeky dog characters and draw what they are really thinking!  
FUNNY FLAVOURS - What ice-cream flavour would a rabbit eat? Children can draw funny flavours for some animal friends.  

CLEVER COOKBOOKS - Play chef and design your dream cookbook cover using Kenny's top tips.  
Moko Moko Park Puppet Show with Misaki Kawai
Thursday 21 January, 10.00am to 12.00pm & 1.00 to 3.00pm  
As a child, Japanese artist Misaki Kawai loved to make puppets and perform shows with her brother. Children can create a dog park, complete their own puppet and perform puppet shows for friends and family.  
This summer at NGV visitors can enjoy Moja Moja Life: Misaki Kawai for Kids, a free children's exhibition as part of NGV Triennial (19 Dec 2020 – 18 Apr 2021) .
Kids on Tour is a drop-in program where the activity takes about 10 – 15minutes to complete. A queuing system will be in place if required. Social distancing and capacity limits apply in accordance with DHHS guidelines. Tables, seating and materials will be sanitised throughout the day, and between uses.
All visitors to Bunjil Place may be required to wear a mask (unless under 12 years of age), and must check-in on arrival for contact tracing purposes via Service Vic app.  
NGV Kids on Tour is generously supported by The Truby and Florence Williams Charitable Trust, managed by Equity Trustees, and the Packer Family and Crown Resorts Foundations as part of the Your NGV Arts Access Program for Students, Children and Families.  
Image: A family at Kids Summer Festival 2020. Photo: National Gallery of Victoria, Melbourne.  
Date
Tuesday 19 to Thursday 21 January 2021
Time
10.00 am to 12.00 pm and
1.00 pm to 3.00 pm
(every day)