Night MODE: Abundance edition
Night MODE: Abundance edition
Explore Bunjil Place after hours through late access to 'All the things I should have said that I never said' and Casey Cornucopia, adult art-making, drinks at bar prices, food, new live music, Library programs and book nooks, plus more.
Our brand-new quarterly adult arts evening continues with Night MODE: Abundance Edition.
Night MODE Program: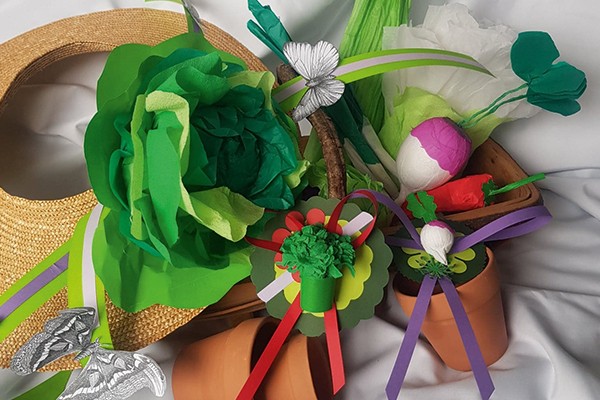 6.00 – 9.00pm - Head pieces and corsages with Sai-Wai Foo - Foyer
Do you carrot about what you're wearing? From your head to your tomatoes we have you covered. You herb it here first. If you're not sprouting vegetables you'll be the laughing stalk of "The Cornucopia Garden" Bunjil Place. 
Turnip to this drop-in workshop, dig in and brussels up an accessory to wear, look radish-ing as you feast on the delights of Night MODE: Abundance Edition.  
Plant yourself at the crafting table where artist and crafter Sai-Wai Foo will guide your through the a-maize-ing world of constructing paper into un-beet-able accessories to complete your outfit. Make corsages & head pieces to festoon yourself. Forget flowers blossoms & blooms, vegetables are the de rigueur for the stylish set. 
Lettuce entertain you with this adult art-making experience. You wouldn't be-leaf what you'll be able to produce. Make it snap-pea & don't miss it this event.  
6.00 – 9.00 pm - Casey Cornucopia Garden - Plaza
See the Plaza transformed into an immersive garden abundant with oversized sculptures hidden amongst a swirl of the world's first edible fog. 
6.00 – 9.00 pm - Casey Cornucopia Food Hub - Foyer
Casey-Cardinia's rich foodways come to life at our pop-up market stall food hub. Meet local growers, Montague Apples, to sample apples, cider and talk about their long history in Casey. 
6.00 – 9.00 pm - All the things I should have said that I never said - Gallery
Featuring painting, sculpture, installation, fashion and performance this major solo exhibition reveals the ways in which artist David Sequeira holds a lens to notions of authorship, history and time, as contestable and malleable concepts that can be explored through colour, geometry and varying processes of repetition. 
6.00 – 9.00 pm - Indoor Bar - Foyer
Selection of cocktails, snacks and drinks available at bar prices  
6.00 – 8.30 pm - Flavourful Clay pendant workshop - Library
Play with edible shapes and aromas as you make your own clay pendant, which can be used as an essential oil diffuser. 
6.00 – 8.30 pm - Bunjil Place Café - Foyer
Enjoy a range of light bites, drinks and delectable sweets all at café prices 
6.30pm, 7.30pm + 8.30pm - Drag performance with Brenda Bressed - Foyer
Brenda is the darling of classic, breath-taking drag and dazzles audiences with her impeccable vocal stylings and looks to match!  She keeps audiences on their toes with her quick wit and bountiful gags - and is sure to leave everyone begging for 'one more song!' - You'll soon see why she has been called 'A queen with a voice!'   
7.15 – 7.45 pm - Curator talk by Penny Teale - Gallery
Hear from Bunjil Place Gallery Curator, Penny Teale, as she introduces All the things I should have said that I never said, the latest exhibition by artist David Sequeira. 
Hero Image: Night MODE: Summer edition, 2022. Photo: Paoli Smith
Check out all our Casey Cornucopia activities and events below:
Night Mode Abundance Edition
Download the full Casey Cornucopia Festival Brochure here 
Proudly presented by Bunjil Place in collaboration with Bompas and Parr. Presented as part of the Winter Arts Festival.
Essential COVID information you should know before returning to Bunjil Place
Sign up to our mailing list and you'll be kept up to date on all the latest news and events happening at Bunjil Place. For general ticketing and box office information (including conditions of sale) see our Ticketing services information page. For accessibility bookings or other box office inquiries please email bunjilplace@casey.vic.gov.au or phone 03 9709 9700 between 9.00 am and 5.00 pm (Monday to Saturday).
Date
Thursday 14 July 2022
Location
Plaza, Foyer, Gallery & Library
Tickets
Free for all. Bookings essential.