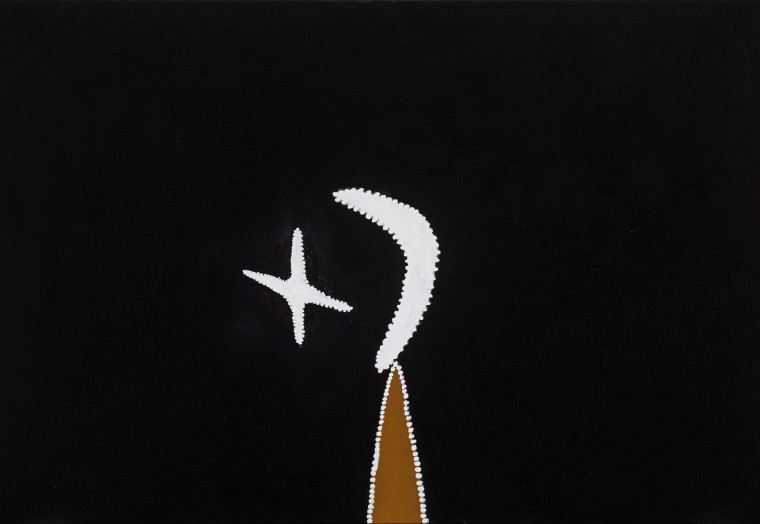 One foot on the ground, one foot in the water
Dates
Fri 18 Feb 2022 - Sun 24 Apr 2022
Hours
10:00 am – 4:00 pm (Tues - Sun)
Closed Mondays

One foot on the ground, one foot in the water explores mortality as a state of transition, presenting processes of art making as a means of facing death collectively and individually.
The exhibition presents paintings, sculptures, installations and sound works, that challenge us to reckon with death and dying as an inherent part of life, invoking experiences of loss, impermanence, transience, remembrance, memorialisation and varied expressions of grief.
One foot on the ground, one foot in the water presents over 25 works of art, with scale ranging from a massive 3.3m cast-iron and steel monument by artist Michael Needham to a selection of intricate vessels crafted out of biodegradable florist foam by participants in Catherine Bell's Facing Death Creatively workshops.
The contrast between vast and minute scales is echoed in the contrast between singular and repeated forms, and ephemeral and permanent materials, referencing the relationship between the universal and the individual, the eternal, the finite and states in between.
Each artist offers insight into the way we let go of the dead, or hold them close, as a continuing living presence in the world. Artworks and other objects can reflect these kinds of present–absences, allowing the departed to continue to resonate in our memory, and in objects that outlive them.
Artists
Catherine Bell, Timothy Cook, French & Mottershead, Mabel Juli, Richard Lewer, Sara Morawetz, Michael Needham, Nell, Patrick Freddy Puruntatameri, Nawurapu Wunuŋmurra.
Curator
Travis Curtin  
One foot on the ground, one foot in the water is accompanied by a fully illustrated catalogue featuring six newly commissioned texts by Yinimala Gumana, Mabel Juli, Wukun Wanambi and Pedro Wonaeamirri.
We have a learning guide available for this exhibition, you can view it here.
Plus tune in for our One foot on the ground, one foot in the water Discussion Panel live streamed below from 7.30 pm on Thursday 14 April.
Can't make it into the Gallery? View the Virtual Tour here
Image: Mabel Juli
Garnkiny Ngarranggarni 2020
natural earth pigments and charcoal on linen
120 × 180 cm
Courtesy of the artist and Warmun Art Centre, Western Australia
Photographer: Ian Hill
Image Description: A painting in natural earth pigments of a white moon and a white star above a mustard yellow ochre mountain, each outlined with white dots floating over a black expanse of textured charcoal background.  
One foot on the ground, one foot in the water is a La Trobe Art Institute exhibition toured by NETS Victoria. Curated by Travis Curtin.
Exhibition Partners