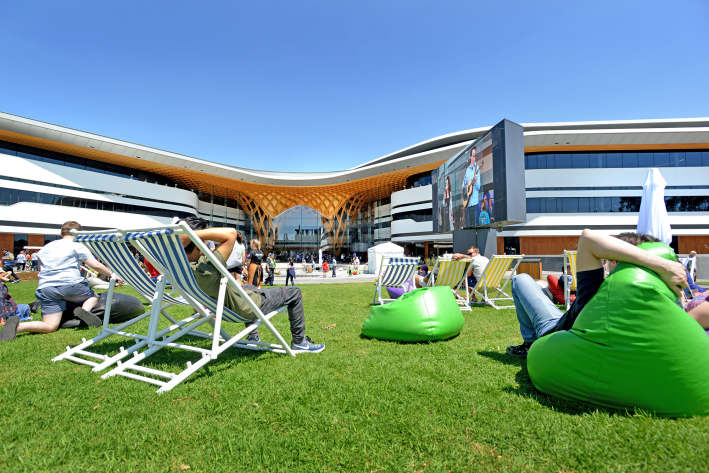 Plaza
Plaza
Sheltered by the soaring wings of the eagle above, the Plaza is our beating heart.
Giddying highs on the big screen, giggles and squeals of the little ones at the splash pad, smashed avo and a long black in the dappled sunlight of the café; all walks of life cross our meandering paths.
Festivals, markets, art, gigs and surprises after dark. Super fun for little kids, bigger kids and those who are still kids on the inside (yes, us too). Spaces to hide, sit, to be still, to watch and think. These are treasured times.
Check out what we've got coming up on our Big Screen.
At the edge of the Plaza next to Casey ARC is the Memorial Grove, which is a discreet space designed for quiet reflection and ceremonial remembrance. Heritage granite pylons from the previous memorial cenotaph have been integrated into this contemporary reinterpretation. New granite pylons flank the area, with each featuring a poignant engraving of the words "Lest We Forget" converted into Morse Code. Each engraving also creates a small hole that can be used for ceremonial placement of poppies. Timber seating is blended into the walls of the memorial. The floor paving features 17 lights, to reflect the 17 ships that departed from Port Phillip Bay in October 1914 bound for Gallipoli.
Space features
Amphitheatre with water feature (a fave among kids in summer!)
Promenade area protected by the roofline
Rolling lawns and plenty of seating so you can choose your favourite comfy spot
Big outdoor screen mounted on a rotating stand, which is an Australian-first. The big screen features the latest LED technology that provides incredible resolution and brightness, to create an amazing viewing experience in full daylight, twilight or darkness.
Water Fountains operate from October - April 9.00 am to 8.00 pm and May - September 10.00 am - 2.00 pm. Featured events held in the Plaza may alter water fountain times. 

Please ensure swimwear or clothing is worn at all times when playing in the Water Fountains.
Please note: This space is not available for hire.