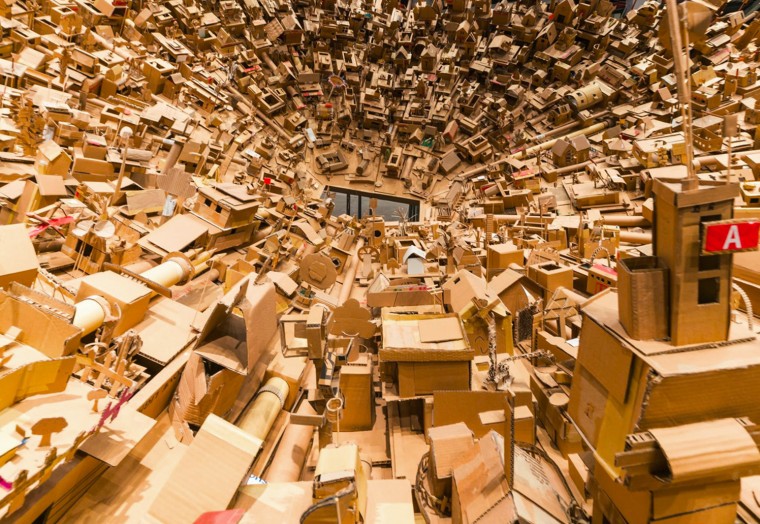 Home/Land: Project Another Country
Dates
Fri 13 Dec 2019 - Sun 8 Mar 2020
Location
Bunjil Place Gallery
Created from thousands of handmade houses using recycled cardboard boxes, Home/Land: Project Another Country is Isabel and Alfredo Aquilizan's latest large-scale installation of imagined habitats. This project is part of an ongoing series of the exhibition, designed by the artists to work closely with local communities all around the world to initiate discussions around what 'home' means, and to share stories among one another while creating handmade structures to form the basis of the installation.
Over the past few months, Isabel and Alfredo have been leading assemblage workshops with our Casey community and initiating discussions around what 'home' means and 'belonging'. During these workshops, hundreds of small cardboard homes were created and have since been added to the major-installation. 
Once the installation leaves our gallery, it will never be seen again, so make sure you pop in to see it.
Image caption
Isabel and Alfredo Aquilizan
Installation view: Home/Land: Project Another Country 2019 (detail)
Bunjil Place Gallery, 2019
Courtesy of the artists
Photography: Christian Capurro
The Gallery will continue to run free assemblage workshops from Tuesday to Sundays between 10.00 am and 5.00 pm throughout the duration of the exhibition. You can choose to take what you create home with you or have it added to a special area of our Gallery. 
Join free school holiday craft workshops inspired by this exhibition. What you create you either take home or leave in our gallery.
Or perhaps drawing is more your style? Join our free Saturday Sketching workshops that takes a closer and more intimate look at this exhibition.
If you'd like to know more about the artists, hit them up on their Instagram and Facebook fruitjuice_factory_studio.
Image credit: Isabel and Alfredo Aquilizan
Here, There, Everywhere: Project Another Country 2018 (detail)
Installation view: Cosmopolis #1.5: Enlarged Intelligence, Mao Jihong Foundation/Centre Pompidou Chengdu, China, 2018.
Keep up to date with what's on at our place by signing up to our newsletter.
For general ticketing and Box Office information (including conditions of sale) see our Ticketing services information page.
For Accessibility bookings please email [email protected] or phone 03 9709 9700 between 9.00 am and 5.00 pm (Monday to Saturday).
Can't find the perfect present? Give them the gift of choice with a Bunjil Place Gift Voucher!