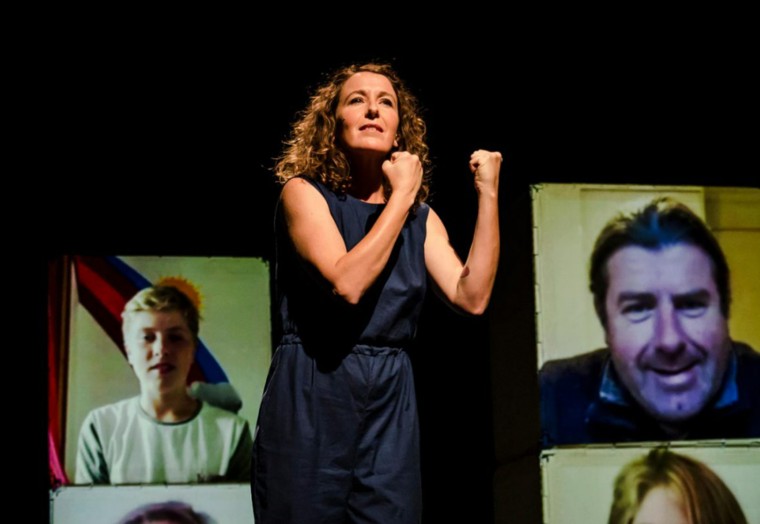 Personal
Dates
Sat 14 Oct 2023

Auslan Interpreted. Presented as part of the Connecting Through Stories series.
It wasn't until Jodee Mundy was five years old and lost at Kmart that she realised the rest of her family was Deaf. She didn't see 'disability' – only the love and protection of those closest to her.
In Personal, she conveys her experience as the only hearing person in a Deaf family, through a captivating blend of performance, storytelling, multimedia and animation. Mundy delves into the contradictions of inhabiting two worlds: living in a Deaf family, where using sign language is natural; and living in a society that sees only the family's disability with voyeuristic curiosity.
The role children of Deaf adults play in paving the way for their family – as interpreter, authority, conduit – is central to this very intimate story. Created with a talented team of collaborators and presented in two languages via a virtual interpreter, Personal is a smart, touching and deeply personal work exploring dis/ability and how we perceive one another.
 
Please join us for a short Q&A session after the performance. This will be an opportunity for the audience to learn more about Personal and how it was created. 
Light snacks and refreshments will be available in the Studio before the Q&A commences. 
 
"Personal doesn't discriminate. Inviting deaf and hearing audiences alike. This is a notable and important example of where access is not part of the performance, access is the performance." - Arts Hub
"Jodee Mundy's Personal is a winning and inclusive tonic, consistently hilarious and informative." - Time Out
"This rewarding, compelling work brings deaf and hearing a little closer together both literally and through its delicate and sharp insights - crisply and clearly presented." - Stage Whispers
"This is strong autobiographical theatre with a fascinating story, and ingenious visual and sound design that implicates the senses." - The Age
Tickets
Single Show
Adult $45.00
Pensioner/Senior $35.00
Student FT $20.00

Connecting Through Stories Package - Choose 3 or more performances from the 5 show series to receive the following ticket prices:
Adult $39.00
Pensioner/Senior $29.00
Student FT $15.00
Please note: A Service fee of $3.00 applies to bookings made online and by phone (unless tickets are free of charge). Delivery Fees may also apply.
For general ticketing and box office information (including conditions of sale) see our Ticketing services information page.
For accessibility bookings or other box office inquiries please email [email protected] or phone 03 9709 9700.
Personal is supported by the Australian Government through the Australia Council for the Arts, it's arts funding and advisory body, and by the NSW Government through Create NSW.