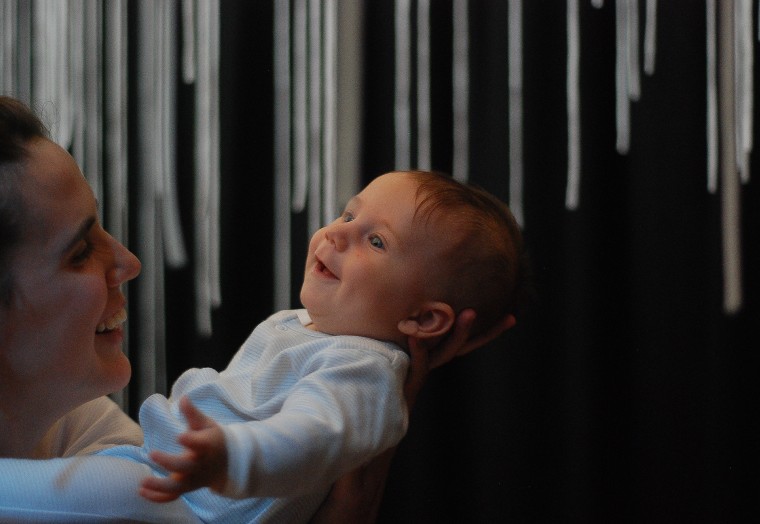 Rain: For Babies and their Carers
Dates
Wed 13 Jul - Sun 17 Jul
A time to wonder and wander together in the rhythm of the rain. Enjoy an immersive performance for babies and their carers that evokes the wonder and generosity of Rain in a celebration of new life.
A space that welcomes babies to the world
Rain is a performance that honours and celebrates new lives. You are invited to participate in an intimate experience that responds to the generosity of rain. Carers and their littlest ones are immersed in an installation space full of surprise, delight and opportunities for connection through music, touch and performance.
Created by Drop Bear Theatre, The Seam and cellist Edwina Cordingley and produced by Threshold, this is an opportunity to slow down, notice and wonder. This show was created through the Artplay New Ideas Program using an emergent artistic process and is specifically designed for babes in arms and crawlers. Walking babies cannot be admitted into the performance - please contact our Box Office team if you have purchased tickets and your baby is now walking and we will arrange a refund.
Created by Drop Bear Theatre, The Seam and Edwina Cordingley through the Artplay New Ideas program, City of Melbourne.
Produced by Threshold.
"Billed as a 'mesmerising and immersive sensory experience', this show is all that and more."
Nicole Russo, The Barefoot Review
"Truly beautiful- a wonderland, an inspiring dream world- every mother needs a sanctuary like this to retreat to, to re-energize."
Rachael, Melbourne mother
Image credit: ArtPlay
Dates
Wednesday 13 July 2022
Thursday 14 July 2022
Friday 15 July 2022
Saturday 16 July 2022
Sunday 17 July 2022
3 Sessions Each Day
10.00 am - 10.45 am
12.00 pm - 12.45 pm
2.00 pm - 2.45 pm
Tickets
$15.00 (includes baby and up to 2 carers)
Please note: A Service fee of $3.00 applies to bookings made online and by phone (unless tickets are free of charge). Delivery Fees may also apply.
For general ticketing and box office information (including conditions of sale) see our Ticketing services information page.
For accessibility bookings or other box office inquiries please email bunjilplace@casey.vic.gov.au or phone 03 9709 9700.
9.00 am - 5.00 pm (Mon to Fri) | 10.00 am - 5.00 pm (Sat)