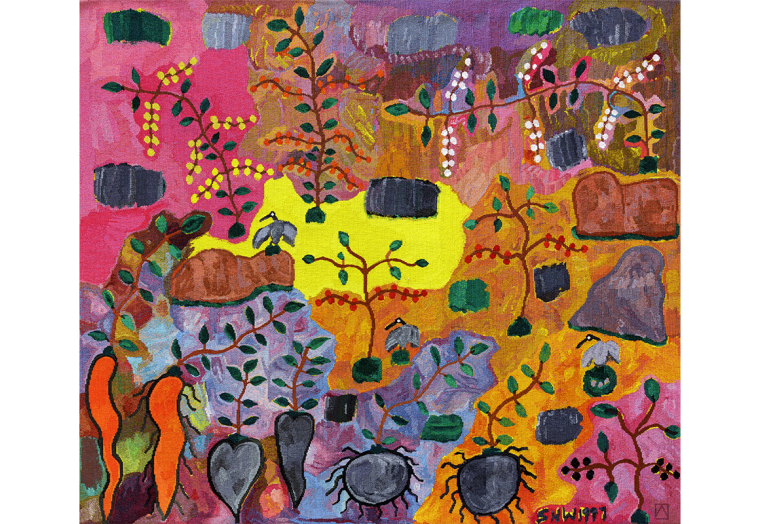 Woven Together: Contemporary Tapestries from the Australian Tapestry Workshop
Dates
Sat 11 Mar 2023 - Sun 23 Apr 2023
Hours
10.00 am - 4.00 pm (Tuesday - Sunday)
Free and family friendly.
Celebrating the vitality of tapestry design, Woven Together is an exhibition casting a spotlight on the unique and important contribution the Australian Tapestry Workshop (ATW) has made to the creation of contemporary tapestry in Australia over the past four decades.
As an international leader in the production of hand-woven tapestries and the only workshop of its kind in Australia, ATW thrives on working with contemporary artists who seek to challenge the ATW's weavers and dyer by providing tapestry designs in various mediums including photography, painting, watercolour, ceramic, collage and digital images.
Tracing the connections and interactions between artist, weavers and dyer, the tapestries featured in Woven Together have been drawn from private and public collections to showcase the innovation and experimentation of this enduring and thriving artform. Through this exhibition Bunjil Place audiences will have the opportunity to explore a range of tapestries designed by prominent Australian artists including two important tapestries by Papunya Tula artists Yala Yala Gibbs Tjungurrayi and Charlie Tjungurrayi. Commissioned by Arts Centre Melbourne between 1979 and 1981 these are the earliest tapestries woven by the Australian Tapestry Workshop in the exhibition. Other key works include those designed during the 80s and 90s by Mike Brown, Lesley Dumbrell and Gareth Sansom presented alongside recent commissions designed by Justin Hill, Janet Laurence, Sangeeta Sandrasegar, Luke Sciberras, Guan Wei, Sheena Wilfred and John Wolseley.
To offer further insight into the processes involved in the translation of tapestry design to tapestry form, the featured works will be accompanied by displays of woven samples and studio documentation.
Image: Bush Foods, 2015, Sheena Wilfred (Ritharrngu/Kriol), woven by Chris Cochius, Pamela Joyce & Cheryl Thornton, wool, cotton, 1.84 x 2.15m. Photo by Jeremy Weihrauch. 
Dates
Saturday 11 March - Sunday 23 April 2023
10.00 am - 4.00 pm, Tuesday - Sunday
Presented by Bunjil Place in partnership with the Australian Tapestry Workshop.