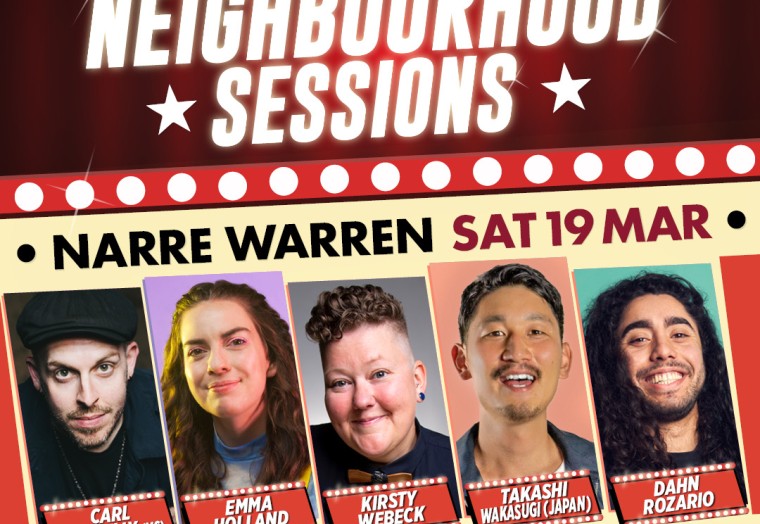 Melbourne International Comedy Festival - Neighbourhood Sessions
Over four big weekends, some of Melbourne's favourite local venues - including Bunjil Place - will come alive with the Neighbourhood Sessions. Chock full of favourites, and a great look at what's hot through the Festival, these shows will keep you laughing all the (short) way home. This year we are so excited to welcome Carl Donnelly, Kirsty Webeck, Takashi Wakasugi, Emma Holland and Dahn Rozario to the Bunjil Place stage for a night of laughs!
You won't have to go far this year to see some of the best the Festival has to offer.
Cast biographies:
Carl Donnelly (UK)
Carl has been nominated and won a host of awards, including two Edinburgh Comedy Awards, in his 16 years as a stand-up. He has performed at every major comedy festival around the world including the Melbourne International Comedy Festival, Montreal Just For Laughs, Kilkenny Comedy Festival and the New Zealand Comedy Festival. He has also appeared on various television and radio shows such as 'Mock The Week', Alan Davies As Yet Untitled and more!
The Scotsman ★★★★ "Connecting effortlessly with his audience… a beautifully balanced performance… reminds us that even though things are looking a bit rough, we all have the power to make the world a better place."
ThreeWeeks ★★★★ "Charismatic… captivating… self-assured craftmanship"
Short Com ★★★★★ "A masterfully executed piece of comedy… impressive triumph… hilarious…"
Kirsty Webeck
Kirsty wins hearts everywhere she goes with her upbeat and relatable brand of comedy that is often described as playful, light-hearted and fun. A gifted storyteller, she has a natural ability for turning the mundane into the hilarious and has quickly become one of the most popular Australian comedians in the industry. You may recognise her as a regular guest on ABC Radio, from her appearances on TV shows such as Tonightly with Tom Ballard, How To Stay Married, and Metrosexual, or as the host of the incredibly successful lockdown hit Kirsty Webeck's Zoom Comedy Hour. In 2022 Kirsty will be touring the country with her brand new stand up show Silver LInings
Takashi Wakasugi (Japan)
A typical Japanese boy, Takashi visited Sydney as an exchange student in 2012 where he joined the local comedy scene. He quickly built a unique reputation, performing at 'Homebake Festival 2012' and frequented spots at the Sydney Comedy Store. Upon his return to Japan, he joined the English comedy scenes in Osaka and Tokyo. In 2018, he moved to Australia and started his comedy career in earnest. He was picked as a performer at Comedy Zone Asia at the Melbourne International Comedy Festival 2018 and performed on the ABC television show "Tonightly with Tom Ballard". His festival solo show "Welcome to Japan" and "Farm Backpacker (Subclass 417)" were sold out at comedy festivals around Australia. Takashi also joined the Melbourne International Comedy Festival Roadshow in 2021 and travelled all over Australia to perform. Stuck in a chasm between Japanese and Western culture, Takashi brings a fresh and unique perspective on Aussie life. His insights into everyday life in Japan are sure to have you both fascinated & roaring with laughter.
Emma Holland
Emma Holland is a comedian, collage artist and photographer who takes herself very seriously. After graduating from the Australian National University's School of Art in 2016, Emma quickly became a regular on the Australian comedy scene, achieving Runner-Up in the 2018 RAW Comedy National Final. 2019 proved a breakout year for Emma, she performed her debut solo show Dolly Doctor Strangelove to sell-out crowds and critical acclaim at the Canberra Comedy Festival. Following it up as part of the prestigious hand-picked Comedy Zone at the Melbourne International Comedy Festival.
2020 saw Emma receive a residency from the Museum of Brisbane, during which she explored comedy through the lens of collage. Her photography work can be seen amongst the seas of posters at comedy festivals but is more easily digestible on her website.
Emma is renowned for her absurd dead-pan cadence, quick-witted writing, and highly visual on-stage performances. She has been asked on multiple occasions to not wear a beret on stage (but did anyway, as is the artist's way).
Runner up - Raw Comedy 2018, Melbourne International Comedy Festival
Comedy Zone 2019, Melbourne International Comedy Festival
'21st century oddball comedy at its finest.' The Music
'An original talent, sparkling with wit, a real delight.' Chortle (UK)
Dahn Rozario
Melbourne based Anglo-Indian comic, Dan Rozario has one of a kind energy and enthusiasm that he whips around the stage. His effervescent approach to life seeps into his live performance leaving audiences feeling like they've gained a new friend, just by being apart of the show. A bright new face to the Melbourne comedy scene.
Essential COVID information you should know before returning to Bunjil Place
Sign up to our mailing list and you'll be kept up to date on all the latest news and events happening at Bunjil Place.
For general ticketing and box office information (including conditions of sale) see our Ticketing services information page.
For accessibility bookings or other box office inquiries please email bunjilplace@casey.vic.gov.au or phone 03 9709 9700 between 9.00 am and 5.00 pm (Monday to Saturday).
Can't find the perfect present? Give them the gift of choice with a Bunjil Place Gift Voucher!
Tickets
Adult $35.00
Pensioner/Senior/Student FT $29.00

Please note: A Service fee of $3.00 applies to bookings made online and by phone (unless tickets are free of charge). Delivery Fees may also apply.