In celebration of our Halloween program namesake, 1962's #1 smash 'Monster Mash,' here are the 15 best novelty Halloween tunes you didn't know existed.
Plus, we include our staff's favourite Halloween songs and ask you to share your beloved Halloween tunes. 
Before we get started, if you haven't heard Monster Mash or are unsure what constitutes a novelty song, one play of the below will get you up to speed.
Monster Mash – Bobby 'Boris' Pickett and The Crypt-Kickers (1962)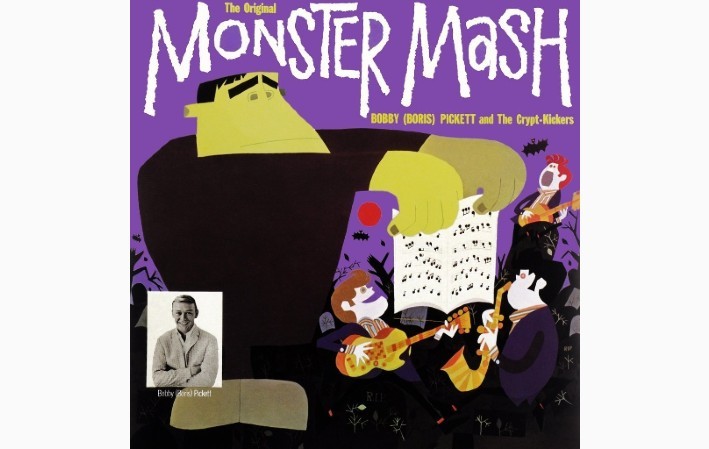 Monster Mash has a weird history. The song was released in the summer and was actually banned in the UK for being 'too morbid' until 1973. It was based on the Mashed Potato dance craze of the time, and this explains its name. Not only did Monster Mash pay singer Bobby Pickett's rent for 44 years, but it had a Christmas version, and a rap version released in 1985 as well. The song includes an impression of Universal's Bela Lugosi Dracula and is sung in Boris Karloff's Frankenstein's monster voice-style.  
1. Dinner with Drac – John Zacherle (1958)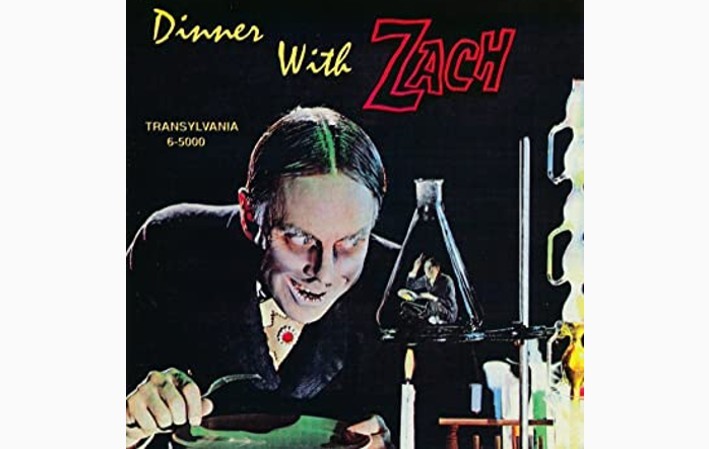 Monster Mash is probably the best-known version of a type of novelty rock song wildly popular in the late 50s and early 60s. American TV heavily syndicated the earlier Universal monster films and new generations were enjoying the classic characters first created in the 30s. Eager to capitalise on teenage trends, endless horror-themed tunes and tropes were disseminated at this time. Dinner with Drac is one of the earlier examples. 
2. Screaming Jay Hawkins - I Put a Spell On You (1956)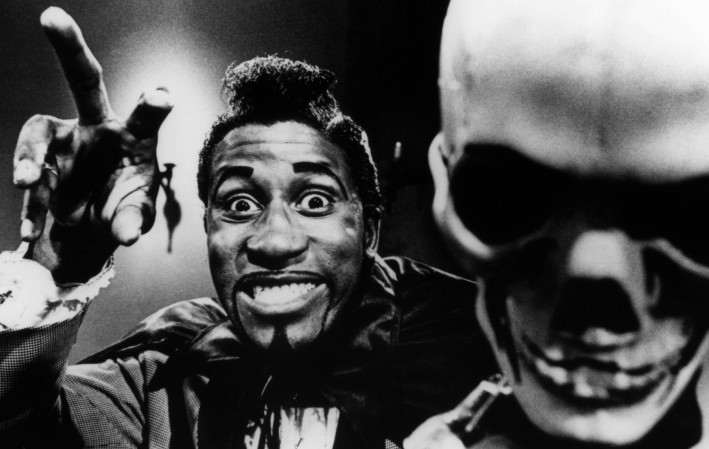 Hawkins had intended to record this as a blues love ballad. However, when making the record the producer "brought in ribs and chicken and got everybody drunk, and we came out with this weird version". After the release of this song, Screaming Jay Hawkins became known for his outlandish voodoo stage persona, which included a long cape, rising out of a coffin, snakes and fireworks. The song has since been covered by everyone from Nina Simone to Marilyn Manson, but its most enduring and beloved version is that sung by Bette Midler in the classic 1993 Halloween flick, Hocus Pocus.  
 
The latter version is a staff pick by Sarah Lyons – Snr Education and Audience Engagement Officer. 
3. The Blob Theme – The Five Blobs (1958)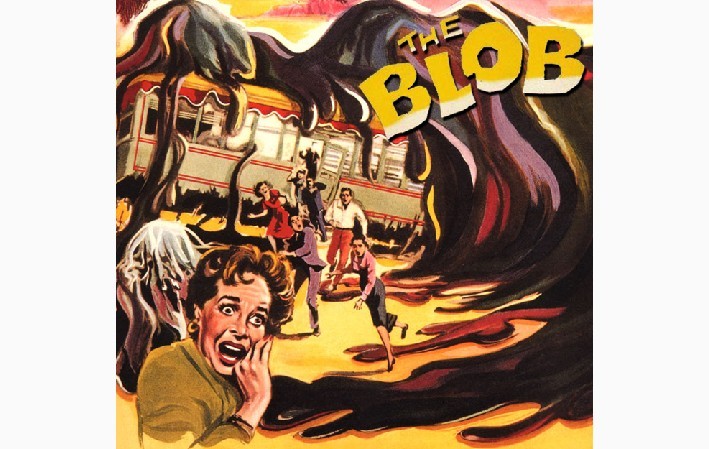 The Blob was a popular sci-fi horror film from 1958 inspired by mysterious and naturally occurring star jelly. Despite the horror nature of the film, the theme song was quite light-hearted, and the lyrics alone deserve its spot on our list. Believe it or not, it was written by Burt Bacharach for a studio group who only came together to sing this song.  
4. Beware – Bill Buchanan (1962)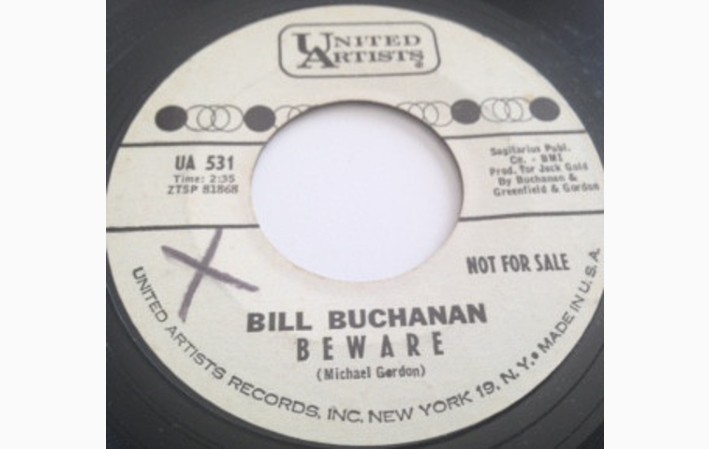 Released on the heels of Monster Mash, this cautionary Halloween tale is performed by one-half of the Buchanan & Goodman team. Buchanan & Goodman are credited with developing the first mashup song, The Flying Saucer, which included news reels with sampled sounds and other songs in 1956. Beware uses the techniques learnt from these earlier forays to make for a more elevated entry to the novelty Halloween genre and the Dracula accent is a lot of fun. 
5. The Voodoo Walk – Sonny Richards with Cindy & Misty (1962)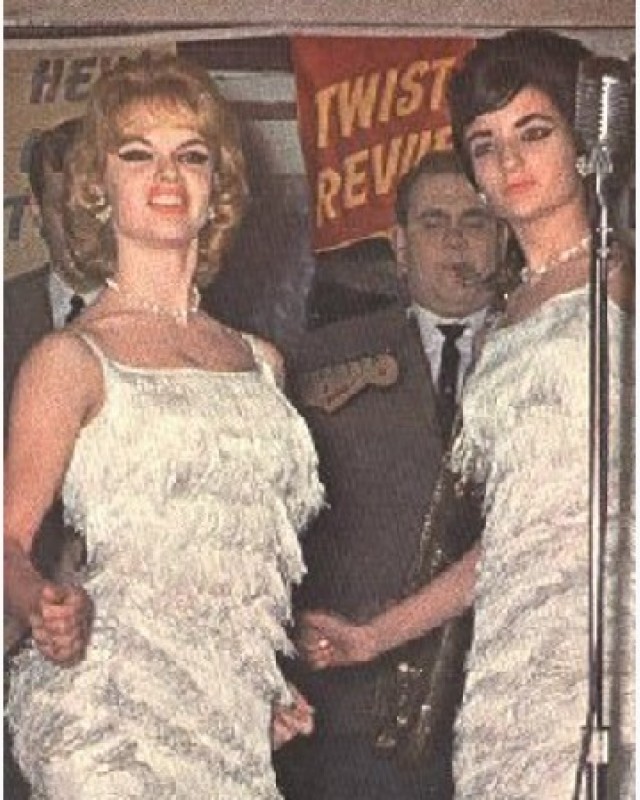 Another song created in the wake of Monster Mash, this song even references the title in it's chorus. Cindy and Misty's vocals create a great 60s go-go vibe which inclines the listener to dance. Very little information is known about Sonny Richards, and apart from a couple of 45s, he has no other known recordings. At barely over two minutes in length, this novelty song from 1962 is just adorably spooky fun in vintage mono and a great listen. 
6. Halloween Spooks – Lambert, Hendricks and Ross (1962)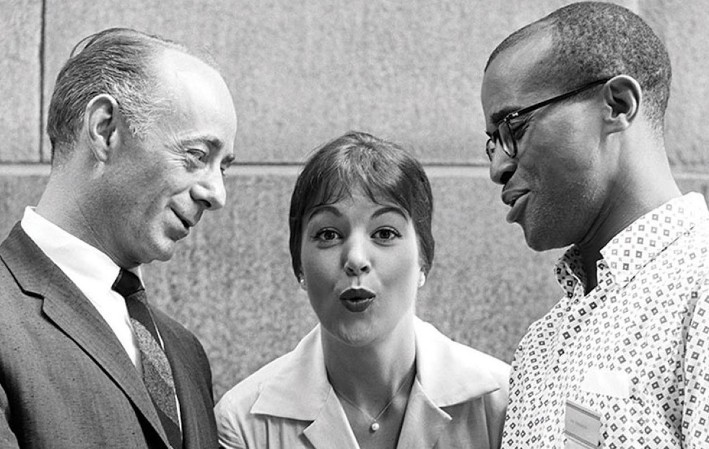 This bizarre entry is in fact a jazz song by a Grammy-award winning American vocal trio. Lambert, Hendricks and Ross were probably destined for greater long-lasting recognition and were voted best vocal group consistently in the late 50s and early 60s. Unfortunately, Lambert died in a road accident in 1966. On this track you can hear some of their amazing vocal talents through the various gurgles and squeaks they make in the song. 
7. I'm the Wolfman – Round Robin (1965)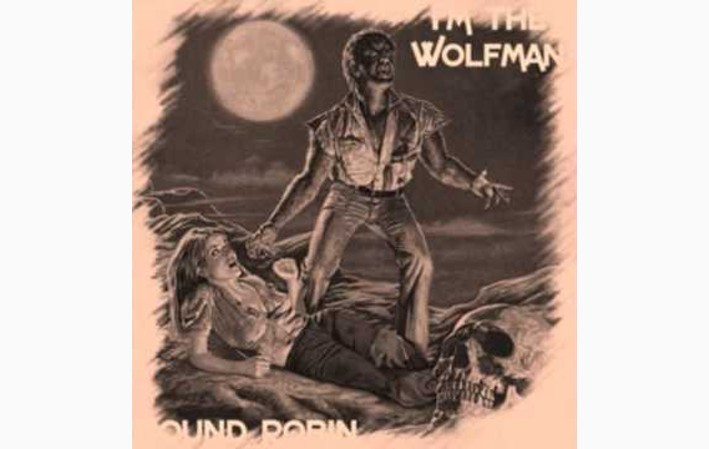 Robin was actually singer, songwriter and musician Baker Knight, with a stage presence full of over-the-top growls and hysterics. Horror-based novelty singles had been a staple of the music scene for years by the time this rolled out, but this fits right in with the entire genre: spooky, silly, and of course 60s rockin' style. 
The song story is no big mystery: Round Robin basically details his transformation into the eponymous character from the Universal film when the full moon makes an appearance: the sudden hair growth, the howling, the mad beast on the prowl. Of course, it's all just one big allegory for getting all worked up when the girl of his affection captures his eye. 
8. The Lurch – Ted Cassidy (1965)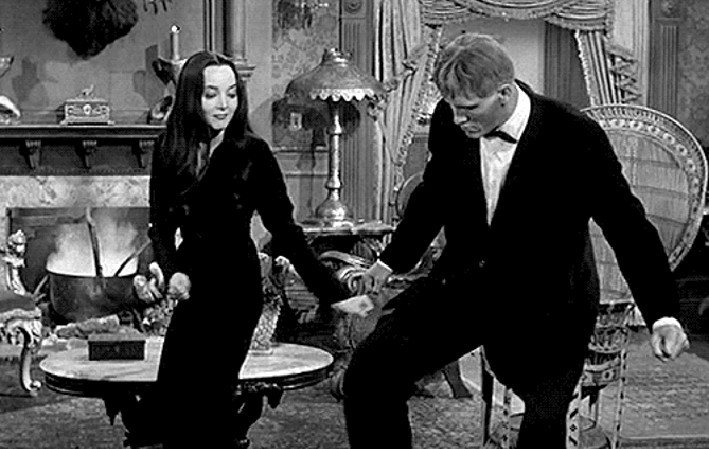 Ted Cassidy, the 2m tall actor, was perfect for the role of Lurch the butler in The Addams Family (1964-1966). Slap bang in the middle of that run, Cassidy was persuaded into the recording studio in 1965 for a song which was inspired by an Addams Family episode called 'Lurch, the teenage idol'. The music was written by Gary Paxton who produced Monster Mash for Bobby Pickett - clearly the go-to guy for these sorts of things. Cassidy doesn't so much sing as utter lines like "You Rang" in response to the singers who have successfully learned the dance (there is no guide how to do 'The Lurch' in the song, but you can find guides online). 
9. Grim Grinning Ghosts – F. Xavier Atencio and Buddy Baker (1969)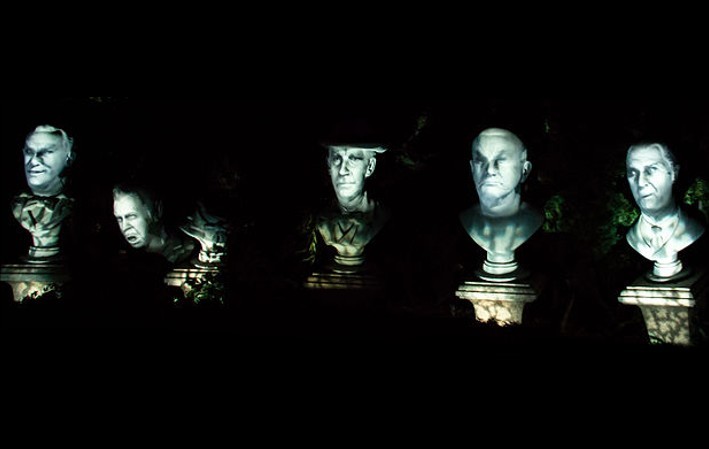 Otherwise known as the Disneyland Haunted Mansion ride song, Grim Grinning Ghosts is a scary staple heavily imitated in various haunted house rides and attractions. The original, when devised by Buddy Baker, tried to incorporate as many classic haunted house noises as possible – creaking doors, organs, deep voices (see our article on haunted houses for more on these cliches from our 2020 Halloween program here). However, Disney Imagineers felt that a moment of brevity was required in both the ride and the music, and the idea of a jolly barbershop quartet section was formed. Grim Grinning Ghosts with its singing bust quintet has been covered many times, but the original features voice talent Thurl Ravenscroft, the voice of 'Tony the Tiger'. 
Grim Grinning Ghosts is a staff pick of Amanda Olliek – Plaza Events Officer. 
10. The Witch Queen of New Orleans – Redbone (1971)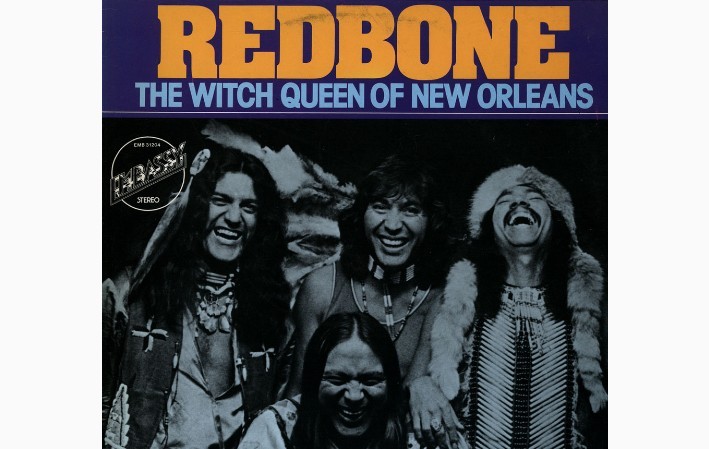 Welcome to the voodoo lounge of the early 70s and the wonderful sound of Native American rockers - Redbone. No longer trying to imitate Monster Mash, Halloween tracks morphed to represent the styles popular with each age. This song reached Number Two on the UK chart around Halloween in 1971 and is a smooth listen.  It's based on a true story too, about 19th century Creole healer, herbalist, and voodoo practitioner Marie Laveau. If that sounds familiar, Marie Laveau featured as a character in Season 3 of American Horror Story.  She'll stir her witch's brew and put a spell on you. 
11. Supernature – Cerrone (1977) 
If you've ever wondered what disco could offer to the Halloween novelty genre, Cerrone's Supernature puts those thoughts to bed. French 70s music icon Marc Cerrone created this frightening vision of a not-too-distant sci-fi future, where escaped mutant creatures made in a lab have rebelled against their makers. The video is a delight and an environmental warning to us all. 
12. Horror Movies – The Bollock Brothers (1983)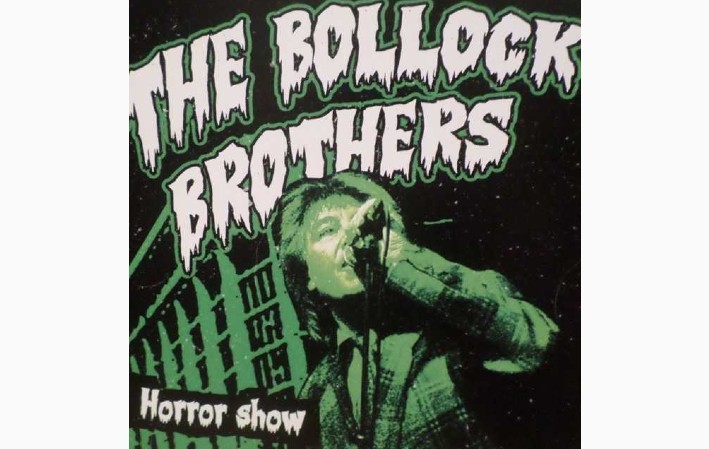 Not up to scratch on your horror flicks? Never fear as the kitschy new wave of this song will bring you up to speed. It's a fun ditty which heavily uses 80s synth and punk vocals to get stuck in your head long after its finished. The Bollock Brothers are a British punk act, formed in 1979, who are particularly popular in Belgium, France and Germany and virtually unknown in their homeland. 
13. A Nightmare On My Street – The Fresh Prince and DJ Jazzy Jeff (1988)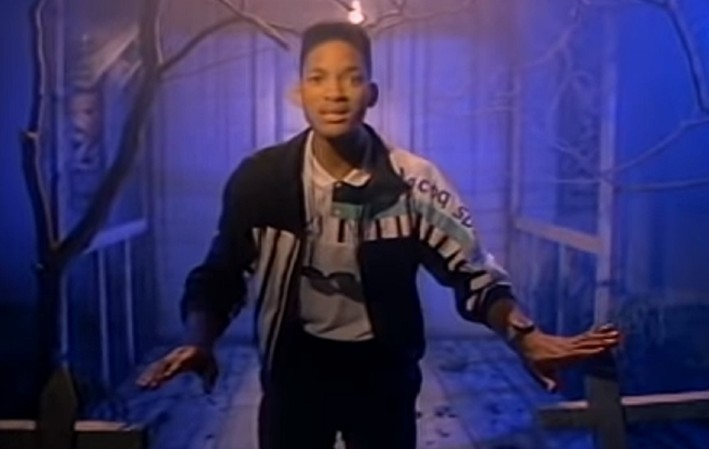 When released on the 1988 album He's the DJ, I'm the Rapper, this song hit #15 on the US Billboard. Though the duo had been in talks to create a song for A Nightmare on Elm Street 4, it wasn't authorised by New Line Cinemas, which held the copyright on the movies. As a result of releasing the song both Will Smith and Jeff Townes were sued, and the music video had to be destroyed. The matter was eventually settled out of court. Now considered a classic of horrorcore rap you can watch the video clip on YouTube through a copy preserved by DJ Jazzy Jeff.  
If you liked this why not check out another horrorcore staff pick by Wayne Magee – Marketing Team Leader with "Natural Born Killaz" by Ice Cube and Dr Dre. 
14. Spooky Scary Skeletons – Andrew Gold (1996)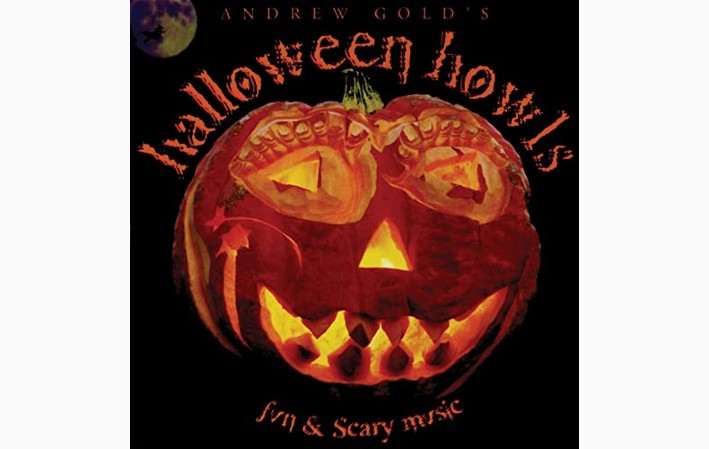 Made popular by a 2019 TikTok dance craze, this started out as children's novelty hit in the 90s. In 2010 it was added to a video of a 1929 Disney cartoon named The Skeleton Dance and slowly gained popularity on YouTube. The song has been remixed many times with various EDM beats but the original is much darker. 
Andrew Gold had some minor pop radio hits in the 1970s, but his most significant contribution to pop culture history, is writing and performing the original version of 'Thank You for Being a Friend' — which is known as the theme song for The Golden Girls. Unbelievably, 'Thank You for Being a Friend' is not Gold's only contribution to the sitcom theme song canon. He also wrote the theme for sitcom, Mad About You. 
This song is also a staff pick by Kimberley Turner – Marketing Advisor. 
15. Do they know it's Halloween? – North American Halloween Prevention Initiative (2005)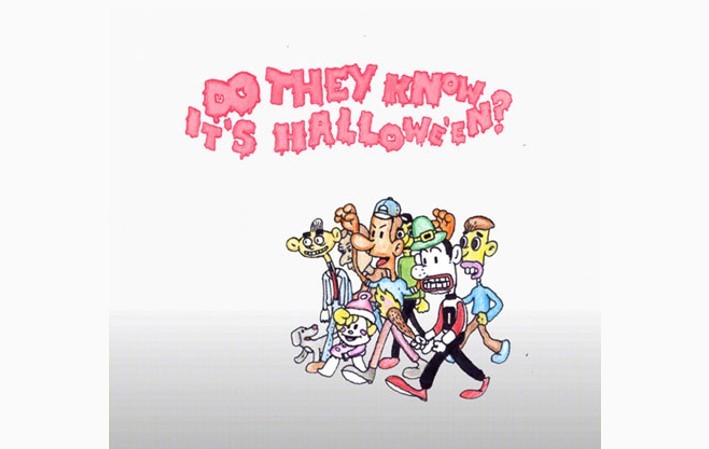 This was a charity record inspired by 'Do They Know It's Christmas?' put together by an amazing array of artists, including Beck, Feist, Peaches, Arcade Fire, Elvira, Karen O and a heap of others. It reached Number Four on the Canadian pop chart, and all proceeds were donated to UNICEF. According to the official press release, the song stemmed "from a frustration with other benefit songs' misguided, somewhat patronising attitude, and Western-centric worldview." 
Want more unusual Halloween tunes for your online party playlist? Try some of these staff picks: 
People Are Strange – Echo & The Bunnymen (Angela Barnett – Outdoor Screen Coordinator) 
Heads Will Roll – Yeah Yeah Yeah's (Georgia Cribb – Gallery Director) 
The Witch – The Rattles (Rohini Sharma – Strategic Partnerships Coordinator) 
Werewolves of London – Warren Zevon (Justin Mentiplay – Logistics Officer) 
Human Fly – The Cramps (Colin Wilson – Head Chef) 
And why not share your favourite Halloween tunes? Check out our socials for a chance to contribute. 
Keep up to date with the latest news and shows coming to Bunjil Place by joining our e-newsletter mailing list.
Can't find the perfect present? Give them the gift of choice with a Bunjil Place Gift Voucher!
1/12
We're bringing the cheer with a sack full of fabulous Christmas films on the outdoor screen. Tis the season to be busy, but don't worry, our festive menu at the cafe combined with the outdoor seating and online ordering will make all your worries disappear.
1/12
This week we hear from Aspasia Leonarder aka 'Miss Death' on her passion for Romance in unexpected film genres.
29/11
We recently hosted a Bunjil Place and Wellbeing-themed Scratch Competition and now we're ready to announce the winners. Check out the creative entries and have a go at playing the games for yourself!