As our current exhibition 'Continental Shift: Contemporary Art and South Asia' comes to a close, we talked to feature artist Kate Beynon to get her perspective on art and creativity.
Continental Shift: Contemporary Art and South Asia finishes in the Gallery this Sunday 22 September, however we have one more artist profile to whet your art appetite! Kate Beynon's striking works  Sangeeta and Fuji and the Trans-Mythic Woman Warrior series have been highlights of the exhibition! Learn more below about Kate and her creative process, and her thoughts on the Bunjil Place Gallery!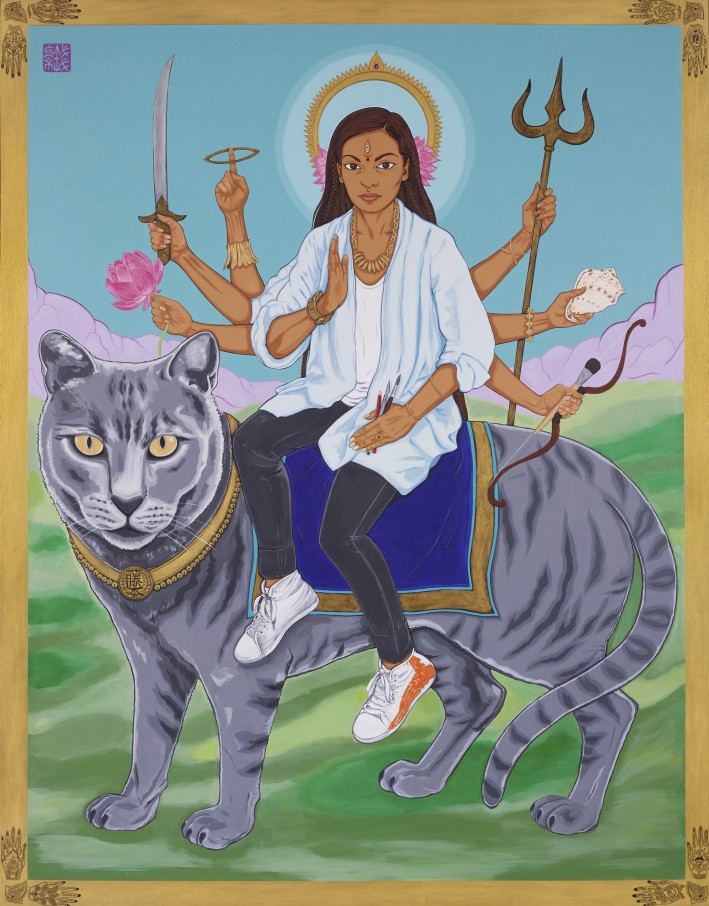 Were you a creative child? Yes, I loved drawing and making things: such as mini sculptures in modelling clay of all kinds of animals or portraits of our rescue Basset Hound Lucy. I also liked writing stories, with most of the characters being talking animals or creatures. As a young migrant family, my parents moved quite often when my brother and I were children, including living in Rowville, Narre Warren East and Wheelers Hill. Being creative and making art was a way to adjust to new places, and connect with new friends. On family trips to visit our maternal Grandparents in Malaysia, Grandma would give me off-cuts of 60s retro patterned fabrics and colourful batiks to make clothes for my motley bunch of soft toys, so they were always dressed in very stylish funky outfits.
What drives you to create art? Feeling that art and ideas in contemporary art can have a positive social impact, through imagination, diverse art-forms, cross and inter-cultural connections, insights into other worlds. I enjoy experimenting with materials, and being inspired by a variety of imagery, including auspicious symbols, colour and forms through animation, film and fashion.
How do you feel about your work being presented in this exhibition? I am delighted to have a range of my work in such great company, to connect with guest curator Rodney James and the amazing artists in Continental Shift. I was especially happy to have my portrait of Sangeeta Sandrasegar Sangeeta & Fuji appear alongside Sangeeta's wonderful works, and to have my Trans-mythic woman warrior series reunited, having first been shown in Kochi, India. It has also been a great opportunity to get to know the space; to share with many friends, family, colleagues and students at Monash Uni, who have come out to see the show and for special events, some visiting Bunjil Place for the first time.
What are your thoughts on Bunjil Place Gallery? Overall, Bunjil Place is a really exciting arts and cultural centre, with name and remarkable architecture inspired by the Indigenous Australian creator spirit Bunjil, in respect to the Boon Wurrung, Bunurong and Wurundjeri peoples in the City of Casey.
Within the centre, I feel that Bunjil Place Gallery is forging an inspiring program of contemporary exhibitions and projects, both in responding to diverse communities and presenting diverse contemporary artists in greater Melbourne. For Continental Shift, the special performance of Inside/Out by Hari Sivanesan & Priya Srivanasan was a highlight, immersing the audience in the gallery. I also really enjoyed running the Fantastic Spirits watercolour workshop as part of the extended program. I've been telling everyone to visit Bunjil Place!
Image credit: 
Kate Beynon, Sangeeta and Fuji 2014, Courtesy of the artist. Private collection, Melbourne, image © the artist. Photography: Art Gallery of New South Wales, Sydney.
13/3
Looking for information around COVID-19 and how it will influence performances, exhibitions and events at Bunjil Place?
21/2
Festivals, markets, art, gigs, movies and surprises after dark. Our Plaza is a hive of activity and the beating heart of Bunjil Place. You won't want to miss these awesome - and FREE - events coming in 2020.
18/2
Our 'Emergent' graduates go on to do amazing things! We caught up with 'Emergent 2018' graduate Betty Gu to learn what she's up to now, and her advice for our current 'Emergent' cohort!