Our artist profiles continue with the inside scoop on Sangeeta Sandrasegar, feature artist in our current exhibition 'Continental Shift: Contemporary Art and South Asia'.
You can't help but be in awe of the works by Sangeeta Sandrasegar currently on display in our exhibition Continental Shift: Contemporary Art and South Asia.  Be wowed by the artist's creativity and thought processes behind her work. We're currently exhibiting a number of her works, including the striking installation The scaffold called the Motherland spews infinite grace 2012, which you can see right now in the BunjiI Place Gallery.
Sangeeta Sandrasegar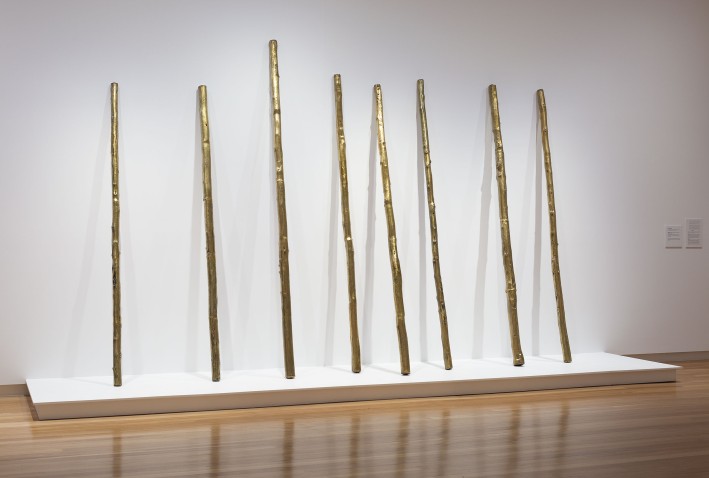 Were you a creative child? As creative as the next child. My two sisters and I used to finger paint and draw, build Lego and brick cities, and create endless soap operas for our barbies and dolls. With my primary school friends I recall imagining fairy lands at the bottom of our gardens, and this game the six of us would extend every recess and lunchtime, called the Chapter Game which revolved around characters we assumed and whose adventures we elaborated as a group.
What drives you to create art? I love being able to constantly learn about life and the world I exist in, art allows me to work through ideas, feelings, emotions and ways of understanding one another.  I was around 16 when I came to understand that Art is a language from which I could constantly both learn from and communicate from
How do you feel about your work being presented in this exhibition? I am delighted to be included in this exhibition. Works from two separate projects are included in this show, so I am glad that visitors will be able to see a small range of the ideas I have been thinking about lately. As I said above, I make art because I want to communicate with people, so I really appreciate group shows like Continental Shift that engage with a wide range of art works and the varying ways artists may present, question or challenge similar ideas. In Continental Shift most of us are examining the mixed or multi-cultures we come from.
What are your thoughts on Bunjil Place Gallery? I think the gallery is a wonderful space, not least for the amazing architecture it is a part of, but for the exhibition program it has implemented which includes a comprehensive and thoughtful range of associated activities for each exhibition. I think art is a wonderful language, from which we can learn so much about ourselves and our world, and galleries that encourage participation and understanding are extremely important. They show us that art is for everybody, that we all are in the processes of creativity.
Above images:
Sangeeta Sandrasegar, The scaffold called the Motherland spews infinite grace 2012, Collection of the Art Gallery of New South Wales, installation view, Continental Shift: Contemporary Art and South Asia, Bunjil Place Gallery, 2019, image © the artist. Photography: Christian Capurro
29/11
Bunjil Place is THE place to be these summer school holidays with tons of activities across December and January to keep the littlies entertained (plus a lil' something for the grown-ups too).
28/11
There's an absolute mountain of awesome acts coming to our place in 2020. Discover upcoming events, shows and exhibitions in our NEW What's On brochure. Hitting Casey mailboxes soon and available for pick-up at the Box Office desk.
21/11
Stuck for Christmas gift ideas! Never fear! We've rounded up all our best upcoming shows that'll put a smile on everyone's dial!