You can't miss Trent Jansen's striking works featured in the Gallery's latest exhibition 'Continental Shift: Contemporary Art and South Asia' - now learn a little bit more about what makes him tick!
When wandering around the exhibition Continental Shift: Contemporary Art and South Asia, you won't be able to miss the work of Trent Jansen. His installation, Dropping a Kumbhar Wala Matka and Jugaad with car parts - prototype are certainly unique! Learn a little more about the artist in the below profile.
Trent Jansen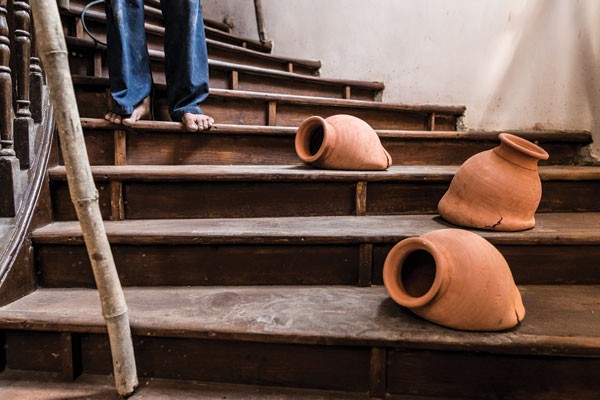 Were you a creative child?  Yes, I guess so. My mum always encouraged painting, drawing and music. My dad was always in the garage and helped me to engage with another type of creativity - tinkering. We made all sorts of mechanical things for fun and function.
What drives you to create art?  Design Anthropology is an approach that endeavours to embody cultural values in artefacts. At the heart of my practice is two great loves - design and travel. This approach allows me to combine both, learning about the complex value systems that drive different cultures, and working to communicate those through crafted objects.
How do you feel about your work being presented in this exhibition? I am very pleased to have my work in this exhibition. I have loved visiting and working in India, and am thrilled that these objects which embody something of the values and practices of Mumbai's Chor Bazaar and Dharavi can find an audience here in Australia.
What are your thoughts on Bunjil Place Gallery? I haven't visited the gallery, but the images of the show look very impressive. It looks like a beautiful space and I am pleased to have my work shown in such a refined space.
Image credits
Trent Jansen, Dropping a Kumbhar Wala Matka 2016. Photography: Neville Sukhia
13/3
Looking for information around COVID-19 and how it will influence performances, exhibitions and events at Bunjil Place?
21/2
Festivals, markets, art, gigs, movies and surprises after dark. Our Plaza is a hive of activity and the beating heart of Bunjil Place. You won't want to miss these awesome - and FREE - events coming in 2020.
18/2
Our 'Emergent' graduates go on to do amazing things! We caught up with 'Emergent 2018' graduate Betty Gu to learn what she's up to now, and her advice for our current 'Emergent' cohort!