For our final article in series of film reviews we are thrilled and privileged to have film expert and critic Richard Kuipers of Variety magazine share his favourite film noir classics.
Film noir has held me in its thrall since I jigged primary school to watch The Narrow Margin (1952) on ATV0 Melbourne. The term film noir ("dark film") was first coined in 1946 by French critic Nino Frank but not widely adopted until the early 1970s. It is most commonly applied to crime melodramas predominantly shot in black-and-white from the 1930s to the 1950s. But there is so much more to film noir. Since the dawn of cinema audiences have been drawn to stories that examine what happens when dark human impulses such as greed, lust and jealousy collide with the fickle and frequently cruel hand of fate. In straight-ahead crime movies the line between good guys and bad guys is clearly defined. In film noir we frequently start with a guy who thinks he's good before weakness and bad luck conspire to make him otherwise. There are hundreds of film noir treasures to discover, so let's begin with an excursion into the dark shadows, murky morals and steamy passions of three American classics from the 1940s.
Richard Kuipers.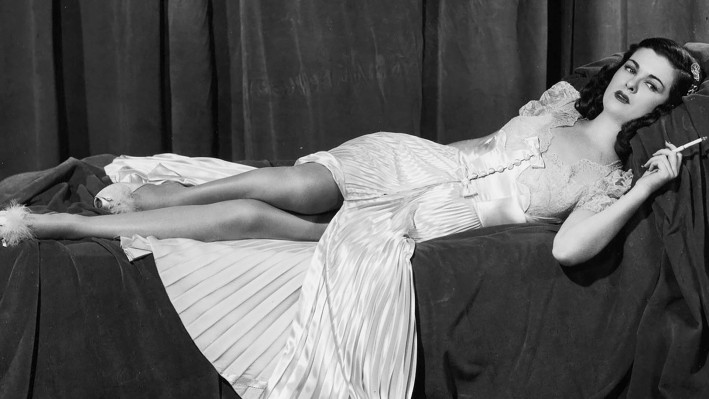 Scarlet Street (1945)  
Director: Fritz Lang 
Writer: Dudley Nichols, based on the novel La Chienne by Georges de La Fouchardiére  
With: Edward G. Robinson, Joan Bennett, Dan Duryea 
"There's no fool like an old fool" – English proverb first documented by John Heywood in 1546.   
In the annals of film noir there are few old fools like Christopher Cross, a mild-mannered office worker and amateur artist drawn into desire, blackmail and murder in one of film noir's finest hours. Scarlet Street marked a turning point in mainstream Hollywood cinema by allowing the perpetrator of murder to evade punishment through the justice system. But he cannot escape his own conscience, which carries a penalty more dreadful than any term of incarceration. Some U.S. film censors didn't see things that way. Released in December 1945, this Universal Pictures production was banned in three states and condemned by Atlanta city censor Christina Smith as "licentious, profane, obscure and contrary to the good order of the community." Little wonder audiences who'd lived through World War Two and now wanted to see life portrayed more realistically flocked to see Scarlet Street where it wasn't banned, helping it gross almost $3 million against a $1.2 million budget.  
Directed by Austrian-German-American master Fritz Lang (Metropolis, 1927; M, 1931; The Big Heat, 1953), Scarlet Street is based on the 1930 novel La Chienne (The Bitch) by Georges de La Fouchardiére and had previously been filmed by French director Jean Renoir in 1931. Lang's version changed the title from the unprintable translation but in every other respect it retains the deep and dark probing into the mind of a nondescript man whose loneliness is suddenly jolted by a chance encounter with an alluring young woman. Edward G. Robinson (Little Caesar, 1931; Double Indemnity, 1944) is superb as Cross, who's just received a gold watch for 25 years' loyal service to JJ Hogarth clothing company. "He's a 14-carat, 17-jewel guy" says the boss. That's where any shred of happiness ends for Cross, who is unhappily married to Adele (Rosalind Martin), a harradin of the highest order. Cross is a classic film noir milquetoast – a meek man who is easily dominated and too scared to speak his mind. We see this vividly in scenes showing him wearing a kitchen apron and cleaning the house while Adele barks insults and belittles him at every turn. His only solace is when Adele leaves him alone on Sundays to indulge his passion for painting. The carefully mapped-out portrait of Chris Cross (even his name spells trouble!) makes him a perfect target for Katherine 'Kitty' March (Joan Bennett, Man Hunt, 1941; Suspiria 1977) and her boyfriend Johnny Price (Dan Duryea), a sleazy customer who slaps Kitty around and exercises what we now recognise as coercive physical and emotional control over her. Duryea once told legendary gossip writer Hedda Hopper "I chose to be the meanest s.o.b. in the movies" and he proves it with a performance to match his best work in films such as … wait for it ..."Criss Cross" (1948) and "The Woman in the Window" (1944, also directed by Fritz Lang and starring Joan Bennet and Edward G. Robinson) Johnny calls Kitty "lazy legs,"  while she of course does all the work reeling in Cross and keeping him on the hook. It's the old story: Kitty feigning attraction to hustle increasingly larger amounts of money from Cross while morally bankrupt Johnny begins figuring out a get-rich-quick scam involving Cross' paintings. The tragic irony here is the artistic ambition Cross never felt confident enough to pursue, settling instead for security, stability and deep unhappiness.  
The fast-paced plot moves into high gear when the canvases Cross has never shown to anyone are suddenly and dramatically revealed to a highly influential art critic. From there it's a snowballing series of revelations and confrontations that lead Christopher Cross to a destination that will haunt him forever and remain in viewers' minds long after the end credits have rolled. There is, indeed, no fool like an old fool.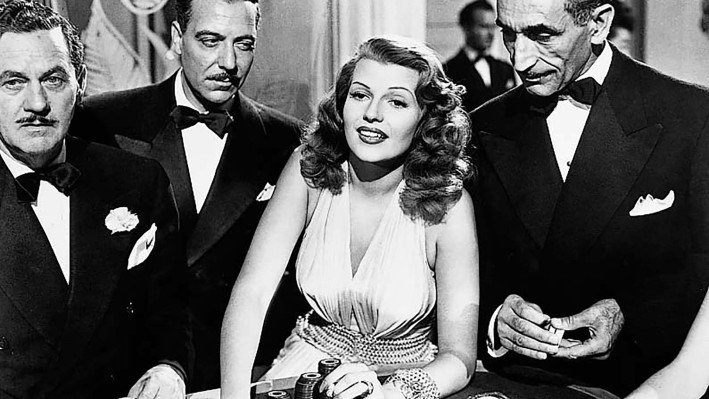 Gilda (1946)  
Director: King Vidor
Producer: Virginia Van Upp 
Writers: Joe Eisinger, Marion Parsonnet, adapted from the story by E.A. Ellington 
With: Rita Hayworth, Glenn Ford, George Macready 
When Columbia Pictures gave the green light for Gilda it was planned as a prestige production in glorious Technicolor starring Rita Hayworth as a woman who drives hapless men to distraction in a post-war Buenos Aires casino. When the studio's entire supply of Technicolor cameras had been assigned to other productions it then became a prestige production filmed in black-and-white. Gilda would still have been sensational in colour but its unquestioned status as an all-time film noir classic may have been less assured.  
While there are many great examples of film noir in colour – Gene Tierney in Leave Her to Heaven (1945) and the divine Lizabeth Scott in Desert Fury (1947) are among the best – we most often associate film noir with the kind of stark black-and-white imagery which fills every frame of this great motion picture. Gilda contains one of the most famous single shots in Hollywood history. It arrives at the 17-minte mark and introduces us to the central character. The groundwork leading to this moment is majestic. American drifter and gambling cheat Johnny Farrell (Glenn Ford) has just talked his way into a job managing an illegal Buenos Aires casino catering to lawmakers and high society types. Johnny's boss is Ballin Mundson (George Macready), a shady millionaire with highly suspect business connections. Pledging loyalty to Mundson and promising he has no personal baggage that will affect his work, Johnny smiles at the rich man and says "I'm no past and all future." That smile disappears when Mundson tells Johnny he's just married a woman he's known for all of 24 hours and wants to introduce him to her. "Are you decent?" asks Mundson from outside a bedroom door where he waits with Johnny. The next image we see is a that shot – a magnificent mane of hair flowing through the frame and settling around the impossibly beautiful, almost other-worldly face of Rita Hayworth at the height of her career and recently labelled as "The Queen of Love." While artfully sculptured lighting creates a halo-like effect around Gilda – "sure, I'm decent she says" –  Johnny's face deadens to a blank nothing in a shadowy grey void. In just a few seconds we see film noir lighting at its zenith and understand the essential elements of the drama that's about to unfold. Johnny and Gilda have "a past" that Mundson's unaware of and you just know at least one person in this scene will be dead before the end credits roll.  
From the moment Gilda casts a glance back at Johnny the film positively exudes sexual tension. There's no way Johnny and Gilda were just platonic friends and it's just as clear that things didn't end well. Her marriage to the aloof Mundson is opportunistic, to put it kindly.  Bored from the moment she said "I do" Gilda quickly begins cavorting around town with cashed-up Americans and handsome local smoothies with bedroom eyes. Assigned by Mundson to look after Gilda, Johnny takes sadistic pleasure in curtailing her night-time adventures while simultaneously boiling with desire for her. One of the great pleasures of a steamy film noir such as Gilda (and so many mainstream Hollywood dramas made before 1968 when the MPAA classification system was introduced) is how it deals with "adult themes" within the constraints of prevailing censorship standards. The dialogue is littered with metaphors, euphemisms and clever turns of phrase that create an air of seething sexuality that's more potent than any plain speaking could ever be. That also applies to the way Mundson looks at Johnny with "a certain gaze" and calls him his "little friend" while holding his ever-present cane that contains a deadly push-button blade in the base.  
Originally written to take place in the U.S., Gilda's locale was switched to Buenos Aires. This allowed for shady Nazis to plausibly be lurking on the sidelines as part of Mundson's plan to rule the world via a tungsten cartel. More importantly, it permitted stronger degrees of vice, corruption and sexual innuendo than would have been allowable in a U.S. setting. For proof, just wait 'til you see Hayworth's unforgettable one-glove-removed striptease while wearing black satin and singing (or miming to Anita Ellis' vocals, to be precise) "Put the Blame on Mame." The great star is surrounded by superb contributions from cast and crew. Glenn Ford (The Big Heat, 1953; Blackboard Jungle, 1955), with whom Hayworth shared a 40-year love affair, is spot-on as the opportunist whose divided loyalties and love-hate relationship with Gilda play out in dramatic and sometimes unexpected ways. George Macready (Paths of Glory, 1957) enjoys his greatest hour as Mundson, a cold-blooded reptile who regards people as possessions and says things like "hate can be a very exciting emotion." Rudolph Mate's peerless photography and glorious art direction by Stephen Goosson and Van Nest Polglase (also responsible for designing most of the Fred Astaire-Ginger Rogers hits at RKO in the 1930s) provide the finishing touches to a movie that has stood the test of time remarkably well. It's also a highlight in the career of Virginia Van Upp, a brilliantly talented producer and screenwriter whose life and achievements are worthy of becoming a prestige production filmed in magnificent monochrome.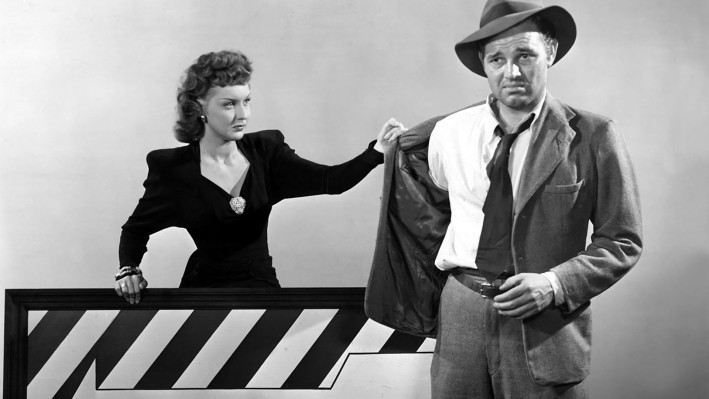 Detour (1945) 
Director: Edgar G. Ulmer
Producer: Leon Fromkess
Writer: Martin Goldsmith, based on his novel "Detour: An Extraordinary Tale"
With: Tom Neal, Ann Savage  
Our final destination on this film noir ride has to be Edgar G. Ulmer's low-budget masterpiece, because nothing else can possibly follow it. In my estimation Detour is the greatest film noir ever made and ranks in my top ten films of all time. There is something about this fatalistic road movie that hypnotises and mesmerises. Filmed in three weeks on a $100,000 budget (one-twelfth of Scarlet Street), Detour is a glorious example of American poverty row cinema. Poverty row was the collective name given to low budget companies with offices on or near Gower St. in Los Angeles. Monogram Pictures, Republic Pictures, Producers Releasing Corporation and Grand National Films were the "kings" of poverty row. Detour tells the gritty, grimy and utterly riveting story of Al Roberts (Tom Neal), a hitch-hiker whose journey from New York to Los Angeles is plagued by the worst run of luck you'll ever see. When we first meet Al he's in a roadside diner, despondently drinking coffee and arguing with another customer who's put a song on the jukebox. It reminds Al of happier times, when he played piano in a New York club and was in a steady relationship with Sue (Claudia Drake), the venue's in-house singer. But Sue left the Big Apple to try and further her career in LA. Al's in this diner now because he became restless and unhappy after Sue left and decided to hitchhike across the country. The plan was to show up on Sue's door unannounced and then live happily ever after.   
To say things didn't quite work out that way is an understatement. It's how things go wrong for Al that makes Detour so compelling. Al's voice-over narration is packed with great lines such as "that's life, whichever way you turn fate sticks out a foot to trip you up." He describes money as "a piece of paper crawling with germs." The people Al meets along the way are as damaged and desperate as he is. First there's Haskell (Edmund Macdonald), a rich man who gives Al a ride. Haskell seems nice enough, but what are those fresh scratches on his hands all about? Then there's Vera, a young woman tangled up in the kind of trouble that could make Al's dreams come true or just as easily ruin his life. You have never seen a femme fatale quite like Vera. As Al says: "Man, she looked like she had been thrown off the crummiest freight train in the world. Yet in spite of that, I got the impression of beauty." Played with mesmerising intensity by the aptly-named Anne Savage, Vera barks, snaps and torments Al with pungent dialogue like "If you act wise, well, mister, you'll pop into jail so fast it'll give you the bends." The tragic irony is that many years later actor Tom Neal did end up in jail for the involuntary manslaughter of his wife.  
The hurried production and miniscule budget work in the film's favour. There's a sense of urgency, a propulsion to the story that's remarkable. You can almost see cast and crew working frantically to make this film in about one-quarter of the time a major studio would have taken to shoot the same story in 1945. With barely a dime for set design the nightclub where Al and Jane work is little more than a couple of chairs and great lighting design by cameraman Benjamin Kline. The filming of Jane's signature song "I Can't Believe That You're in Love with Me" is just one of many highlights. Based on Martin Goldsmith's 1939 novel Detour: An Extraordinary Tale (Goldsmith also wrote the film's screenplay) this surreal, existential film noir was directed by Edgar G. Ulmer. A migrant from what is now the Czech Republic, Ulmer directed many great low-budget films including Freudian film noir Strange Illusion (1945), puppet-related horror Bluebeard (1944) and The Black Cat (1934), a striking interpretation of Edgar Allan Poe's story and the only film in which horror icons Bela Lugosi and Boris Karloff appeared together. Before fleeing Nazi Germany Ulmer worked as production designer on the German masterpiece The Last Laugh (1924) by F.W. Murnau. The influence of German expressionism on Ulmer's ultra-low budget American films gives them a stark and striking quality that reaches its most potent form as Al Roberts travels the doomed road of Detour.  
Richard Kuipers is a film critic for the international trade paper Variety. He has curated genre sidebar programmes for Sydney Film Festival and Adelaide Film Festival. He served as curator and historian for the NFSA website Australianscreen, adviser for the Goethe Institute's Festival of German Films and has conducted public lectures on cinema history at the Bophana Audiovisual Center in Phnom Penh. Richard's credits as a documentary producer and director include Stone Forever and The Cambodian Space Project – Not Easy Rock'n'Roll, which received three AACTA nominations including Best Television Documentary. Richard also hosts the podcast The Classic Film Club at theclassicfilmclub.com  
25/1
Bunjil Place is the destination for all things fun this summer.
25/1
This Summer the Outdoor Screen program is featuring sizzling performances from Melbourne's most sensational electronic music artists with visual mixes from Melbourne's most sublime VJs. We are thrilled to present Mexican artists Austero (LIVE) with VJ BluMD!
18/1
For the second year running Bunjil Place is proud to present the Melbourne International Film Festival (aka MIFF) Summer Screenings on our Outdoor Screen!