This week our film reviews take a scary surrealist twist with film critic legend Jay Katz reviewing three cult horror classics (though their genre should really be classified as existentialism!)
These three reviews are of films that affected me deeply on a personal level. They were not just inspirational and remarkable achievements artistically for their relatively small budgets but they also address boldly the human condition from an outsiders perspective. They all could be classified under the genre of horror but wait there's more here . Wake in Fright is definitely psychological horror that also made me introspective to the point of questioning and examine the culture I grew up in. Eraserhead could be classified as a body horror film but with its abundant use of surrealist techniques and dry humour made it not dependent on excessive jump scares. Finally A Ghost Story could on first glimpse easily fall under the banner of supernatural horror but honestly it felt more like a deep examination of love, loss and time. Cinema has to speak to me, and these screen gems did. Track them down and enjoy. You certainly can't judge a film from its advertising campaign nor the genre it's fallen into.
- Jaimie Leonarder aka Jay Katz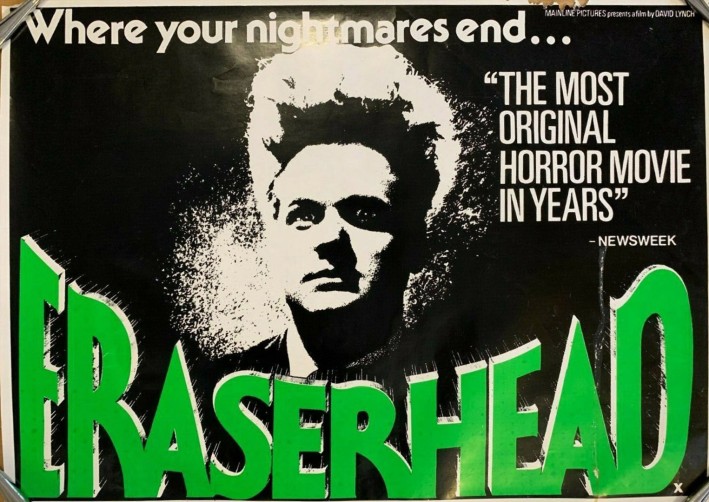 Eraserhead (1977)
Producer, Director, Writer, Editor David Lynch.
David Lynch's first feature film is a tour-de-force of surrealist intent, set to a backdrop of industrial and emotional decay. Lynch had initially begun his creative career as an artist only venturing into film to animate his paintings. At 24 years of age and with a scholarship at the American Film Institutes Centre For Advanced Film Studies he was offered a chance to produce Eraserhead.
I saw this film when it was first distributed in Australia in the late 70s. It had hit the midnight repertory circuit in my home town Sydney at the Valhalla Cinema in Glebe. Even though Eraserhead was relatively new to exhibition it had already developed a cult status. Punk rock had just gestated itself into the zeitgeist and all of us radical teenagers thought we were totally prepared for this movie that had been advertised to us as the ultimate baby horror film. This is no horror film, as all its possible jump scares very rapidly turn into one large existential crisis. It changed me, I have never got over it and it gave me the permission to become an abstract artist.
Starring the late Jack Nance (The man who found Laura Palmer's Body in "Twin Peaks".... " Wrapped in plastic.") perfectly cast in the lead role as Henry Spencer in a way too sensitive a character for the world he grapples with. Jack sported an unusual hairdo for this role and this had to stay on his head for the entire length of the production (evidently 7 years). Henry lives in what feels like a post apocalyptic industrial wasteland and suffers the signs of an ever increasing stress disorder. Dispossessed, perpetually uncomfortable and unsure of his place in this drab despotic landscape, he now finds his girlfriend is pregnant and he has to take responsibility for bringing a child into this nightmare. This is not just any child mind you but one that is severely deformed and critically ill. Actually its a monster and certainly raises the discomfort to frightening levels. It cries, vomits and sweats continuously adding deliciously to this films already unsettling atmosphere.
Eraserhead is filmed in glorious B/W which adds dramatically to its dank production vista. It's opening scene starts with maverick production designer Jack Fisk (a long history of working with director Terrence Malick and nominated for several Academy Awards) as the man in the planet moving the switch signals that control the movement of Henry's head in space. So, within seconds one becomes aware that the normal narrative structure of this suspected horror film is about to be blown to smithereens. Fisk and wife Sissy Spacek (star of Carrie) where totally committed to this project and assisted Lynch with continuous donations. Lynch even had a paper run he would halt filming for in order to raise enough for a few dollars worth of film stock offcuts.
Meticulous in its construction with superb cinematography and intense multilayered sound design Erasehead is a masterpiece of independent filmmaking. It certainly paved the way for Lynch to bring a whole new form of cinema into being. No Hollywood film would have ever been allowed the luxury of 7 years to execute its production. Its because of this and its subject matter that Eraserhead will remain one of the most profound and unique dark comedies ever committed to the screen. If you like Lynch's other films or just a fan of Twin Peaks but have never seen Eraserhead, its time to see where it all stems from. Watch here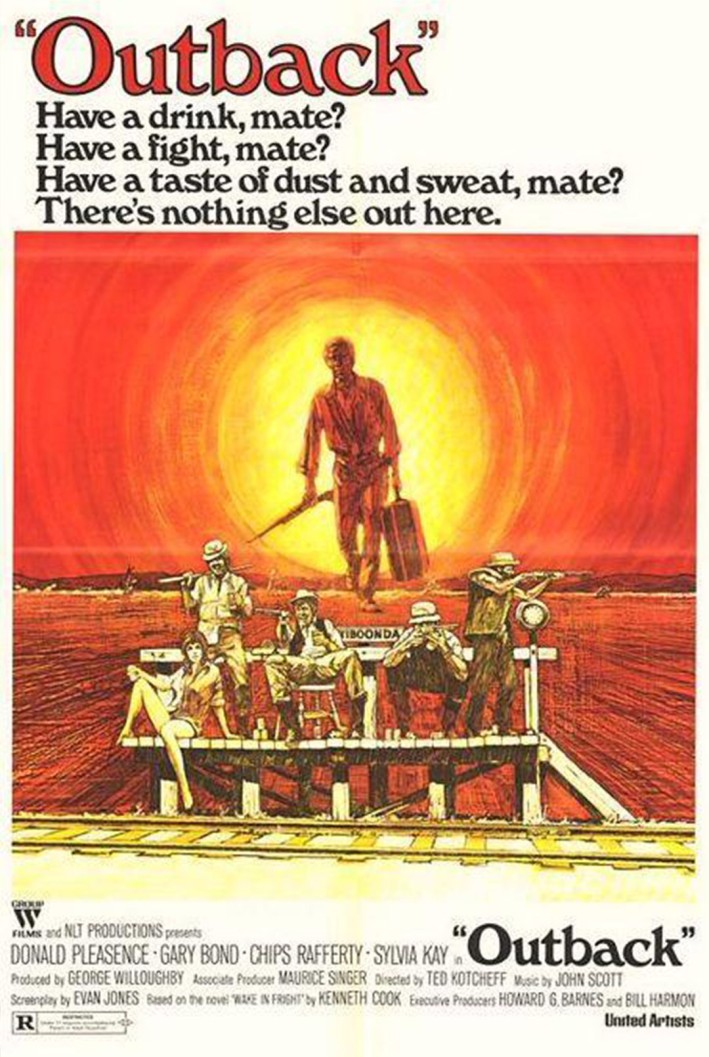 Wake in Fright (1971)
Thought to be lost for many years this seminal film still evokes so much terror in viewers heart. A stranger in a strange land tale set amid the harsh outback landscape of Australia. In the 1970's two foreign directors appeared to have pierced the heart of white Australia's psychic disorder. One was British cinematographer Nicholas Rouge with Walkabout and the other was Canadian Director Ted Kotcheff (Weekend at Bernie's) with his adaptation of Keith Cooks 1961 novel Wake in Fright.
Filmed on location in Broken hill and Sydney this International co production starred a stellar cast. It would be Jack Thompson's first feature film and Chips Rafferty's last. They shared the screen with English actors Gary Bond in the lead role of John Grant, Sylvia Kay and Donald Pleasance as the perverse Doc Tydon.
John Grant a bored school teacher is looking forward to going home for Christmas after a two year post at the small school in the remote township called Tiboonda. He plans to see his girlfriend Robyn but first must make a stop over at the nearby mining town known by the locals as the "Yabba". Here he loses all his holiday pay in an illegal game of two up and is now stranded with no way out. This film quickly descends into the horror of alcohol fuelled dysfunctional relationships not only with the locals but also the land.
Breath taking and innovative cinematography from Brian West will have the viewer on the edge of their seat as the tension relentlessly rises. It is as if the harsh landscape has become part and parcel of the psychology of the locals, their constant drinking is the only way to numb the stark reality of their isolation. Unfortunately this just leads to more dysfunction and manipulation as John Grant's life becomes literally hell on Earth. Now this refined school teacher has become indistinguishable from the locals.
This is a truly powerful film once seen never to be forgotten. Superb editing by Anthony Buckley and the tight direction of Ted Kotcheff make this film relentless in its pacing. Just when you think John Grant's plight cannot get any worse he descends even father into the machinations that is the Yabba.
Originally released under the title of Outback because of censorship issues in regards to the graphic nature of the Kangaroo cull scenes. The cast and crew have gone on the record to state that during the filming of this real Kangaroo cull, the behaviour of the locals that were employed as extras had walked out of the pages of the script. Exercise caution when watching this at Christmas or with a beer in your hand or you may just find yourself the next victim of the Yabba. Watch here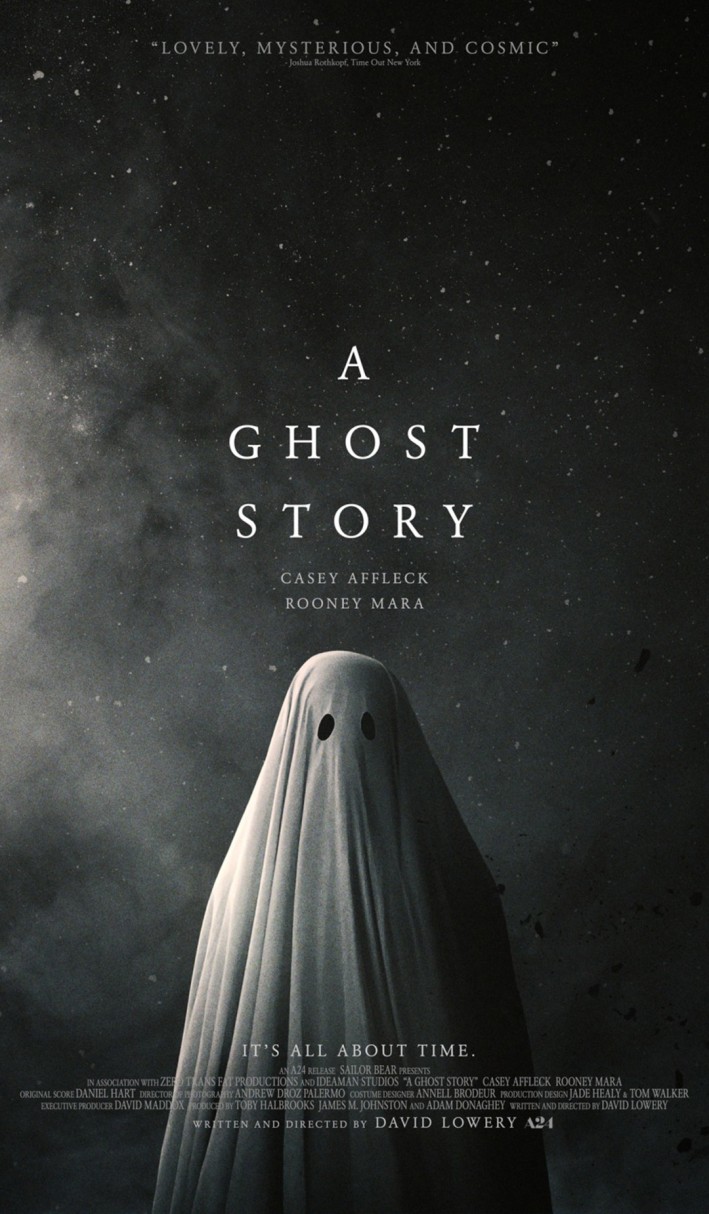 A Ghost Story (2017)
A Ghost Story is an American super natural thriller written and directed by David Lowery (Pete's Dragon). Upon first inspection of the publicity surrounding this feature it could easily be dismissed as yet another spectre wearing a white sheet film. Lowery has gone on the record to state "I love taking something that is understood to be funny or charming or sweet or naïve and instilling it with some degree of gravity". If you have the patience to live through the first half of this film you will experience that gravity he brought to bare on this poignant exploration of the supernatural, loss and love.
Musician (Casey Affleck) is slowly piecing together his next composition in a small house in Dallas Texas which he shares with his wife (Rooney Mara).
There is a growing tension between them as she wants to move to a larger house but he is still emotionally attached to memories this property holds. Occasionally late at night odd noises are herd yet no source can be found. One morning Casey is killed in a car accident in front of their home and later that day when his wife views his body at the hospital she covers him with a sheet. Here's where the fun begins. Casey now awakens as a ghost artistically covered in a white sheet to roam the halls, lawns and rooms of his past life. He remains invisible to all but through sheer frustration can create poltergeist activity. At first he painfully witnesses his wife grieve unable to comfort her but then as time inevitably marches on this film turns into one massive existential dilemma.
Lowery's film is quite biographical as he used it to chart his own way through what he termed "An existential crisis". Painstakingly crafted with much attention to detail especially around the practical constraints of the costume i.e. the sheet. They were forced to reduce the movement of Casey as the ghost, utilising puppetry to gain a more authentic supernatural quality. David Lowery collaborated with Daniel Hart (Dark Rooms) to come up with one of the most evocative and enchanting scores highlighted by the track "I get overwhelmed" which is the piece of music Casey's character is working on prior to his death. I was so enamoured by this music that I had to race out and buy it on Vinyl almost immediately.
This film had a tendency to polarise audiences as it takes a heavy hand in its investigation of time and emotion. One scene in particular can feel very harrowing due to it duration and exploration of grief. Transformation comes at a price and persistence will pay off when the viewer is forced to extend their attention span during A Ghost Story's most uncomfortable scenes. If you ever wondered what was on the other side A Ghost Story may just reveal a few of its secrets. Brilliant yet confronting. Watch here.
Jaimie Leonarder aka Jay Katz (SBS Movie Show, Documentary subject of "Love And Anarchy") is co- curator of the Mu-Meson Archives (repository of film, literature and vinyl) and co -host of the Naked World podcast.
For well over three decades along with his wife Aspasia has provided Sydney with a plethora of alternatives to mainstream culture. Organising events of an experimental nature that range from the fringes of film, music and philosophy.
Header image: A Ghost Story (2017), image courtesy of a24films
1/12
We're bringing the cheer with a sack full of fabulous Christmas films on the outdoor screen. Tis the season to be busy, but don't worry, our festive menu at the cafe combined with the outdoor seating and online ordering will make all your worries disappear.
1/12
This week we hear from Aspasia Leonarder aka 'Miss Death' on her passion for Romance in unexpected film genres.
29/11
We recently hosted a Bunjil Place and Wellbeing-themed Scratch Competition and now we're ready to announce the winners. Check out the creative entries and have a go at playing the games for yourself!