We asked the artists - and creative types - that have performed at Bunjil Place to create a Spotify playlist that inspires their work - past, present and future. Have a listen and you could find some new jams to rock you out of lockdown.
Today's featured artist are in fact a band. The Funk Buddies are an 8 piece New Orleans style instrumental street funk band from Melbourne that were one of the feature acts of Summer Sounds 2019 in the Plaza.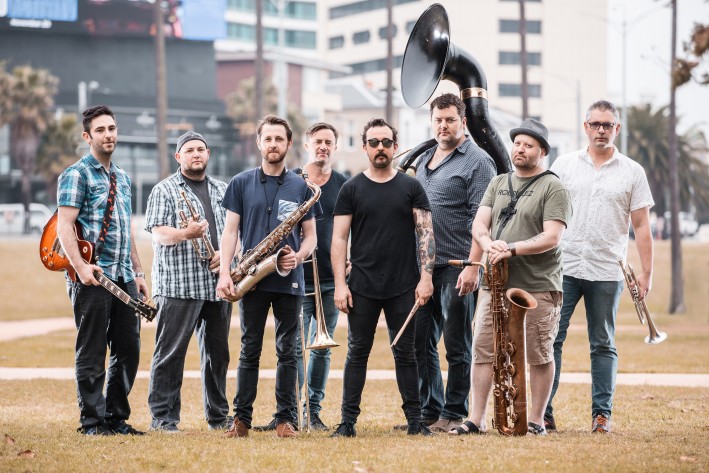 What is your main art form and style?
We are a New Orleans style instrumental street funk band. We start with the NOLA street band style and evolve it to include influences of more modern funk acts.
How does music influence your creative making process?
Isaac Newton said "If I have seen further it is by standing on the shoulders of giants". We hop between the shoulders of many musical giants – we feel that what we bring to the music scene is a relatively unique mix of styles. We can't claim to have created anything totally new, just a new flavour. And we think it's pretty tasty.
What is your connection to Bunjil Place and/or Melbourne's south-east?
Many of our tribe honed our musical skills in youth bands and school programmes throughout Melbourne's south-east. We spent many weekends driving around to rehearsals and performances, learning our craft. A shout-out to all the music teachers out there – you guys rock!
Why did you choose the songs on your playlist?
As mentioned previously, what we do is a mongrel melange of a variety of artists. Our music would not be what it is without their flavour. Giants indeed.
Which underrated artist would you recommend to people and why?
Probably as a group our strongest influence is the legendary funk band Tower of Power. They have been playing since the late 60s, and are still touring – they were in Melbourne only last year. They have many fans all over the world, but are not as well known as they should be!
What was the best show you ever saw or played in?
Audiences make gigs come alive. It doesn't need to be a big crowd, just a lively, engaged crowd – some of our most memorable gigs have been at small venues like Open Studio or Bar Open, or at outdoor markets like Queen Vic night market. Once, we did a busking set at the Esplanade market in St Kilda, and a spontaneous crowd formed and went absolutely nuts on a Sunday morning. We live for that.
Is there an emerging musician in the list, that we should all keep our eye on?  
As they are our musical influences, most of these artists have been around a while but not necessarily known in Australia. Unfortunately, current circumstances mean they won't tour much in the near future, but as they are well established, there are some amazing shows available to watch online. We don't consider ourselves 'old', but to see these bands live when we were growing up we had to mail order VHS tapes from overseas to see these guys play. Youtube is freaking amazing – you can see all of these acts do live shows for free online. Of course, if you like them, buy their music or merch and support them – this is a difficult time for artists, and unfortunately Spotify plays won't put food on the table.
Where can we follow you?
Facebook | Website | Twitter | Instagram
22/10
With Halloween almost upon us we thought it fitting to turn our attention to one of the greatest filmmakers of all-time, 'the Master of Suspense' himself, Sir Alfred Hitchcock. During his illustrious career Hitchcock made over 50 films spanning across six decades with 46 Oscar nominations.
4/10
Welcome to our NEW digital space developed especially for children and families to get creative and share their magnificent work.