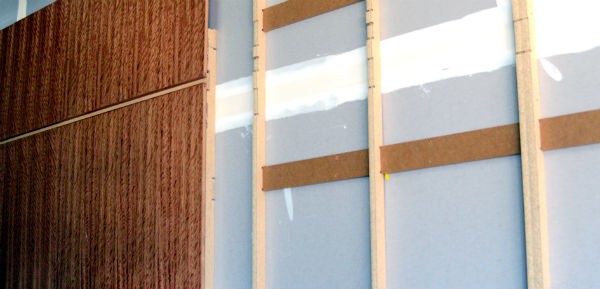 One tree, 6,000m2 of timber veneer
When you arrive at Bunjil Place (in the very near future) you will notice the modern yet timeless timber-lined wall finishes.
What you may not realise, is that the beautifully consistent look and feel is also sustainable!
In fact, a single tree is will be responsible for all 6,000m2 of the veneer, across the foyer and library walls.
The tree itself is a eucalyptus variety known as Blackbutt and it had been removed from a private property in NSW many years ago, to make way for a road and reserve.
With no knots or holes, the tree would yield a lot of veneer and so the supplier held it for four years looking for the perfect job…
When Bunjil Place arose, the supplier was thrilled to be able to meet the challenge of supplying beautiful and single source timber.
To create the veneer finish, the tree is sliced into ultra-thin strips and applied to a board and brought on to the site as Multiplex fit out the relevant spaces.
20/7
Drumroll please … after much anticipation the City of Casey is excited to announce that Bunjil Place will be opened for the community to enjoy this October!
19/7
This month members of the STEAMDANCE ensemble took a break from school holiday workshops in Cranbourne to give the Studio a spin and a whirl.
19/7
Set over three levels, the modern, light-filled space will be the new home of the Casey Cardinia Libraries (CCL) Narre Warren branch.