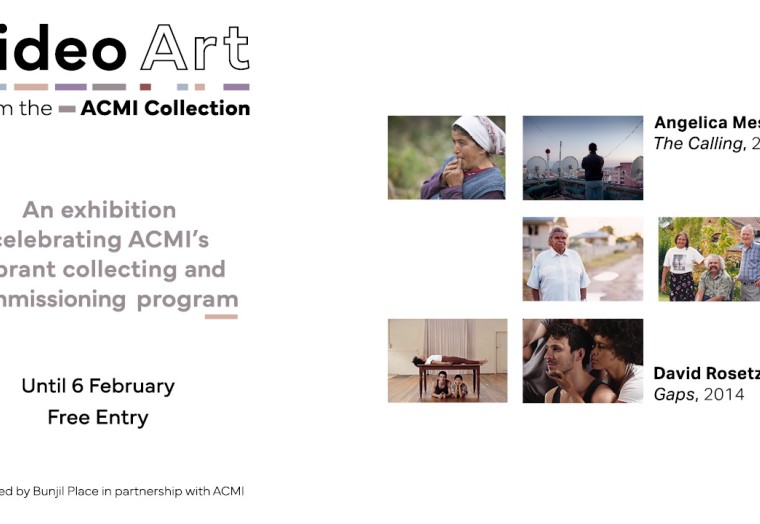 Video Art from the ACMI Collection
Dates
Fri 17 Dec 2021 - Sun 6 Feb 2022
Hours
EXTENDED HOURS
Thursday 3, Friday 4 and Saturday 5 February
10.00am – 6.30pm

10.00 am – 4.00 pm,
Tuesday to Sunday


Location
Bunjil Place Gallery
Showcasing three moving image artworks by Australian artists, this exhibition celebrates ACMI's vibrant collecting and commissioning history.
The works in this exhibition explore the strength and fragility of human connections through time, across landscapes, within communities, and in intimate encounters. Through documentary footage, staged performance and images rich in metaphor, these three Australian artists demonstrate the persistence of empathy and creativity in the face of historical, cultural or personal rupture.
ACMI's collection has a rich, 75-year history from its inception as the State Film Centre in 1946. Since its incarnation as ACMI in the early 2000s, the collection has expanded to include artworks and experimental film. ACMI now holds a significant archive of complex, time-based media works and videogames, as well as an ever-expanding repository of digitised content and born-digital material.
Artists
Angelica Mesiti, The Calling, 2013
David Rosetzky, Gaps, 2014
Ivan Sen, Blood, 2002
Presented by Bunjil Place in partnership with ACMI.
Familiarise yourself with our latest exhibition before you come to visit with this Exhibition Quick Guide.
An ACMI Touring Exhibition
Commission Partners