Whether you're looking to unwind with some soothing arts and crafts, keep the kids entertained, or explore the Gallery at your own pace, we've got you covered!
Once again, we're staying at home, but that doesn't mean you can't enjoy the arts! We've pulled together our favourite digital activities for you and the family to stay occupied this week.
Looking for more? We've got even more activities for the whole family to enjoy here >>>
Get arty
Minna Gilligan: Junk Mail Collage
Join artist Minna Gilligan (@minnagilligan on Insta) for a step-by-step workshop on how to turn your junk mail pile into a funky collage!
Shopping List Drawing With Kenny Pittock
Join artist Kenny Pittock to transform your average shopping list into a hand-drawn masterpiece. After you're done you can revisit Kenny's past exhibition Fifty two found shopping lists written by people who need milk by Kenny Pittock. It's unbelievable!
For the kids
Paper Collage Daffodils from home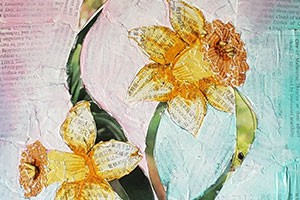 In John Young's series of artworks called The Double Ground Paintings he builds layers on each artwork by taking readily available images he finds in magazines or on the internet, and hand paints layers of images over the top of another image. In this Paper Daffodil activity we use a similar collage process to create layers and choose from everyday materials found at home, like newspapers. Flowers can be found in the artworks of John Young including paintings of the Flower Market in Nanjing. In these paintings John uses found images of old postcards and paints over them with images of fresh flowers and corals to create another layer to the artwork. You can also find daffodils in some of John's artworks. Did you know daffodils symbolize new beginnings? Download the instructions & template below and start creating!
Paper Daffodil Instructions
Paper Daffodil Template
Yomeciland Finger Puppets
Remember Yomeciland? It was a digital art installation we had in the Studio that explored how we can create wacky and wonderful virtual creatures with the sounds of our voices. Artists Uyen Nguyen and Matthew Riley have created two cute finger puppets that you can make at home, all you need to do is cut them out of the template and glue them together!
Magic Beach Colouring Template
Magic Beach is coming to Bunjil Place soon! So why not get excited and have a go at colouring in your own Magic Beach?
Chill out (virtually) in the Gallery
Did you know that you can still visit our Gallery from home? Check out some of our most loved exhibitions in our Gallery space, all from the comfort of home.
Diaspora, Psyche: John Young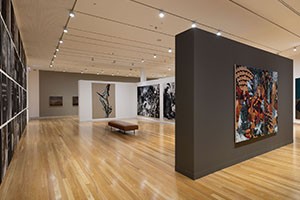 Even though the doors are closed, our current exhibition Diaspora, Psyche is available to view in a virtual tour - just click the link below and take a stroll through this survey of works by contemporary artist John Young spanning 17 years (2003–2019).
Image: Installation view: John Young, 'Diaspora, Psyche', Bunjil Place Gallery, 2021. © John Young. Photography: Christian Capurro
miffy and friends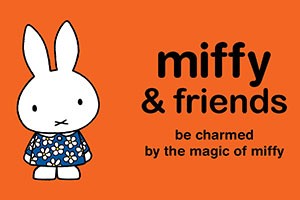 Missing Miffy? Us too! Why not take a trip down memory lane through our last exhibition that featured the iconic work of miffy creator Dick Bruna.
8/9
Spring school holidays are almost here and we have heaps of great online activities for kids of all ages...and some even the parents will love!
6/9
'Emergent 2021: VCE Graduate Showcase' celebrates the creative achievements and outstanding talent of VCE and VET students within the City of Casey. 
31/8
While we are in lockdown, Bunjil Place Gallery exhibiting artist John Young is definitely staying busy!