From Ethiopia to Colombia, and weaving through the lands of this very continent, experience tales about ancient stones, connection to country, and the mesmerising tricks of hula hooping teens
Featuring First Nations stories in Elders by Tony Briggs and Kapaemahu by Dean Hamer, Joe Wilson and Hinaleimoana Wong-Kalu, a twin seeking independence in An Act of Love by Lucy Knox, magical forest furniture in The Size of Things by Carlos Felipe Montoya, and a little girl determined to claim her prize in The Egg by Jane Cho (Winner of Best Australian Short at MIFF 2019) and more, you and the family will be transported to worlds both near and far.
- Mia Falstein-Rush, MIFF Programmer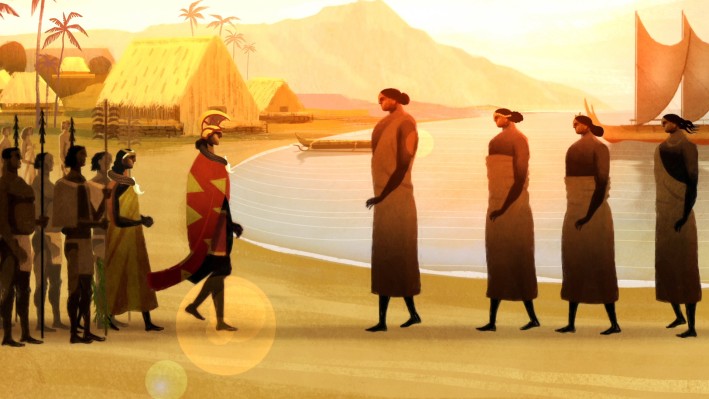 Family Shorts Program
 
Elders; Tony Briggs; Australia (2019)
Based on a true story, a young boy must find his way back to his elders in the midst of the Australian bush. In his directorial debut, Wurundjeri (Woiwurrung) and Yorta Yorta actor Tony Briggs (writer of The Sapphires, MIFF 2012) explores being on country as a small boy. 

Not A Wallflower; Lianne Mackessy; Australia (2019) 
An uplifting, flower shop–set meet-cute between an apprentice florist and the customer of his dreams. 
Produced by Sydney-based inclusion-focused studio Bus Stop Films, this feel-good film – which stars Mandy McElhinney of AAMI fame as the choleric shop owner – depicts the blooming of young love. 

Circus Movements; Mário Gajo de Carvalho, Lukas Berge; Portugal, Germany, Austria, Ethiopia (2019) 
A hula hoop spins against the backdrop of rural Ethiopia. Acrobats tumble into clear blue skies and fire jugglers light up the night. An examination of bodies, movement and the stillness of landscape brought to you by the entrancing Circus Debre Berhan. 

Kapaemahu; Dean Hamer, Joe Wilson, Hinaleimoana; Hawaii USA (2019) 
On Waikiki Beach in Hawaii are four boulders. This is the story of the mysterious _māhū_ who, centuries ago, imbued them with healing powers. 
Long before Hawaii fell under colonial rule, four _māhū_, individuals of liminal gender, arrived there from Tahiti to share their talents in healing. Their leader was Kapaemahu, and soon they were beloved by the islands' local inhabitants. 

The Size of Things; Carlos Felipe Montoya, Columbia (2019) 
The desire for possessions casts a mysterious shadow on the simple life of Diego, a boy who lives in an unfurnished hut with his father. One day he comes across a wooden chair in the forest, and the proportions of life begin to sway. 

An Act of Love; Lucy Knox; Australia (2018) 
A close bond between two identical twins is tested when one sister rebels against their shared sense of oneness. 

The Egg; Jane Cho; Australia (2019) 
One little girl. One giant egg. 
Day after dull day, under the punishing and watchful eye of an elderly woman, a young girl becomes determined to claim a large Easter egg as her own. No matter the cost. 
The MIFF Family Shorts program will be presented prior to H is for Happiness on Friday 5 February and throughout the month of February as part of the MIFF Summer Residency. 
18/1
Get the family together and join resident yoga expert, Michelle, for a digital yoga class in the comfort of your own home!
14/1
From Ethiopia to Colombia, and weaving through the lands of this very continent, experience tales about ancient stones, connection to country, and the mesmerising tricks of hula hooping teens
13/1
Isn't it great to have some sort of normal back for the summer school holidays? Get the family together and enjoy some creative fun in the sun at Bunjil Place this January with workshops, movies and a live outdoor performance by Melbourne Symphony Orchestra!