Scratch is an easy-to-use, free programming platform with the potential to create and code amazing interactive stories, games, movies, animations and presentations! Design and enter your project in the Bunjil Place Scratch Code Challenge and you could win one of many great prizes – like a $100 gift voucher.
What is Scratch? 
Scratch is a free and easy way to learn computer programming. Developed by MIT, Scratch is used by people of all ages and abilities. It is now widely taught in schools and is a great introduction for young people to the world of coding. 
You can code and make your own fun things like this game: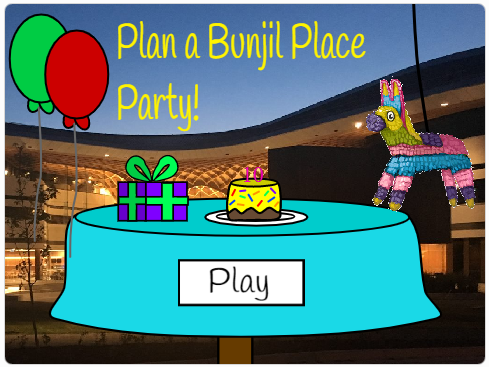 How do I use Scratch?

 
Not sure how to use Scratch or where to begin? Not a problem, its easy and free! Check out the resources below for our recommended online workshops, videos, plus example activities and practise spaces.

 
The Competition
Using the Scratch coding platform, create an original game, based on Bunjil Place or with a Bunjil Place theme.  
Entries will be scored out of 100 points, as follows: 
Coding skill: The proficiency and complexity of the programming – 50 points 
Creativity: The design and look of the game, and the extras added – 20 points 
Playability: How well and efficiently the game plays – 20 points 
Wow factor: Judges' discretion – 10 points 
The only limit to what you can code and submit is your creativity! Entrants can compete in one of three age groups: 5-8 years, 9-12 years, 13-17 years. 
Entries will be judged independently by Chad Toprak, the director of Freeplay, the world's largest independent games festival. 


How to enter
Create a Scratch Account. 
Create your game using the Scratch editor.  
Ensure that it is Bunjil Place themed and original. 
Click on the 'Copy Link' link below your program. 
Copy the URL. 
Submit URL to bunjilevents@casey.vic.gov.au. Don't forget to include your name, age, contact number and suburb with postcode. 
Read and agree to Entrant T&Cs Include rights, how it is judged, entrants must be Victorian residents, age limits, hosting name online permission Discuss with Wayne, based on current T&Cs 
All entries due 31st July 2020 23:59. Winners will be announced in August 2020 and hosted on the Bunjil Place #artsinisolation page  and in the Bunjil Place Scratch Studio, as well as a possibility of seeing the game on the Plaza Outdoor Screen! 
Get Started
Visit Scratch and watch their Getting Started video 


Want more coding? 
Loving Scratch and want to do more? Join our Library Code Club!
Chad Toprak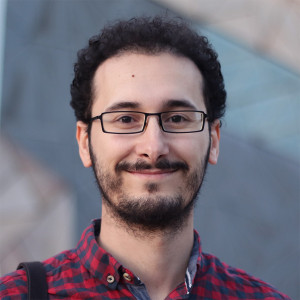 Chad Toprak is an experimental game designer, independent curator, and director of Freeplay, the world's longest-running independent games festival. Chad has strong connections to Melbourne's independent games scenes through his curatorial work with Hovergarden, Melbourne's videogame curatorial duo, and the Contours exhibition, which highlights emerging contemporary Australian independent games. He was named in Develop Pacific's inaugural 30 Under Thirty list for 2018 and is a recipient of the 2014 IGDA Scholars program and the 2020 Game Devs of Color scholarship. In the past, Chad has worked on award winning games such as Turnover, the four-player multi-gravity steal-the-ball-n-run frenzy; Cart-Load-O-Fun, a two-player collaborative physical game designed for trains and trams; Dualcyon, the experimental Leap Motion & VR puzzle game for two; and This Is Not A VR Game, an audio-only VR performance. Chad is a first generation Turkish-Australian Muslim immigrant.
Freeplay is the world's longest-running independent games festival, located in Melbourne, Australia. Established in 2004, the festival embraces the fringes, spotlights grassroots artists and game makers, celebrates the artistry of independent games, and acts as a response to and critique of the status quo. For over 16 years, Freeplay has been exploring the vital margins of independent, alternative, and experimental games culture. The festival continues to champion artistic exploration and experimentation in games and play, and positions game making as arts practice.
Resources 
Check out these extra guides and resources that can help you to create your Scratch game.

Getting to Know the Basics 
Once you have created an account with Scratch, why not practise using some of the blocks? There are plenty of free online courses, workbooks and videos you can watch online. Here are some of our recommendations: 
Video Tutorials:  
Free Online Scratch Courses: 
Free Online Workshops and Workbooks: 
Game Ideas 
Ok! You now feel comfortable in Scratch but you need a game idea. Why not try some of these? 
Keywords (Glossary) and Action Types: 
Script: A collection of code blocks that controls (programming logic) and influences the sprite. 
Stage: The background area in the Scratch environment (IDE). The section showing the animation. 
Sprite: A 2d image on a transparent background that can be controlled and or moved around the stage. 
Code blocks: A graphical (picture) command used in the creation of a script. 
Look blocks: These are code blocks that effect the sprite and or background appearance and displays text. 
Loop: This is a collection of one or more code blocks that are repeatedly executed. 
Sound blocks: They control the playback and volume of musical notes and Audio files. 
Hat blocks: These are code blocks that create the event-driven scripts. 
IDE: Integrated development environment. This means that you can code and execute within the same environment.  
Costumes: Images that are used to represent a sprite on the stage. This can make the dragon breathe fire or changing the background within a game to show if you have won or lost. There are many uses for this code block. 
Sensing blocks: These are code blocks that can be used to determine the distance from the sprite, whether they are touching another sprite and location of the mouse-pointer. 

Feeling Confident? 
Now you have the hang of it, why don't you enter our competition!
25/6
School holidays don't have to be a bore just because you're stuck inside! We have loads of fun activities that you can do from your own lounge room!
24/6
We are proud to again be part of Open House Melbourne which this year is a digital celebration of our architecture and city.
23/6
Create a Bunjil Place themed game in the Scratch platform and you could win!