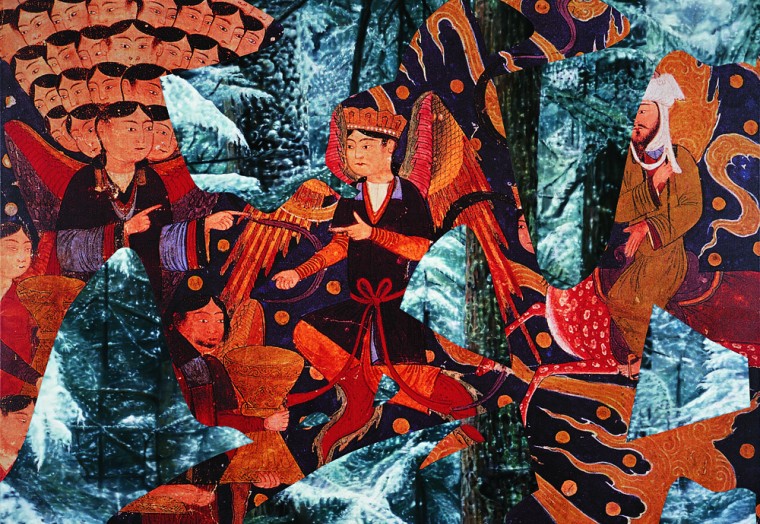 John Young: Diaspora, Psyche
Dates
Sat 26 Jun 2021 - Sun 12 Sep 2021
Hours
10:00 am – 4:00 pm
(last session 3.00 pm)
In the most comprehensive presentation of his practice since 2005, Diaspora, Psyche brings into dialogue two of Young's most significant bodies of work: the History Projects (2008-2019) and the celebrated Double Ground Paintings (1995-2005). This pairing will contextualise Young's recent focus on the history of the Chinese in Australia since 1840 within his four-decades long investigation into the condition of diaspora and the negotiation of bicultural ethics and perspectives.
This exhibition brings together, for the first-time, key paintings and installations to present an exploration of transcultural perspectives, examining how meaning is created through historic expressions of cross-cultural ethics, material and cultural exchange, and the effects of diasporic experience on the psyche.
Diaspora, Psyche will be supported by a selection of research and archival material that has informed these works to provide visitors with greater insight into the complexities of the artist's working practices.
John Young AM is one of Australia's most senior Asian Australian artists. Distinguished nationally and internationally, his work has been exhibited widely throughout Australia as well as overseas, representing Australia at the Solomon R. Guggenheim Museum, New York and the Kennedy Centre, Washington; as well as large-scale touring exhibitions initiated by Australia in the Asia-Pacific; and most recently in a globally touring exhibition curated by the Aga Khan Museum, Toronto (2019-2021).
Familiarise yourself with our latest exhibition before you come to visit with this walkthrough video.
Please view our accessibility resource and feel free to print this to bring with you on your visit. 
Watch our series of interviews with John Young as he talks about some of his key works and his creative process.
Watch the Diaspora, Psyche Panel Discussion with James Nguyen, Nikki Lam, John Young and moderator Carolyn Barnes
Image:
John YOUNG
Three Worlds, 2004
(from the Double Ground Paintings: The Persian Paintings)
digital print and oil on linen
189.5 x 231.5 cm
Private collection
Can't come in to visit the exhibition? You can view Diaspora, Psyche from home using our virtual tour here. 
Exhibition Labels in your language:
Paper Collage Daffodils from home
Missed our school holiday workshop? All good, we've pulled together everything you need to create paper daffodils from home. 
In John Young's series of artworks called The Double Ground Paintings he builds layers on each artwork by taking readily available images he finds in magazines or on the internet, and hand paints layers of images over the top of another image. In this Paper Daffodil activity we use a similar collage process to create layers and choose from everyday materials found at home, like newspapers. Flowers can be found in the artworks of John Young including paintings of the Flower Market in Nanjing. In these paintings John uses found images of old postcards and paints over them with images of fresh flowers and corals to create another layer to the artwork. You can also find daffodils in some of John's artworks. Did you know daffodils symbolize new beginnings? Download the instructions & template below and start creating!
Paper Daffodil Instructions
Paper Daffodil Template
Experience Bunjil Place Gallery's latest exhibition a little differently by taking an augmented reality tour.
As part of your visit, download the Eyejack app via the QR code. Open the app and select Launch AR in the John Young exhibition event. You can then point your phone's camera at seven key artworks located throughout the exhibition Diaspora, Psyche to unlock some of the hidden stories about John Young and his work.
Tickets
Free for all - bookings essential.
Walk-ups available subject to capacity.

Sessions are hourly from 10.00 am until 4.00 pm (Gallery closes at 5.00 pm).

You can also book your free session by calling our Box Office on 9709 9700.