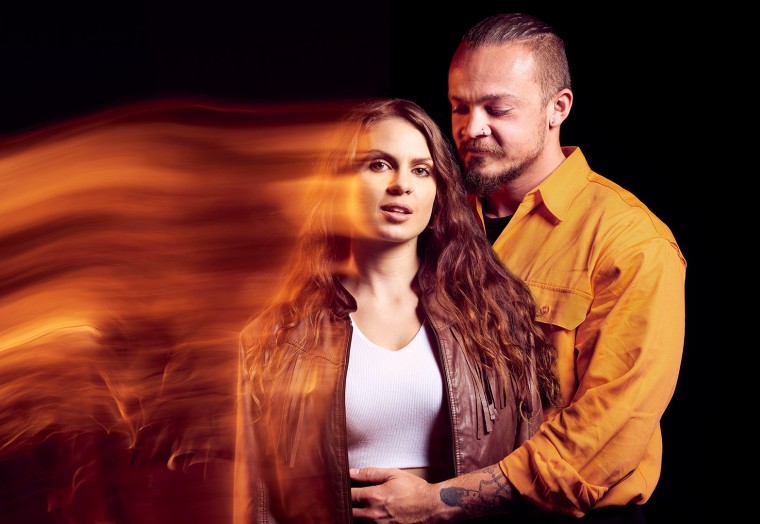 Visit our COVID information page for more information about show reschedules and venue closures
ILBIJERRI Theatre Company presents an uplifting, dynamic, hybrid work of First Nations music and story-telling. 
HEART IS A WASTELAND is a road-trip love story that takes us through Australia's heartland, dealing with love, loss, unspoken truths and history.
Raye (Monica Karo) is a singer songwriter touring the outback, trying to raise some funds to make a better life for herself and her son Elvis. Raye's music, emotive and uniquely articulate, resonates with most audiences she entertains, but she hasn't ever received the credit she deserves. Dan (Dion Williams) is a young man with great ambitions for his community, spending much of his working life investing in the youth around him.
After a chance meeting at Raye's gig in Roxby Downs, and then missing his flight home to Darwin, Dan finds himself spending more time with Raye than he should be. They agree it's mutually beneficial to travel together, as they're both eventually heading north, and they set off for Alice Springs in Raye's busted-up car. The week-long journey crosses hundreds and hundreds of kilometres of desert, leaving Raye and Dan in small spaces with their own uncontrollable urges. A relationship quickly develops, but the two find themselves a little too close for comfort for each other's liking, with their cheeky and audacious banter unintentionally picking at old wounds.
"impressive...delivers a strong, affecting narrative, powered in part by the freedom that flows from Indigenous voices telling Indigenous stories." – The Age
"It is a love story, but there is a complexity to it, and a dreaming self-awareness, brought to us by an accomplished and talented team of artists, which is moving, enlightening and utterly refreshing." – Theatre People
ILBIJERRI Theatre Company's re-staging of Heart is a Wasteland is a brand new production—in both vision and scale—featuring freshly conceived sets, musical arrangements by Gary Watling and adventurous audiovisual design; all reimagined under the direction of ILBIJERRI's own Artistic Director Rachael Maza, to match the energy of its new young leads.
Written by John Harvey. A RISING Co-presentation. Supported by Sidney Myer Fund.
This project has been assisted by the Australian Government through the Australia Council, its arts funding and advisory body.
Essential COVID information you should know before returning to Bunjil Place
Keep up to date with the latest news and shows coming to Bunjil Place by joining our e-newsletter mailing list.
For general ticketing and box office information (including conditions of sale) see our Ticketing services information page.
For accessibility bookings or other box office inquiries please email bunjilplace@casey.vic.gov.au or phone 03 9709 9700 between 9.00 am and 5.00 pm (Monday to Saturday).
Can't find the perfect present? Give them the gift of choice with a Bunjil Place Gift Voucher!
Tickets
Adult $35.00
Concession/Pensioner/Senior/Student FT $28.00
Under 25 $16.00

Please note, a service fee of $3.00 applies to all bookings, plus $1.00 for standard mail if selected.