School holidays don't have to be a bore just because you're stuck inside! We have loads of fun activities that you can do from your own lounge room!
School Holiday Bingo
This school holidays, compete against your friends and family in school holiday bingo! Who will be first to complete 5 activities in a row? Share photos of your bingo activities (and antics!) on social media, and tag @bunjil_place #bunjilplace. We would love to see what you get up to!
School holiday bingo is available in written English, Dari, Punjabi, Sinhalese and Simplifed Chinese.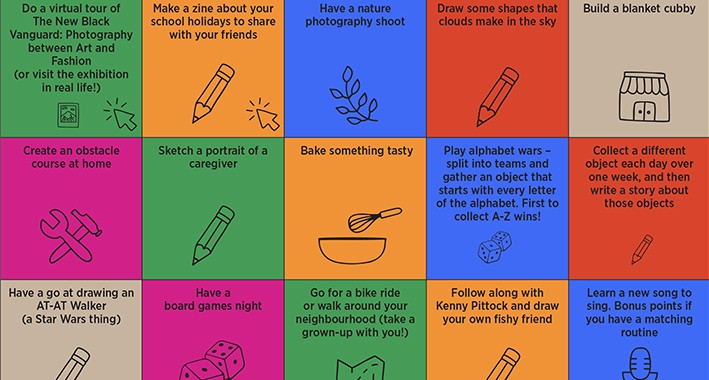 The Australian Ballet Online Dance Classes
Join us online for a fun and creative dance workshop based on the story of The Nutcracker (all levels welcome). The dance workshop will be taught by The Australian Ballet Education & Outreach team and will include:
a dance warm up
fun dance exercises that explore storytelling through movement
creative activities based on The Nutcracker
exploration of costumes and music.
These workshops are based on The Nutcracker, which is available to stream on ABC iview 
The sessions will be broadcast via a Microsoft Teams live event. In most cases the sessions can be accessed easily through your web browser - Google Chrome works best ;) . On some devices you may need to download the free app, but students will not be required to sign up for an account or log in.
A parent/guardian should supervise students at all times while they participate in the workshop. You will be able to submit questions but students will not need to show their video or use their microphone.
You can register for the dance workshops here: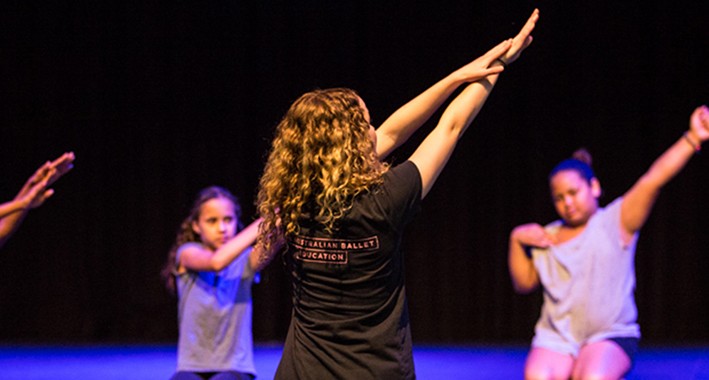 Scratch Coding Competition 
Scratch is an easy-to-use, free programming platform with the potential to create and code amazing interactive stories, games, movies, animations and presentations!
Never used it before? No problem, our Scratch news article is full of free activities, links, workbooks and lessons for you to enjoy. There's even a free game to play! Check it out and learn how to create your own animations or a new escape room game that's sure to impress your friends.
Design and enter your project in the Bunjil Place Scratch Code Challenge and you could win one of many great prizes – like a $100 gift voucher.
Checkout the full information on how to enter the competition.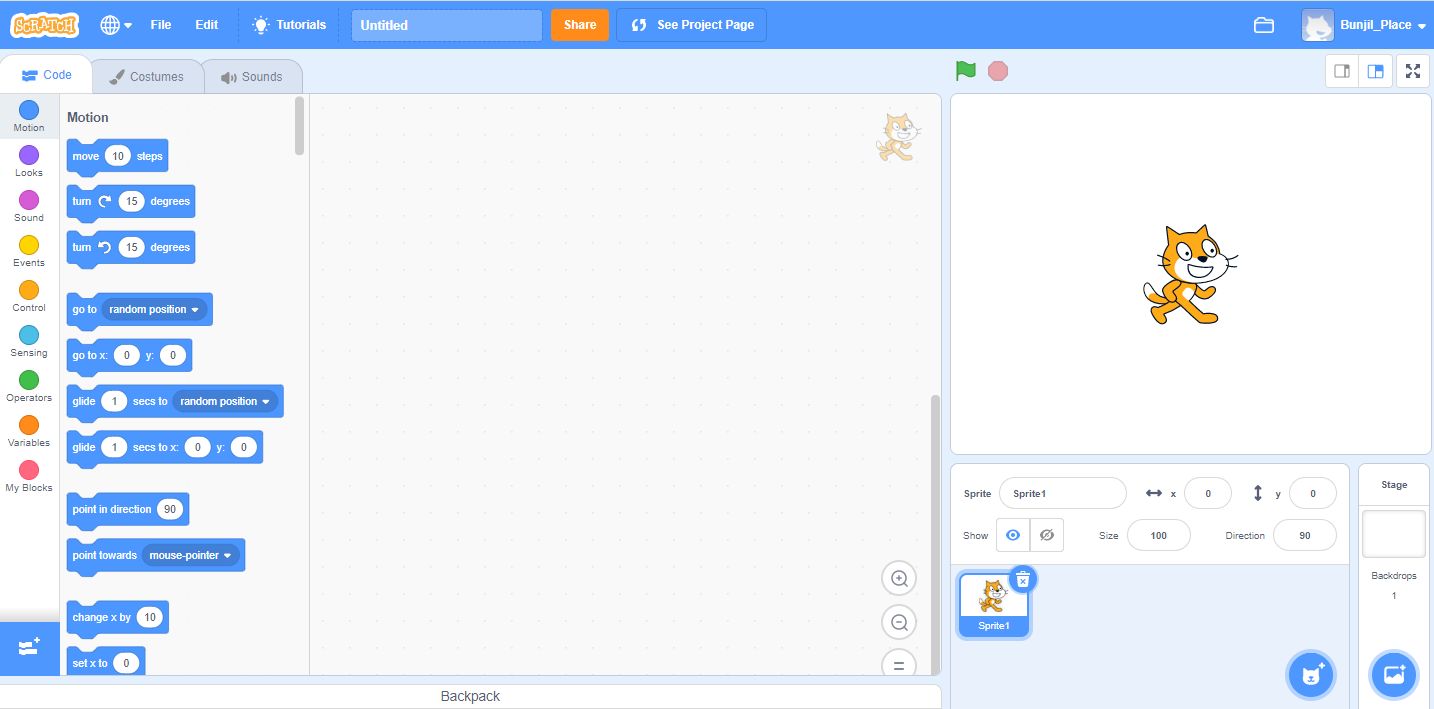 Hip Hop Dance Lessons with Off The Street Dance Company
Megan Ibrahim and Peter Sette from Off The Street Hip Hop have provided us with 4 hip hop beginner classes for kids. You might not be able to go out to a dance class but you can dance up a (winter) storm in your living room, backyard, bedroom or wherever else you feel like dancing!
Hip Hop Dancing with Megan
Megan from Off The Street Hip Hop joins us for an easy-to-follow hip hop workshop that takes you through a warm-up, stretch and a simple beginner's routine. It's fun, relaxed and sure to get everyone in the family grooving!
Breaking Basics with B-boy Steady
Learn the basics of Breakdancing in this easy tutorial with B-boy Steady from Off The Street Hip Hop. He'll take the kids through a short warm up, show them
some stretches and then get into rad breaking routine...all in the comfort of your own living room!
Breaking Skills with B-boy Steady
B-boy Steady is back to show you some great freestlye breakdancing moves and how you can put them together to make your own breaking routine. Some of these moves are more advanced than the beginners video so parental supervision is recommended for children under 7.
Family Hip Hop
Bring the whole family along to your next hip hop lesson with Megan, B-boy Steady and their fun dance class that the whole family can enjoy. This class includes a warm-up, light stretches and a great beginners routine.
Off The Street Hip Hop is the dance company owned by Megan Ibrahim and Peter Sette. 'Bringing hip hop to the kidz' is their mission, one they achieve by running hip hop, breaking, acrobatic and art classes, workshops, school incursions, birthday parties, battles and various other events throughout each year. Borne from a desire to provide an alternative style of dance classes for youth, they introduced 'crew' training, encouraging students to try something new and learn about the world of hip hop. Megan and Pete believe in the value of involving parents in their children's education and promote a desire for inclusiveness of all family members, also working to educate parents in the importance of supporting their children's self-expression.
Making Puppets with Little Wing Puppetry
Little Wing Puppets were forced to push back their theatre production, Spike, to July 2021. They haven't forgotten about us though and were nice enough to offer a range of online workshops for kids to do during the school holidays. Have fun, learn new skills and watch your everyday objects come alive!
Introduction to Shadow Puppetry 
Come and explore the world of shadow puppetry with puppeteer, Jenny Ellis. This hands-on workshop will give children a range of skills to make their own puppets and shadow screen. Jenny guides you through the process of making a simple theatre, a butterfly and a walking wombat puppet, step-by-step. Learn a range of new skills and make a fantastic show to amaze your family and friends.
Workshop Duration: 12 mins
Recommended for ages: 3 – 12 with adult assistance.
Materials:
Thick Cardboard (box board for shadow screen)
Paper for screen (tracing paper is recommended, but any paper is fine)
Lamp or torch for light source • Thin black cardboard for puppets (approx 200gsm)
Pencil
Scissors
Clear sticky tape
Masking tape
A cutting mat
A drawing pin
Bamboo skewers
Secateurs
Cellophane
Split pins (also known as paper fasteners)
Stanley knife or scalpel (only to be used by adults) Note: Part of the process is cutting details in the puppets with a Stanley knife or scalpel, which can only be used by adults. This part can be omitted in favour of just using scissors, if preferred.
A dark room is recommended for playing with puppets.
Puppetry of Paper
Scrunch, rip, twist, tear…. Watch your page leap to life and onto the stage!
Join Little Wing Puppets for this online workshop and create an exciting new creature from everyday materials you have at home. Children will make a puppet out of paper and learn new skills to bring that puppet to life. Ignite your imagination and build confidence with this rewarding and fun workshop.
Workshop Duration: 12 mins
Recommended for ages: 3 – 12 years, younger children may need adult assistance.
Materials:
Paper
Masking tape
Scissors
Black marker
Recycled Robot Workshop
Want to become an inventor? Come and make your own Robot friend based on rescued materials, with puppeteer Jenny Ellis, Buttons, bottle-tops, cardboard rolls - anything in your recycling bin can be the starting point for your creation!
The workshop can be tailored to a range of ages from 3 years up, from preschool to upper primary. It works well for families in a school holiday programs, with a mixture of adults and young children in the same workshop.
Workshop Duration: 11 mins
Recommended for ages: 3 – 12 years, younger children will need adult assistance.
Materials: 
Cardboard rolls
Glue stick
Masking Tape
Buttons
Pipe cleaners
Drawing pins
Coloured paper
Old wrapping paper
Pencil
Styrofoam balls
Milk bottle lids
Aluminium foil
Googly eyes
Scissors
15/9
School holidays are almost here and we have heaps of great online activities for kids of all ages...and some even the parents will love!
14/9
Lockdown getting you down? Enjoy the warm weather and get creative outdoors with our Strava Art Challenge.
13/9
The perfect web series to inspire our local VCE Theatre Studies & Drama students! Full of Theatre in-jokes and lingo, this is a laugh for everyone, but especially for the Drama kids.