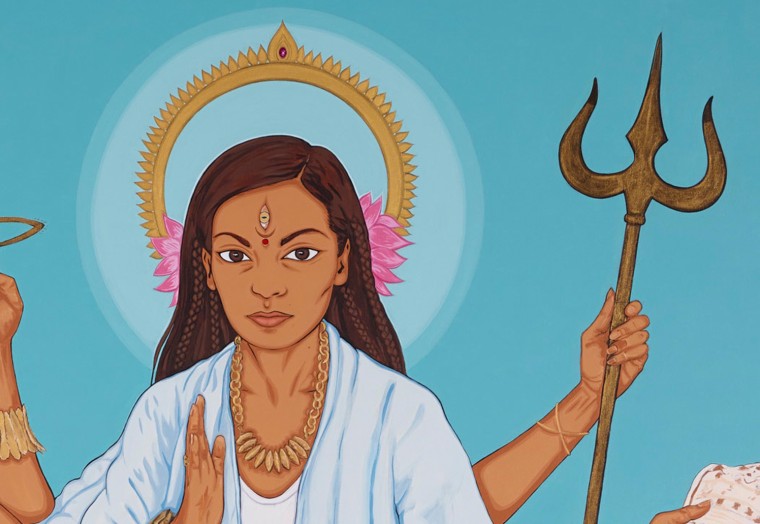 Continental Shift: Contemporary Art and South Asia
Dates
Sat 22 Jun 2019 - Sun 22 Sep 2019
Hours
10.00 am - 5.00 pm
(Not open Mondays)
Continental Shift: Contemporary Art and South Asia presents the work of 14 Australian and Internationally based artists who were either born in, descended from or have an on-going connection to South Asia. Some of these artists form part of a diaspora that has taken people from India, Pakistan, Sri Lanka, and Afghanistan to all corners of the globe. Others have been lured to South Asia to explore their personal connections with people, culture and place.
Exhibition Events
Delve deeper into the arts of South Asia at some of our exhibition events, including:
A range of ideas and themes are considered in this exhibition including social and cultural displacement, multi-racial identities, the importance of family and place in the creative process, and how collaborative ways of working can effect political change.
Featured artists include Khadim Ali, Kate Beynon, Michael Candy, Peter Drew, Richard Goodwin, Trent Jansen & Ishan Khosla, Reena Saini Kallat, Shivanjani Lal, Ramesh Mario Nithiyendran; Nusra Latif Qureshi, Sangeeta Sandrasegar, Adeela Suleman and TextaQueen. 
Exhibition Curator: Rodney James
Artist Profile
Learn more about our feature artists in our Artist Profile series:
Image credit:
Kate Beynon
Sangeeta and Fuji 2014 (detail)
acrylic on linen
185.0 x 145.0 cm
Courtesy of the artist. Private collection, Melbourne.
Photography: Art Gallery of New South Wales, Sydney
For accessibility or other box office inquiries please email [email protected] or phone 03 9709 9700 between 9.00 am and 5.00 pm (Monday to Saturday).
Can't find the perfect present? Give them the gift of choice with a Bunjil Place Gift Voucher!